Steam Deck goes OLED: improved screen, battery, and new 1TB option
Valve also confirms a more powerful Steam Deck 2 is two or three years away
By Daniel Sims 16 comments
TechSpot is celebrating its 25th anniversary. TechSpot means tech analysis and advice
you can trust
.
Something to look forward to: Valve's Steam Deck has been successful enough to potentially pave the way for a new PC gaming hardware tier, however many gamers have complained about its average-quality IPS screen. This new revision addresses the display and overhauls many other areas at once.
Valve will launch a new version of the Steam Deck next week. The hardware refresh includes an OLED screen, HDR support, a new variant with 1TB of internal storage, improved battery life, and other revisions like the addition of Wi-Fi 6E. There's also a new translucent version that looks amazing – check out some early reviews here.
The OLED display reaches 1,000 nits in HDR mode with a 1,000,000:1 contrast ratio and a 110% P3 color gamut, but the 600-nit SDR mode is also a slight improvement over the launch model's LCD screen.
Furthermore, reviews indicate that engaging HDR mode in games is significantly more straightforward than it often is in Windows. Valve has shrunk the Steam Deck's bezel to increase the screen size from 7 to 7.4 inches and raised the max refresh rate from 60 to 90Hz while retaining the 1280 x 800 resolution.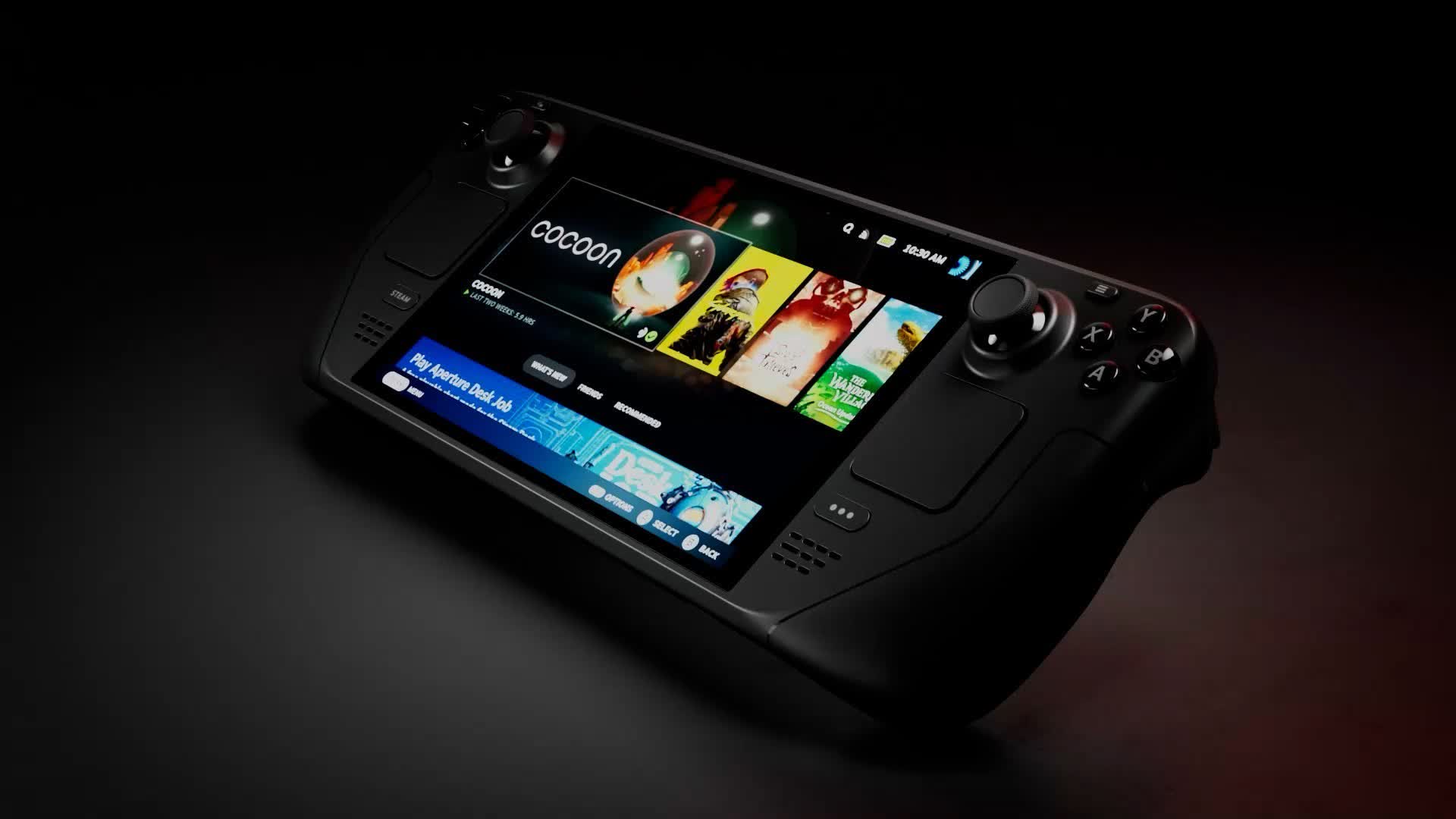 Also read: Why Steam Deck is One of the Most Significant PC Gaming Moments in Years
Although the refresh maintains the original's performance target, numerous nip tucks may provide a slight improvement. While still a 4-core, 8-thread Zen 2 with 8 RDNA 2 CUs, the APU shrinks from 7 to 6nm for lower power consumption. The RAM is still 16GB and LDDR5 but speeds up from 5,500MT/s to 6,400MT/s, which could give certain games an edge.
Combined with a larger fan and a battery improvement from 40 to 50Whr, these changes should result in longer play sessions before you need to recharge. The OLED screen also helps in this area by using less power. Moreover, the adjustments make the system slightly lighter, cooler, and quieter altogether.
Users with fast connections and Wi-Fi 6 routers can experience speedier downloads thanks to the added Wi-Fi 6E support. Valve also refreshed the controls to improve tactility and responsiveness. Changes to the frame will likely please the folks at iFixit, as adjustments to the screws, the screen, and other components mean easier repairs.
A new model means major pricing changes. Valve is discontinuing the 64GB and 512GB LCD models, selling the remaining stock at a reduced $349 and $449, respectively. Meanwhile, the 256GB LCD Steam Deck becomes the new base model at $399.
The Steam Deck OLED will arrive in two variants – $549 for 512GB and $649 for a new 1TB storage option. Valve is also releasing a limited edition translucent smoke grey 1TB portable with an exclusive bootup screen.
While the PC gaming giant won't say how many Steam Deck units it's sold exactly, it's estimated that sales are in the ballpark of a few millions units – a tremendous success for a single pre-built PC model. Looking forward, Valve confirmed that a more powerful "Steam Deck 2" is two or three years away.
The refreshed Steam Deck competes with a new generation of handheld gaming PCs like the Asus ROG Ally, the Lenovo Legion Go, the GPD Win 4, and others. Although higher wattage and AMD's Zen 4-based Ryzen Z1 APU give some of these machines better performance than the Deck's, they can struggle with battery life and a Windows operating system not designed for small screens.
Availability for the Steam Deck OLED begins on November 16 at 10 am PT.