TechSpot is celebrating its 25th anniversary. TechSpot means tech analysis and advice
you can trust
.
Gaming blog VGHQ first started a rumor by saying that PlayStation 3 jailbreaker George Hotz, also known as GeoHot, has fled the country after court documents revealed a PlayStation Network account allegedly belonged to him. GeoHot previously denied having one, meaning he never agreed to the Terms of Service. The news of him buying a one-way ticket for the southern continent spread like wildfire on the Internet, which is unfortunate because it appears to be false. Here's Sony's original statement that the report is based on:
Though the evidence establishing personal jurisdiction is already overwhelming, SCEA has little doubt that there is much more. However, over the last several weeks Hotz has engaged in a campaign to thwart jurisdictional discovery at every turn--regardless of whether the Court has ordered such discovery or not.

Most seriously, after Magistrate Judge Spero ordered an inspection of Hotz's devices and ordered Hotz to appear at a deposition in California, SCEA learned that Hotz had deliberately removed integral components of his impounded hard drives prior to delivering them to a third party neutral and that Hotz is now in South America, an excuse for why he will not immediately provide the components of his hard drives as requested by the neutral.

Hotz's attempts to dodge this Court's authority raise very serious questions.
GeoHot is currently on vacation in a South American country, as you can see in the picture below, which the 21-year-old posted himself. He has not fled; one who runs away definitely does not show proof of doing so. Furthermore, there is no reason to leave the country to avoid a civil case.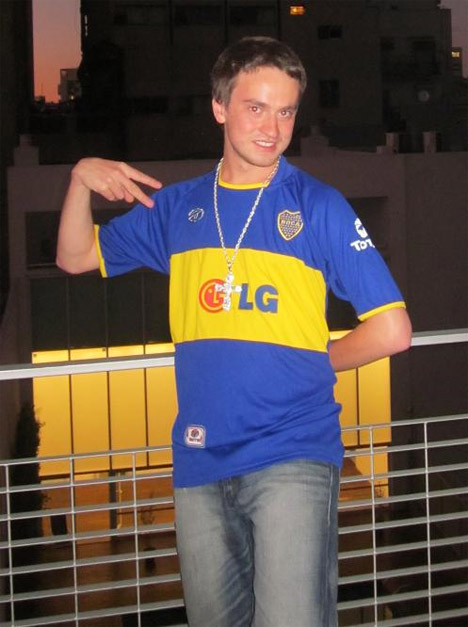 Last but definitely not least, Stewart Kellar, GeoHot's attorney, has denied the claims in a statement to IGN:
The 'integral components' SCEA is talking about are stock controller cards, not the hard drives themselves. The neutral subsequently had to explain to SCEA the form and function of hard drive controller cards. Those controller cards have since been provided to the neutral so the point is moot.

You can never take a vacation from a lawsuit. Mr. Hotz has had to make himself available 24/7 for this litigation, which has been quite demanding on him. You have to remember that Mr. Hotz didn't choose to fight this battle, but now that he has been sued, he has put his heart into fighting this case that has enormous implications for consumers world-wide.

As for any question as to whether Mr. Hotz has used donation money to take a trip to South America, that's pretty silly. Litigating against a massive company like Sony, who is represented by five attorneys, is very costly for a 21-year-old. The donation money George has received is being used exclusively for his legal defense. If there are any funds left after the lawsuit, George is planning to donate the money to the EFF [Electronic Frontier Foundation].
Although it appears much of the rumor was fabricated, it could have serious negative consequences for the court case. We're of course hoping it doesn't.
Sony's legal attacks against the hackers that released the PS3 root key and custom firmware began two months ago. The group known as fail0verflow is accused of posting a rudimentary hack in December 2010 after finding security codes for the PS3. It was refined by GeoHot weeks later when he independently found and published the PS3 root key. The resulting hacks allow homebrew apps and pirated software to run on unmodified consoles. Sony is still threatening to sue anybody posting or distributing PS3 jailbreak code, despite the fact that the company accidentally tweeted the PlayStation 3 security key.
Sony's official stance is if you crack your PS3, you'll get banned. GeoHot meanwhile says "beating them in court is just a start."