Leaked AMD roadmap reveals next-gen Fusion tablet chips
By Jose Vilches
TechSpot is celebrating its 25th anniversary. TechSpot means tech analysis and advice
you can trust
.
AMD officially entered the tablet fray last month with the launch of a new line of APUs, known as the Z Series. The first chip in the family, the Z-01, is already shipping to OEMs and will debut on the MSI Windpad 110W this year featuring 1.0GHz clock speeds, two Bobcat cores, Radeon HD6250 graphics with 80 GPU cores, and a 5.9-Watt TDP.
The Z-01 is essentially a power-optimized version of AMD's existing C-50 APU for netbooks. It's expected to be faster than other tablet processors on the market, but not as power friendly, and since it's based on the x86 architecture it can't run Android either (for now, at least). In other words we could say the Z-01 is more of a stopgap solution for AMD to have something in the market until a new APU, codenamed Hondo, further optimized for tablets arrives in 2012.
The company hasn't shared much information about their next-gen APU for tablets, but a recent leak courtesy of Turkish site Donamin Haber is bringing to light a few details in the meantime. According to the presentation slides, Hondo will make do with a sub-4.5W TDP while offering two 'Bobcat' x86 processor cores and DirectX 11 graphics. It will be based on a 40nm process and will add an "active standby" mode for maintaining connectivity while reducing power draw.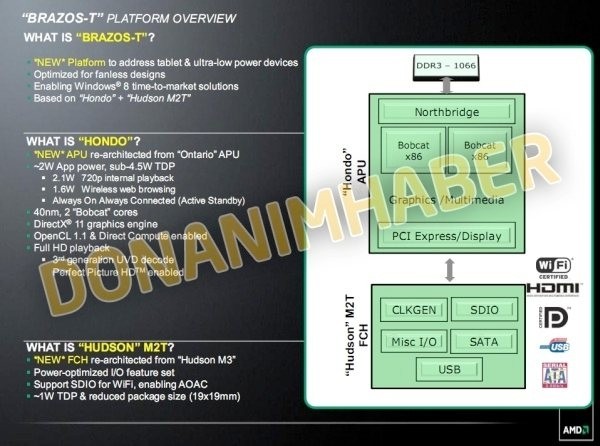 In terms of features the new Hondo APUs won't support several things that the current Z-01 "Desna" chips do, including PCIe, SATA 6GB/s (3GB/s is supported), USB 1.0, and VGA – most of which aren't essential for the form factor anyway. CPU and GPU specifications remain exactly the same so for now it seems that the only noticeable improvement will be in power consumption – though AMD could make some other tweaks down the road.
Hondo is expect to enter production in Q2 of next year, with availability said to be in time for Windows 8, and together with the Hudson M2T Fusion Controller Hub (FCH) will be part of the Brazos-T platform. A year later, in 2013, Hondo will be succeeded by a lower-power APU codenamed "Samara" that will feature a new graphics core.