TechSpot is celebrating its 25th anniversary. TechSpot means tech analysis and advice
you can trust
.
During its annual Financial Analyst Day last evening, AMD shared its products and initiatives for the next two years. Along with pledging to better execute its ideas, the company said it would focus on system-on-a-chip (SoC) designs, low-power solutions and heterogeneous computing. With Intel's iron grip on the conventional x86 desktop market, AMD has its sights set on the booming mobile segment.
To be clear, AMD isn't looking to dabble in the smartphone space which is "heavily crowded with low margins," but it's aiming at products such as thin-and-light notebooks and tablets. This isn't necessarily a massive shift in the company's strategy as it has gradually pushed into the mobile business in recent years. However, it's done so while struggling to remain competitive with Intel in the desktop realm.
Although it isn't exiting the desktop business, the company is less interested in being Intel's shadow and more interested in paving its own path. As part of its presentation, AMD showed a graph illustrating the annual growth rates of platforms. Whereas desktops and servers have growth rates of 2.8% and 5.3%, notebooks, tablets and embedded solutions are growing at a healthier 8.4%, 18.6% and 15.1%.
Conveniently enough, the company's lineup already includes an array of Fusion SoCs geared toward mobile computers. In fact, newly appointed CEO Rory Reed noted that AMD's most successful platform to date is Brazos, a Fusion range for ultraportables. It's reported that some 20 million Brazos chips were moved in the last year. As such, it wants to build on that momentum over the next 24 months.
Mobile APUs 2012-2013
The chipmaker plans to introduce at least three new APUs this year, including updated versions of Trinity and Brazos as well as a new ultra-low-power SoC dubbed "Hondo." The second-gen 32nm Trinity parts will remain in the performance segment packing two or four Piledriver CPU cores and a DX11 GPU. They'll span various power ranges, including standard 35W models and low-power 17-25W variants.
Brazos 2.0 will bring revamped C and E-series chips with native USB 3.0, two 40nm Bobcat CPU cores and a DX11 GPU in the 9-18W range – the same general TDP as now, but with more performance. Scaling down further, Hondo will consume about 4.5W while packing one or two Bobcat cores and a DX11 GPU. Hondo is designed for Windows 8 tablets and should appear in such products later this year.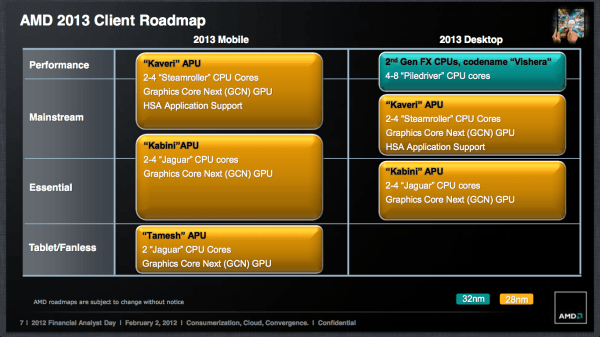 AMD plans a full 28nm refresh for 2013 with "Kaveri," "Kabini" and "Tamesh." Kaveri will have two or four "Steamroller" (evolved Bulldozer/Piledriver) CPU cores, Kabini will carry two or four "Jaguar" (evolved Bobcat) CPU cores and Tamesh will pack two Jaguar cores with ULP iterations dipping below 2W. All of them will have next-gen GPUs, while Kabini and Tamesh will have an integrated southbridge.
Desktop CPUs/APUs 2012-2013
Again, although AMD is honing in on the mobile sector, it won't completely ignore desktops. This year will bring second-gen 32nm FX-series processors codenamed "Vishera" with four to eight Piledriver cores along with 32nm Trinity-based A-series APUs and 40nm Brazos 2.0-based E-series Fusion chips. Likewise, there will be desktop iterations of the 28nm Kaveri and Kabini APUs sometime in 2013.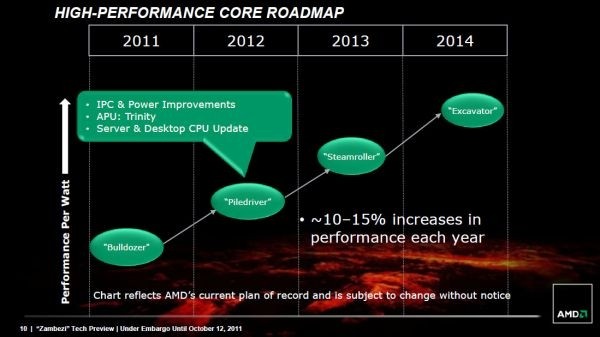 Server CPUs 2012-2013
AMD's server roadmap for the next two years isn't particularly exciting. Interlagos, a high-end Socket G34 chip with up to 16 cores, will hold down the 2P and 4P enterprise segment throughout 2012. "Valencia" (already out with Interlagos) connects via Socket C32 and carries six or eight Bulldozer cores, while "Zurich" (due this quarter) is the lower-end Socket AM3+ model with four or eight Bulldozer cores.
The following year will bring Piledriver-based versions of the chips above (same sockets), codenamed "Abu Dhabi," "Seoul" and "Delhi." The flagship will peak at 16-core offerings, despite previous talks about 10 and 20-core solutions dubbed "Sepang" and "Terramar." Although the server CPU lineup is somewhat dull, Reed said the company would take advantage of opportunities in cloud computing.
Graphics 2012-2013
While AMD's 28nm APUs are still a year or more away, the company is already shipping Southern Islands (Radeon HD 7000 series) GPUs based on the fabrication process. These will be followed up by another 28nm series, known as "Sea Islands," in 2013. Along with the usual performance increases, the next Radeons will pack Heterogeneous Systems Architecture (HSA) enhancements for compute tasks.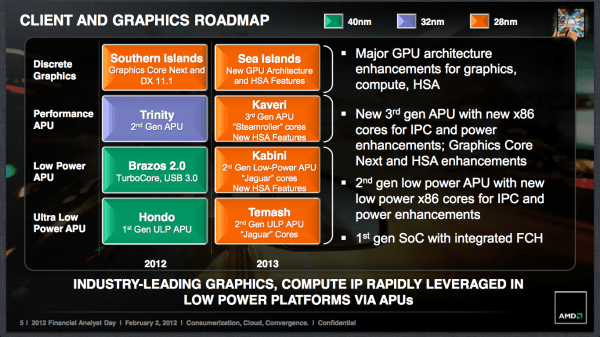 Heterogeneous Computing
As you'll notice by the increasing lack of traditional client processors, AMD wants to continue blurring the line between CPUs and GPUs. The company spoke at lengths about heterogeneous computing and how it will make life easier for developers because programs won't have to bounce data between the CPU and GPU. This unification is part of the vision AMD had in 2006 when it purchased GPU-maker ATI.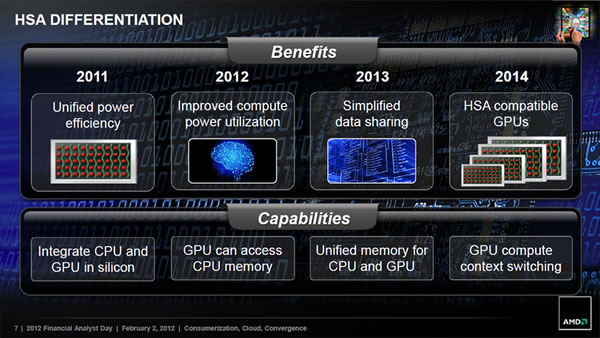 That hasn't happened overnight, obviously. It took five years before AMD released its first Fusion APUs. However, the company outlined an extensive game plan moving forward. At first, its heterogeneous system architecture will allow GPUs to access the CPU's main memory. By next year, the CPU and GPU will share a fully unified memory architecture, while 2014 will bring full GPU compute context switching.
Too Long, Didn't Read
AMD has drafted an ambitious plan for the coming years that it hopes will hoist it to leadership status in the mobile and embedded segments. It will emphasize improved power management, increasingly consolidated SoC designs and the continued marriage of CPUs and GPUs. Together, those factors should produce APUs that are affordable, power-efficient and more graphically endowed than Intel's offerings.
**Slide images via Anandtech