TechSpot is celebrating its 25th anniversary. TechSpot means tech analysis and advice
you can trust
.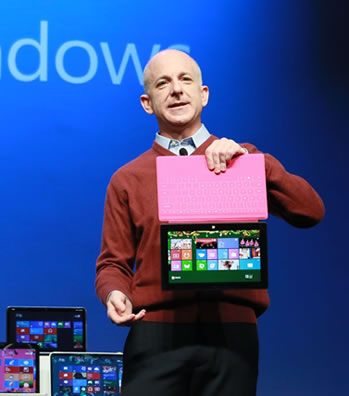 Steven Sinofsky who had been running the Windows division at Microsoft since 2009 has left the company, effective immediately, without clear explanation on the reasons. Sinofsky's departure comes shortly after the launch of Windows 8 and Microsoft Surface, products that were developed right under his wing.
An official press release this morning gives a cold farewell to the former Windows chief - though it includes quotes from Sinofsky and CEO, Steve Ballmer, unlike in the recent Apple managerial shake-up that was clearly one-sided. It's also being announced that Julie Larson-Green has been promoted to lead all Windows software and hardware engineering, while Tami Reller, the company's CFO and CMO is set to take on the business side of Windows.
Larson-Green has been with the company since 1993 and is no stranger to the platform, having worked in the user interface, program management and development of international releases of Windows 7 and Windows 8.
"It is impossible to count the blessings I have received over my years at Microsoft. I am humbled by the professionalism and generosity of everyone I have had the good fortune to work with at this awesome company," Sinofsky said.
Sinofsky joined Microsoft in 1989 as a software design engineer and a few years later was appointed as the director of the Office Product unit. He was involved in the product management and integration of the suite components since Office 95. Subsequently he led the development of several revisions of Office from 2000 to 2007, when the ribbon UI was introduced.
In 2009 (post Vista), he joined the Windows division and was in charge of turning the machine around for a successful release of Windows 7. It's said that "Windows Everywhere" (phone, tablet, PC) is a vision that he shared and went above and beyond to permeate the rest of the company with that philosophy.
The sudden departure of Sinofsky evidently leaves a wide gap for speculation considering Windows 8 is barely out of the door and it's not an ordinary release in the history of Windows. Whether he had decided to leave shortly after launch or not, it's been rumored that an internal brawl between him and Steve Ballmer could be the real motivation for the departure. "I am grateful for the many years of work that Steven has contributed to the company," Ballmer said in the official release.
Most recently it was speculated that Sinofsky was already working on the next generation of Windows and that he could be the most logical successor to take the reigns of Microsoft as CEO if Ballmer was to step aside.