TechSpot is celebrating its 25th anniversary. TechSpot means tech analysis and advice
you can trust
.
As public concern over government surveillance in the U.S. continues to grow following news that the NSA is collecting metadata from Verizon calls on a daily basis, information concerning other potentially affected companies has surfaced. The Washington Post is reporting that the FBI and the NSA are mining data from the servers of nine of the largest tech companies in the United States.
The Guardian and The Washington Post have published presentation slides detailing a surveillance program entitled PRISM (a reference to a prism that refracts light, as in light that carries data through fiber-optic cables). The slides contain direct references to major tech companies including Google, Facebook, Yahoo, Microsoft, Apple, and AOL. Additionally,  Dropbox is expected to join the program soon, according to The Washington Post.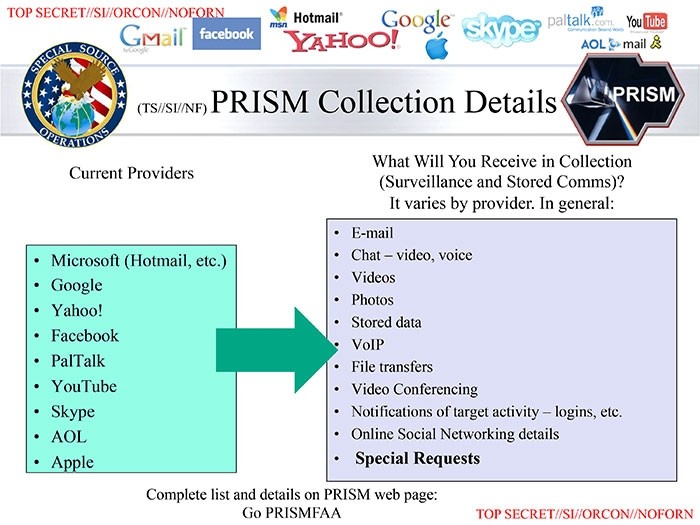 PRISM allegedly allows direct governmental access to central corporate servers containing customer information and communications, but since the release of the slides, many companies have posted statements categorically denying any knowledge or involvement with PRISM.
Microsoft wrote in a statement:
We provide customer data only when we receive a legally binding order or subpoena to do so, and never on a voluntary basis. In addition we only ever comply with orders for requests about specific accounts or identifiers. If the government has a broader voluntary national security program to gather customer data we don't participate in it.
Google states that they care "deeply about the security of our users' data. We disclose user data to government in accordance with the law, and we review all such requests carefully," reports The Next Web.
Yahoo responded similarly:
Yahoo! takes users' privacy very seriously. We do not provide the government with direct access to our servers, systems, or network.
In direct contrast, the U.S. government has confirmed the existence of PRISM, and officials have acknowledged a seven-year initiative to collect phone records, reports the New York Times. Josh Earnest, a White House spokesman, said that the surveillance "has been a critical tool in protecting the nation from terror threats as it allows counterterrorism personnel to discover whether known or suspected terrorists have been in contact with other persons who may be engaged in terrorist activities, particularly people located inside the United States."
It's not yet clear amid these rapid revelations which statements are accurate, but it's worth noting that many national security orders come paired with gag orders which prohibit the recipient from disclosing any information concerning the subject. It's possible that the companies involved haven't been briefed on the rapidly changing situation, and are adhering to a mandate to shield themselves from legal repercussions and from negative public opinion before more information is available.
Also read:
Upper image credit: USA Today