TechSpot is celebrating its 25th anniversary. TechSpot means tech analysis and advice
you can trust
.
Audi was on hand at the Consumer Electronics Show once again to showcase their latest efforts in the field of self-driving vehicles. Unlike last year's demonstration which was limited to an Audi A6 Avant navigating a parking garage at a snail's pace, the auto maker took guests for a spin on the local highway this time around.
For this demonstration, Audi simplified the self-driving technology and managed to shrink the components down to fit into a unit that's roughly half the size of a shoe box. Here's how it works.
The Audi A7 test vehicle is equipped with a digital camera, laser scanner and a radar system hidden in the front grill. According to Dr. Bjorn Giesler, Audi's Project Leader of Development of Piloted Driving, there's nothing on the roadway that one of these systems can't detect. That's reassuring.
The demonstration wasn't a full-on self-driving clinic, mind you, but perhaps something that can best be described as adaptive cruise control with autonomous steering. Passengers were driven to Interstate 15 with a full police escort and a number of other Audi vehicles to assist in the demonstration.
Once on the highway, the cops blocked all four lanes and the show was under way. Speeds slowed to around 40 mph and the system was activated. From there, the other Audi cars would take turns simulating different traffic scenarios. For example, one car would merge in front of the A7 which prompted it to slow down and give the other driver enough room. When that car changed lanes, the A7 would speed back up to fill the gap.
There are of course some safety features built into the system as well. At one point, Giesler closed his eyes and folded his hands in his lap. After a few seconds, the car started to ding in an attempt to get his attention. After several seconds, the vehicle started to apply the brakes and ultimately came to a complete stop.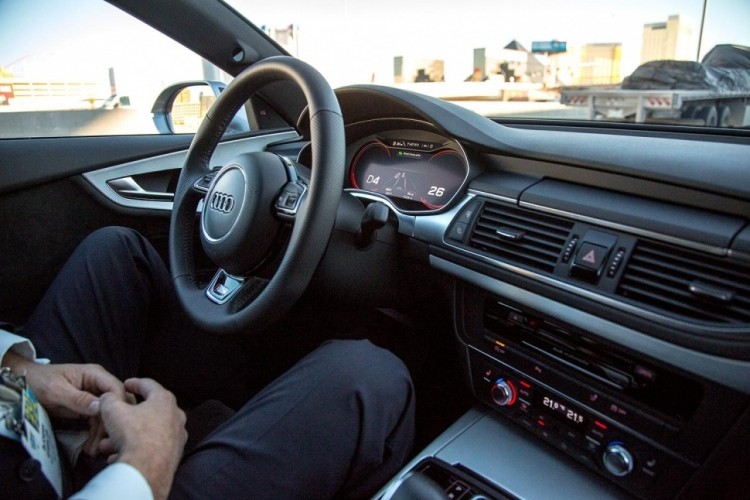 The system is designed to make sure the driver doesn't fall asleep at the wheel. If it detects your eyes are closed, it'll kick into the aforementioned safety mode. I wonder how this system would react if the driver was wearing sunglasses?
Giesler said they don't see the car replacing the driver completely but rather wish to enhance the comfort of the driving experience. Anything they can do to make the driver safer and more comfortable is fair game, he noted.
Audi said this technology will be present in production models within five years.