Guitar Hero returns this year with revamped style, new controller
By Tim Schiesser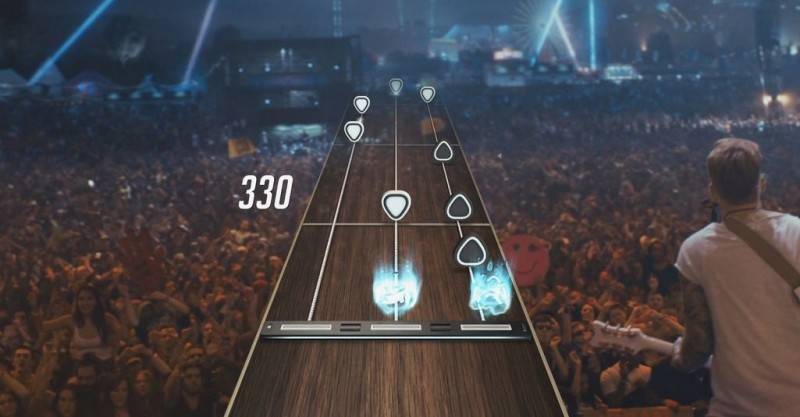 TechSpot is celebrating its 25th anniversary. TechSpot means tech analysis and advice
you can trust
.
One of the biggest gaming franchises of the last console generation is returning after a five year hiatus. That's right, Guitar Hero is back, with Activision today announcing a brand new game called Guitar Hero Live that's set to launch on consoles and mobile devices this fall.
Guitar Hero Live is being developed by FreeStyleGames, previously responsible for the DJ Hero series. Rather than sticking with the same formula of previous Guitar Hero titles, FreeStyleGames has given the formula an overhaul, including a new first-person view that uses live action, robotically filmed footage for the background.
The first-person view is an interesting addition to the rock star simulator, replacing the previous third-person view of your character on a 3D-rendered stage. Designed to make you feel more like you're actually on stage with a band, the live action footage behind the guitar timeline changes depending on how well you're playing. If you're going well, the audience and your fellow band members will cheer, but if you're doing poorly, expect a negative reaction.
But perhaps the biggest change to the Guitar Hero formula is the all-new plastic guitar controller that's needed to play the game. Rather than using a strip of five colored buttons on the fake guitar's neck, the Guitar Hero Live controller has a new three-by-two grid layout, which makes it easier to simulate playing chords.

As the controller has changed, the on-screen notation has also changed. There's now three lanes of streaming notes in black and white, with each lane corresponding to one of the three horizontal positions along the guitar neck. If a note is white with the guitar pick facing down, you will press the button on the bottom row; and if the note is black and facing up, you press the upper button.
Guitar Hero Live will include a campaign with a series of venues and live-action recordings, but there will also be online multiplayer functionality known as Guitar Hero TV. Rather than expanding on the included song selection through DLC or other games, Guitar Hero TV is a selection of streaming music "channels" that let you play along to songs (and compete with others) with their official music video playing in the background.
The TV channels will be available 24 hours a day and for no additional cost, with extra tracks being added on a regular basis. There will even be an on demand song list if you want to play something specifically.
There's still a lot about Guitar Hero Live that Activision isn't sharing just yet, but there will be more information divulged at E3 2015. However it has been announced that the game, bundled with a guitar controller, will be available in the fall for $99 on Xbox One, Xbox 360, PlayStation 3, PlayStation 4, Wii U and even "select mobile devices".