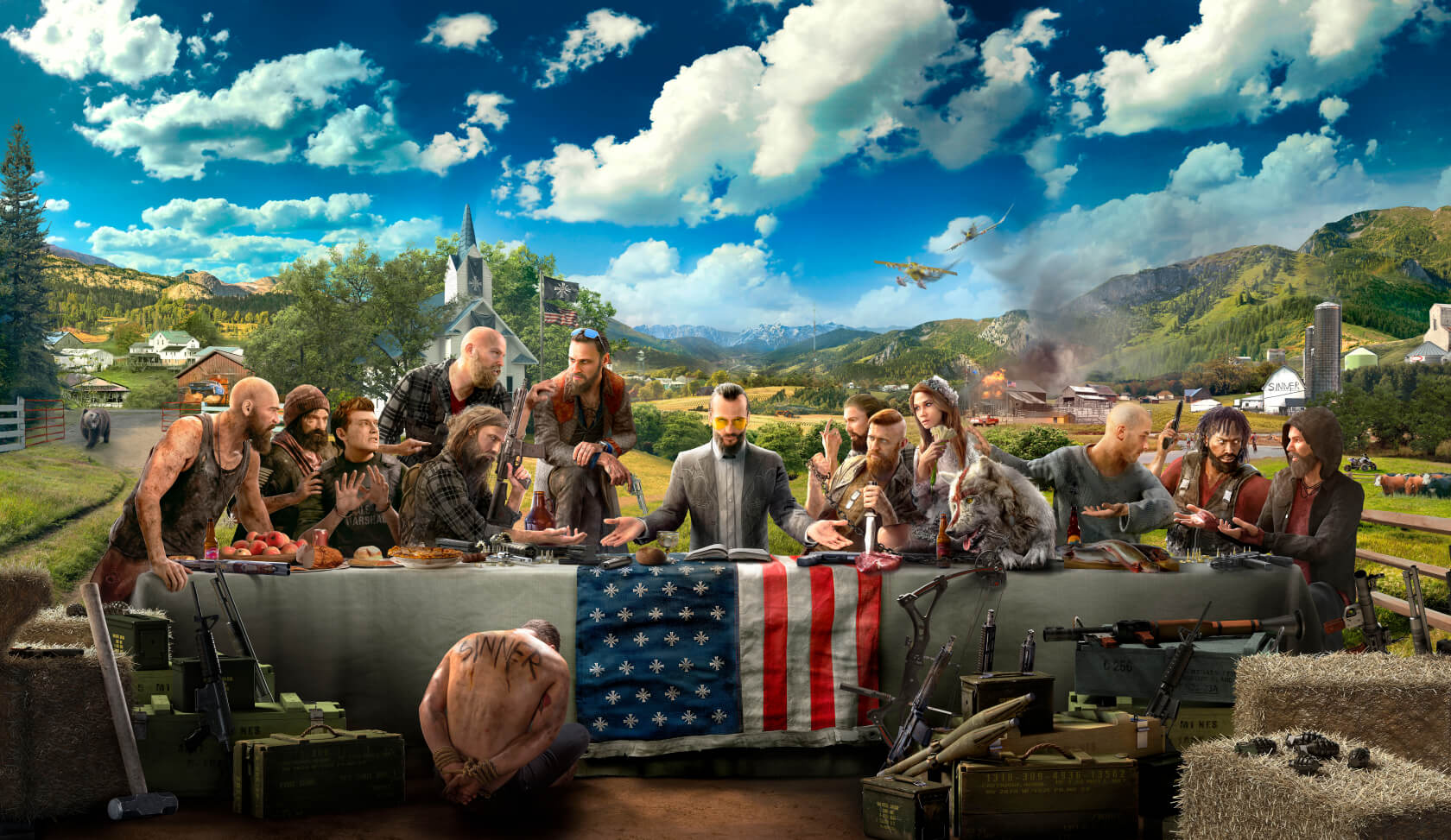 TechSpot is celebrating its 25th anniversary. TechSpot means tech analysis and advice
you can trust
.
After all the anticipation, delays, and a whole lot of controversy, Far Cry 5 will arrive on the PC in just over 2 months' time. Ahead of the March 27th launch date (all formats), Ubisoft has announced the requirements for the game. Rather than just giving the minimum and recommended specs, the company has revealed what it will take to run it in 4K at both 30 and 60 frames per second.
The baseline hardware demands are quite low, providing you're willing to run the game at 720p with the video settings dropped to their minimums. All it takes is an Intel i5-2400 or AMD FX-6300 alongside an Nvidia GTX 670 or AMD R9 270 and 8 GB of RAM.
For most gamers, it's the 1080p/high settings/60 fps recommendations that are most important. The specs for this tier are actually pretty reasonable, especially for a game that looks as good as Far Cry 5: a Core i7-4770 @ 3.4 GHz or AMD Ryzen 5 1600 @ 3.2 GHz or equivalent, GTX 970 or AMD R9 290X, and 8GB of RAM.
Skipping any 1440p requirements, Ubisoft has announced a 4K at 30fps configuration at high video presents. This asks for a Core i7-6700 @ 3.4 GHz or AMD Ryzen 5 1600X @ 3.6 GHz or equivalent, GTX 1070 or AMD RX Vega 56, and 16GB of RAM.
If you've got a killer rig and want to enjoy Far Cry 5 in 4K at 60 fps and with the video settings cranked up to ultra, you'll need a Core i7-6700K @ 4.0 GHz or AMD Ryzen 7 1700X @ 3.4 GHz or equivalent, GTX 1080 SLI or RX Vega 56 CFX, and 16GB of RAM.
The PC version of the game comes with a benchmarking tool that includes a meter showing how much video memory is being used by your configuration. Ubisoft says multi-GPU settings will "significantly improve performance," and there are a host of other options, including variant aspect ratios, resolution scaling, and field-of-view settings.
Here's the full list of settings:
MINIMUM CONFIGURATION: 
OS: Windows 7 SP1, Windows 8.1, Windows 10 (64-bit versions only) 
PROCESSOR: Intel Core i5-2400 @ 3.1 GHz or AMD FX-6300 @ 3.5 GHz or equivalent 
VIDEO CARD: NVIDIA GeForce GTX 670 or AMD R9 270 (2GB VRAM with Shader Model 5.0 or better) 
SYSTEM RAM: 8GB 
Resolution: 720p 
Video Preset: Low
RECOMMENDED CONFIGURATION (60 FPS): 
OS: Windows 7 SP1, Windows 8.1, Windows 10 (64-bit versions only) 
PROCESSOR: Intel Core i7-4770 @ 3.4 GHz or AMD Ryzen 5 1600 @ 3.2 GHz or equivalent 
VIDEO CARD: NVIDIA GeForce GTX 970 or AMD R9 290X (4GB VRAM with Shader Model 5.0 or better) 
SYSTEM RAM: 8GB 
Resolution: 1080p 
Video Preset: High
4K 30 FPS CONFIGURATION: 
OS: Windows 10 (64-bit version only) 
PROCESSOR: Intel Core i7-6700 @ 3.4 GHz or AMD Ryzen 5 1600X @ 3.6 GHz or equivalent 
VIDEO CARD: NVIDIA GeForce GTX 1070 or AMD RX Vega 56 (8GB VRAM with Shader Model 5.0 or better) 
SYSTEM RAM: 16GB 
Resolution: 2160p 
Video Preset: High
4K 60 FPS CONFIGURATION: 
OS: Windows 10 (64-bit version only) 
PROCESSOR: Intel Core i7-6700K @ 4.0 GHz or AMD Ryzen 7 1700X @ 3.4 GHz or equivalent 
VIDEO CARD: NVIDIA GeForce GTX 1080 SLI or AMD RX Vega 56 CFX (8GB VRAM with Shader Model 5.0 or better) 
SYSTEM RAM: 16GB 
Resolution: 2160p 
Video Preset: High/Ultra
*Supported NVIDIA cards at time of release:
GeForce GTX600 series: GeForce GTX670 or better
GeForce GTX700 series: GeForce GTX760 or better
GeForce GTX900 series: GeForce GTX950 or better
GeForce GTX10-Series: GeForce GTX1050 or better
**Supported AMD cards at time of release:
Radeon 200 series: Radeon R9 270 or better
Radeon 300/Fury X series: Radeon R7 370 or better
Radeon 400 series: Radeon RX 460 or better
Radeon Vega series: any Radeon Vega series