Skype has gone from popular free calling app, to promising acquisition, to utterly mismanaged and now enterprise tool
Despite worsening public perception, Microsoft may have found a place to be with Skype for Business
By Julio Franco 25 comments
TechSpot is celebrating its 25th anniversary. TechSpot means tech analysis and advice
you can trust
.
Skype is one of those big success-fail-success stories we often only see in the tech industry. The brainchild of two scandinavian tech entrepreneurs, Skype was a pioneer in peer-to-peer communication, making video calls feasible even in slow Internet connections dating to the mid-2000s. The company was initially sold to eBay, then recovered by an investment fund who was looking for shoppers or a potential IPO, then finally sold to Microsoft in 2011 for a pretty $8.5 billion.
As an avid Skyper in the early days, I recall recommending it to friends and colleages for free calls and video conference that worked like nothing else. But just like Microsoft ignored the shift to mobile computing, Skype also lagged behind the innovation curve, for a while living as a solid but somewhat antiquated Windows application with so-so Mac support that monetized through international calls at low rates. By the time Skype made it to mobile (and even to this day) it arrived as a painfully slow, battery-draining application that often fails to deliver a smooth experience.
Microsoft did its part over the years as well. First merging Skype logins with Microsoft Passport, a messy and unnecessary transition that had average computer users – who relied and maybe even loved the application to communicate with family – frustrated by the change.
In the midst of Windows' shift to "Metro" apps, Microsoft also tried to push Skype as a pre-installed app resulting in two distinct versions of Skype installed on the same computer, using separate login screens, and not a clear path of which of two was the one to use. By then the desktop application had been redesigned more than once and neither the desktop application nor the Metro app were great choices.
At the peak of its popularity Skype had become a verb – before mobile messaging platforms like BlackBerry Messenger, iMessage or WhatsApp exploded – I recall using Skype for personal communication, replacing other forms of instant messaging and receiving plenty of requests from work contacts to communicate using the platform. Since then Slack, Hipchat and other work collaboration platforms have flourished. Even Microsoft built its own collaboration platform called Microsoft Teams to counter other big-name enterprise competitors entering the space like Cisco.
Most recently Microsoft has split Skype in two: for consumers, Skype remains a messy looking application that looks like a Snapchat clone, with awful mobile call quality. And for enterprise clients, Skype for Business has replaced Microsoft Lync, is set to merge with Microsoft Teams, and tie up with Office 365.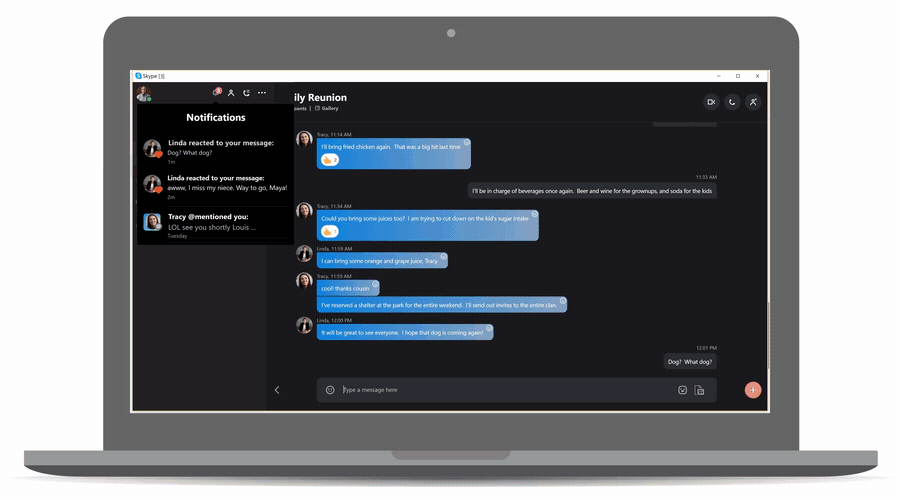 A Bloomberg article gives some detail of where Skype stands today with big clients and how Microsoft has succeeded by selling Skype for Business to corporations like General Electric. GE rolled out the service to 220,000 employees in late 2017 and is reportedly logging 5.5 million meeting minutes a day. Other enterprise customers include some of the largest US banks and big companies in Europe where Skype has historically been a very popular brand. According to a Forrester survey comprising over six thousand IT workers, 28% said they use Skype for Business for conferencing, compared with 21 percent for Cisco's products.
As far as opportunities missed, Microsoft pioneered real-time translation and Skype was very much part of that dating back to 2014. However you'll be hard pressed to find someone suggesting Skype is leading communication as it once did, offering unmatched call quality, let alone consistency. So while public perception is not on Microsoft's side on this one, Skype is living to see another day.
Masthead image credit: Neowin