Opinion: Top goals and challenges for AI in business
"I think that AI will change how a lot of us do business"
By Bob O'Donnell
TechSpot is celebrating its 25th anniversary. TechSpot means tech analysis and advice
you can trust
.
The big picture: The technology may have a very futuristic feel to it, but in current implementations, it's clear now that artificial intelligence (AI) and machine learning (ML) have very practical real-world applications that aren't nearly as scary as some may fear.
Thanks to a freshly completed study by TECHnalysis Research on the usage of AI applications in US businesses based on a survey of 504 IT professionals working in medium (100-999 employees) and large (1,000+ employees) companies that are currently doing some type of AI work, the perspective that appears is pragmatic. (To read more on the study, you can also check out two previous columns on the subject: "Survey: Real World AI Deployments Still Limited" and "AI Application Usage Evolving Rapidly".)
Companies want to use AI-based applications to improve their overall efficiency, across a number of different areas. The hope is that AI-based tools can reduce some of the more tedious, repetitive tasks that can slow organizations down---or that some simply choose not to do because they're so challenging to maintain.
In addition, companies of various sizes and types believe that AI-based applications can speed up or help automate many of these tasks. Whether it's automatically filtering spam and phishing attacks from email; analyzing files or other data as they're opened, created or passed along; or acting as a perimeter shield on networks and examining the packets that travel across them; the realistic benefits of many AI-based or AI-enhanced applications are proving to be attractive to nearly 1-in-5 US companies with at least 100 employees.
The chart in Figure 1 highlights the top goals of AI projects and deployments that these companies have already embarked on.
In addition to efficiency and automation, many organizations see AI as a great tool for increasing security across many different aspects of their organization, including data, networks, and the devices their employees use.
For a number of companies, AI is also seen as a next-generation big data analysis tool, destined to deliver on the promise of big data that many companies disappointingly discovered wasn't as easy to mine for insights as they were led to believe. The idea is that AI algorithms can take over some of the data grunt work necessary to uncover useful information, and leverage larger amounts of raw data in more efficient ways. It's still early days here, but it's clear that many companies are eager to see these kinds of results.
Some organizations are also hoping to generate costs savings from AI-based tools, but it's clear that this is still a lesser priority for many organizations, particularly because of the costs that are often involved with AI-based applications and projects.
Speaking of which, cost concerns were one of the top three challenges that companies are currently facing with their AI efforts, as the chart in Figure 2 illustrates.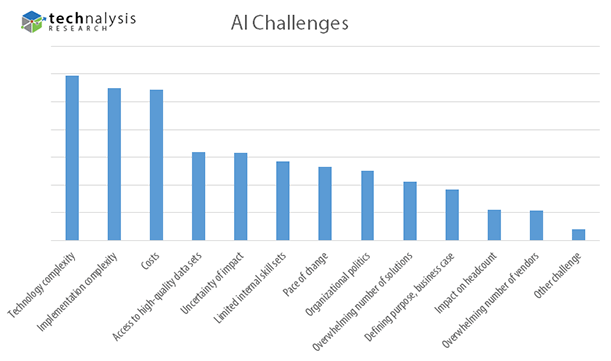 The biggest challenges, however, had to do with complexity---both of the technology itself as well as the means to implement it. This isn't terribly surprising because the level of real understanding level about AI is still quite low. Despite the fact that AI and machine learning have been around in some form or other for decades, most people are just starting to learn about them. Plus, the hidden "black box"-type means by which many AI algorithms work makes it difficult for anyone but dedicated specialists to completely get their heads around the technology and how to make it do what you need (or want) it to.
On top of all this, there are still many lingering fears about the potential influence of the technology. Despite the relatively low rankings on headcount impact on this chart, for example, it was clear from the verbatim comments that survey respondents put into an open-ended question on the overall importance, value and impact of AI, that the fear of layoffs triggered by AI loomed large. As one respondent wrote, "...there is a real fear of putting people out of jobs. You hate to be left behind when helpful technology is out there, but it's hard to eliminate a job that's been there for 20 years."
At the same time, there was also a great deal of excitement and promise expressed in response to the same open-ended question. For example, "AI is bound to impact every single industry and, in our organization, AI can help deliver better search results and deliverables for some specific business cases. Finding patterns and reducing inefficiency is super important for our organization and [both of these] will benefit from the advent of new AI solutions. We strongly support AI-based solutions and prefer to adopt them quickly and gain a business edge."
Practically speaking, there was also the recognition that AI is here now and its impact is going to be critical. As one respondent summarized, "I think that AI will change how a lot of us do business. The change will be good. Getting over the initial hurdles of integration is the hardest part. The data provided by AI integrations will be invaluable and come much faster than was possible before."
Bob O'Donnell is the founder and chief analyst of TECHnalysis Research, LLC a technology consulting and market research firm. You can follow him on Twitter @bobodtech. This article was originally published on Tech.pinions.
Image credit: rawpixel via Unsplash