Asus ROG Rampage V Edition 10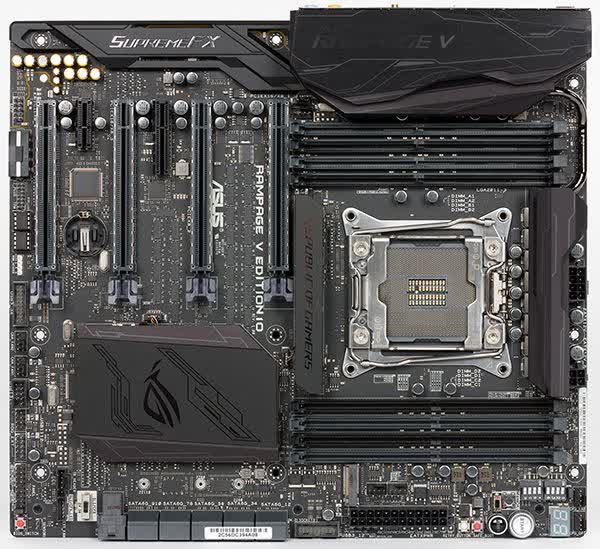 Pros:
The sheer number of ports and connections available on the Rampage V Edition 10 is just staggering. USB 3.1, USB 3.0, USB 2.0, PS/2, Dual LAN and Dual Wi-Fi – there isn't a single motherboard offering more regarding connectivity than this one, The motherb...
Stock performance, Overclocking potential, Board aesthetics, layout, and design, Motherboard manual details and quality, UEFI BIOS design and usability, Dual GigE network controllers>/li>, Intel GigE network controller performance, 3x3 802.11ac WIFI contr...
Easy UEFI interface, best performance, best overclocking, excellent power consumption, accessories
Cons:
Maybe just one – it is expensive and not meant for the casual enthusiast. You have to be mad to buy an ASUS Rampage V Edition 10, Conclusion
Price, Overclocking dailin, SupremeFX HIFI driver support
TechSpot is supported by its audience. When you buy through our links, we may earn a commission.
Learn more
.
The sheer number of ports and connections available on the Rampage V Edition 10 is just staggering. USB 3.1, USB 3.0, USB 2.0, PS/2, Dual LAN and Dual Wi-Fi – there isn't a single motherboard offering more regarding connectivity than this one, The motherb
Stock performance, Overclocking potential, Board aesthetics, layout, and design, Motherboard manual details and quality, UEFI BIOS design and usability, Dual GigE network controllers>/li>, Intel GigE network controller performance, 3x3 802.11ac WIFI contr
Easy UEFI interface, best performance, best overclocking, excellent power consumption, accessories
Maybe just one – it is expensive and not meant for the casual enthusiast. You have to be mad to buy an ASUS Rampage V Edition 10, Conclusion
Price, Overclocking dailin, SupremeFX HIFI driver support
Lack of OC Panel for overclockers