TechSpot is celebrating its 25th anniversary. TechSpot means tech analysis and advice
you can trust
.
When you buy through our links, we may earn a commission.
Learn more
.
Although we've largely plumbed the depths of AMD's latest processors, the wallet-friendly Ryzen 5 1400 has only just arrived on our doorstep and is begging to be benchmarked. Without covering the same ground again, this write-up will be an extension of our original Ryzen 5 review, which looked at the 1600X and 1500X.
At this point it's pretty well established that the Ryzen 5 1600 (non-X) provides a value that is virtually unchallenged among enthusiasts processors. However, we've yet to determine the next best option for those who can't afford to spend $220 on AMD's six-core champion.
For $170, the quad-core 1400 may very well be the next logical choice behind the 1600, though it's not the next Ryzen chip in line by price. The quad-core flagship 1500X is currently set at $190, but if that seems attractive then you should just probably talk yourself into the six-core 1600 for another $30, especially if it's for gaming.
A key benefit of the 1500X over the 1400 is that it offers double the L3 cache, which makes little difference in gameplay performance. This is particularly true given that budget shoppers will likely pair the 1400 with a mid-range graphics card, rather than one such as the $700 GTX 1080 Ti.
As we've said in the past, saving every dollar really helps with lower-end builds and while having the full 16MB L3 cache would be nice, it's purposeless if you don't actually see more performance.
If you can't justify $220 for 1600, then the 1400 appears to be a great alternative solution for gamers, who would benefit more from investing the savings in a better GPU. After all, the $50 that separates the 1600 and 1400 could mean the difference between owning a GTX 1050 and RX 570 for example.
By comparison, building an Intel machine on the same budget would net you a $190 Core i5-7400 or $170 Core i3-7350K, with the i5 being the more cost-effective option of the two, performing as fast or faster than the overclocked 4.8GHz 7350K.
So then, we have a battle between sub-$200 quad-core processors: in AMD's corner stands the Ryzen 5 1400, while the Core i5-7400 has stepped in for Intel's side.
To test these chips, we installed the Ryzen 5 1400 on a B350 motherboard using DDR4-2933 memory, while the Core i5-7400 sat on an Intel B250 board with DDR4-2400 memory.
Both setups cost roughly the same, though the Ryzen CPU has the advantage of overclocking support and can push all cores to around 3.7GHz, possibly even 3.8GHz, even with its little 65 watt Wraith Stealth cooler.
Test System Specs & Memory
Memory Bandwidth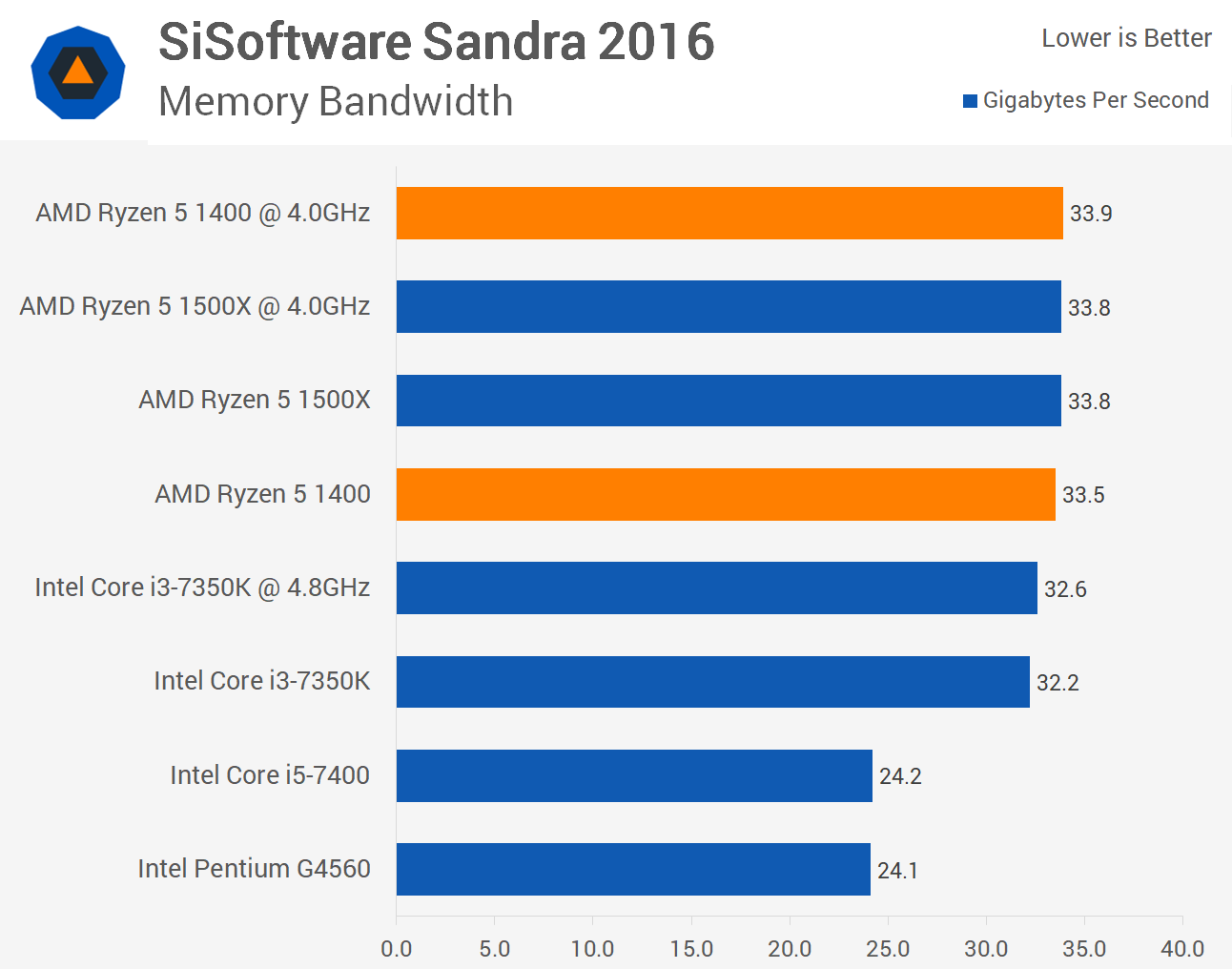 Checking out the memory bandwidth performance first, the Ryzen 5 processors are good for 35GB/s using DDR4-2933 memory, around 3GB/s more than the Kaby Lake Core i3-7350K which was testing using 3200 memory. The 7400 and G4560 were limited to just 24GB/s with DDR4-2400 memory.