TechSpot is celebrating its 25th anniversary. TechSpot means tech analysis and advice
you can trust
.
When you buy through our links, we may earn a commission.
Learn more
.
After much speculation and an official unveiling last week, it's finally time to see if Threadripper can bring competition to the high-end desktop segment while delivering the value and efficiency we've come to expect from other Ryzen processors.
Before we jump into the benchmarks, here's how we've set up the comparison. For this review, we'll be testing the new Threadripper 1950X and 1920X along with the Ryzen 7 1700 and 1800X, as well as Intel's competing Core i7-7800X, 7820X and Core i9-7900X.
Compared to the Ryzen 7 1800X, which until now was leading AMD's pack, the Threadripper 1920X comes at a 75% price premium and offers 50% more cores. You also get quad-channel memory support and significantly more PCI Express lanes.
While we're curious to see how Threadripper fares against AMD's more affordable lineup, I'm more interested in learning how they compare against Intel's Skylake-X parts, so you can expect an emphasis on those results.
The Skylake-X CPUs were installed on an Asrock Fatal1ty X299 Professional Gaming i9 motherboard, while the Threadripper CPUs were tested on the Asrock X399 Taichi motherboard. Both platforms were fitted with G.Skill's TridentZ DDR4-3200 CL14 64GB quad-channel memory kit. Big thanks go to G.Skill for providing all that memory.
The X299 platform was installed on the Praxis Wetbench and was cooled using Thermaltake's Pacific RL360 custom liquid cooled kit. Meanwhile Threadripper was tested on a sheet of foam on my desk and was cooled by the Thermaltake Floe Riing RGB 360 AIO liquid cooler.
Ryzen Threadripper System Specs

AMD Ryzen Threadripper 1950X
AMD Ryzen Threadripper 1920X
Asrock X399 Taichi
32GB DDR4-3200 RAM (CL14)
Samsung SSD 850 Evo 4TB
Nvidia GeForce GTX 1080 Ti
Windows 10 Pro 64-bit

Skylake-X System Specs

Intel Core i9-7900X
Intel Core i7-7820X
Intel Core i7-7800X
Asrock Fatal1ty X299 Professional Gaming i9
32GB DDR4-3200 RAM (CL14)
Samsung SSD 850 Evo 4TB
Nvidia GeForce GTX 1080 Ti
Windows 10 Pro 64-bit

Ryzen 7 System Specs

AMD Ryzen 7 1800X
AMD Ryzen 7 1700
Asrock X370 Taichi
16GB DDR4-3200 RAM (CL14)
Samsung SSD 850 Evo 4TB
Nvidia GeForce GTX 1080 Ti
Windows 10 Pro 64-bit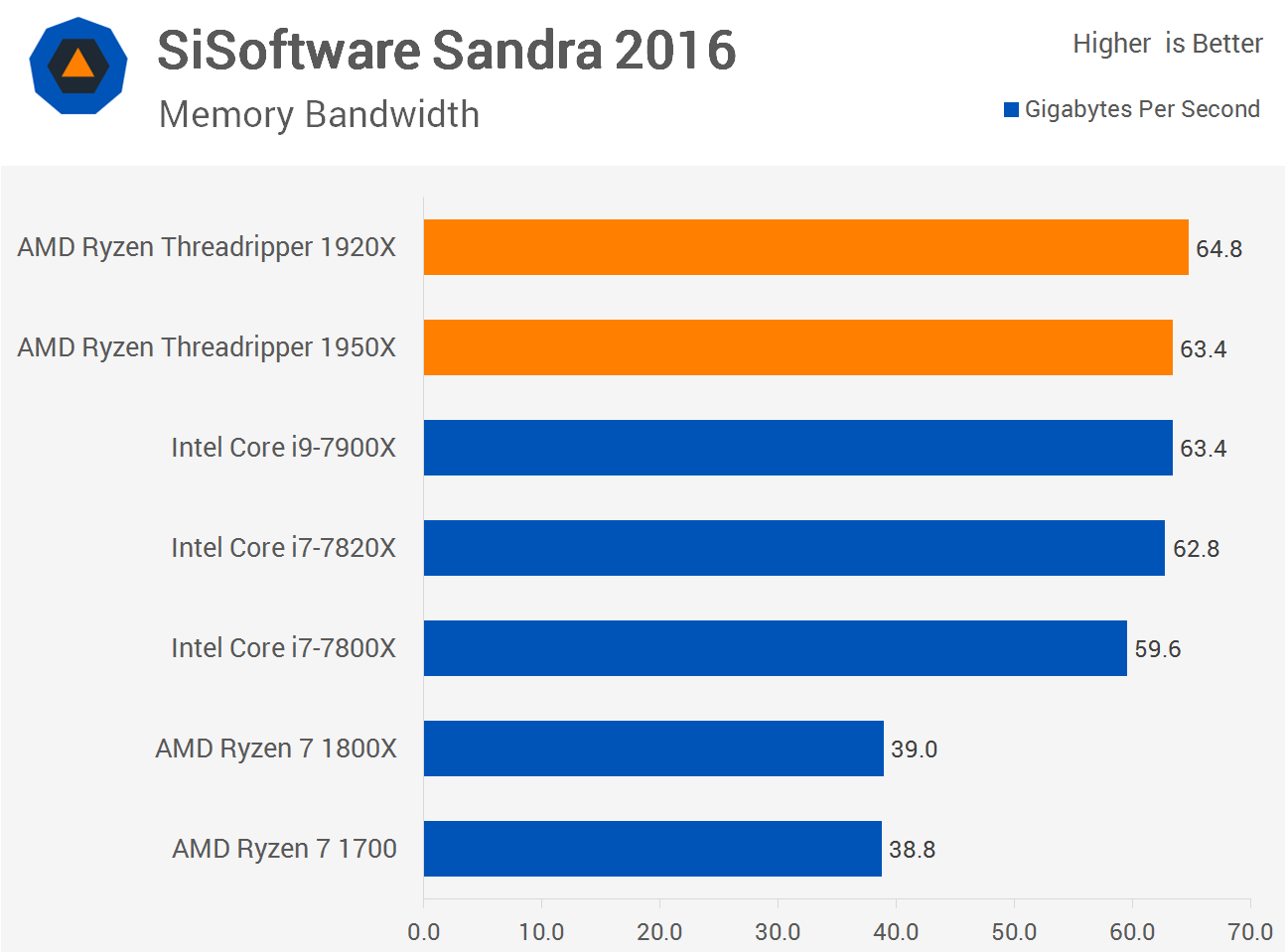 First up, memory bandwidth performance. As you probably know, Ryzen 7 CPUs feature a dual-channel memory controller whereas Threadripper offers quad-channel memory access, much like Skylake-X. As a result, memory bandwidth has been increased by 50% over Ryzen 7 and now Threadripper is on par with the Core i9-7900X.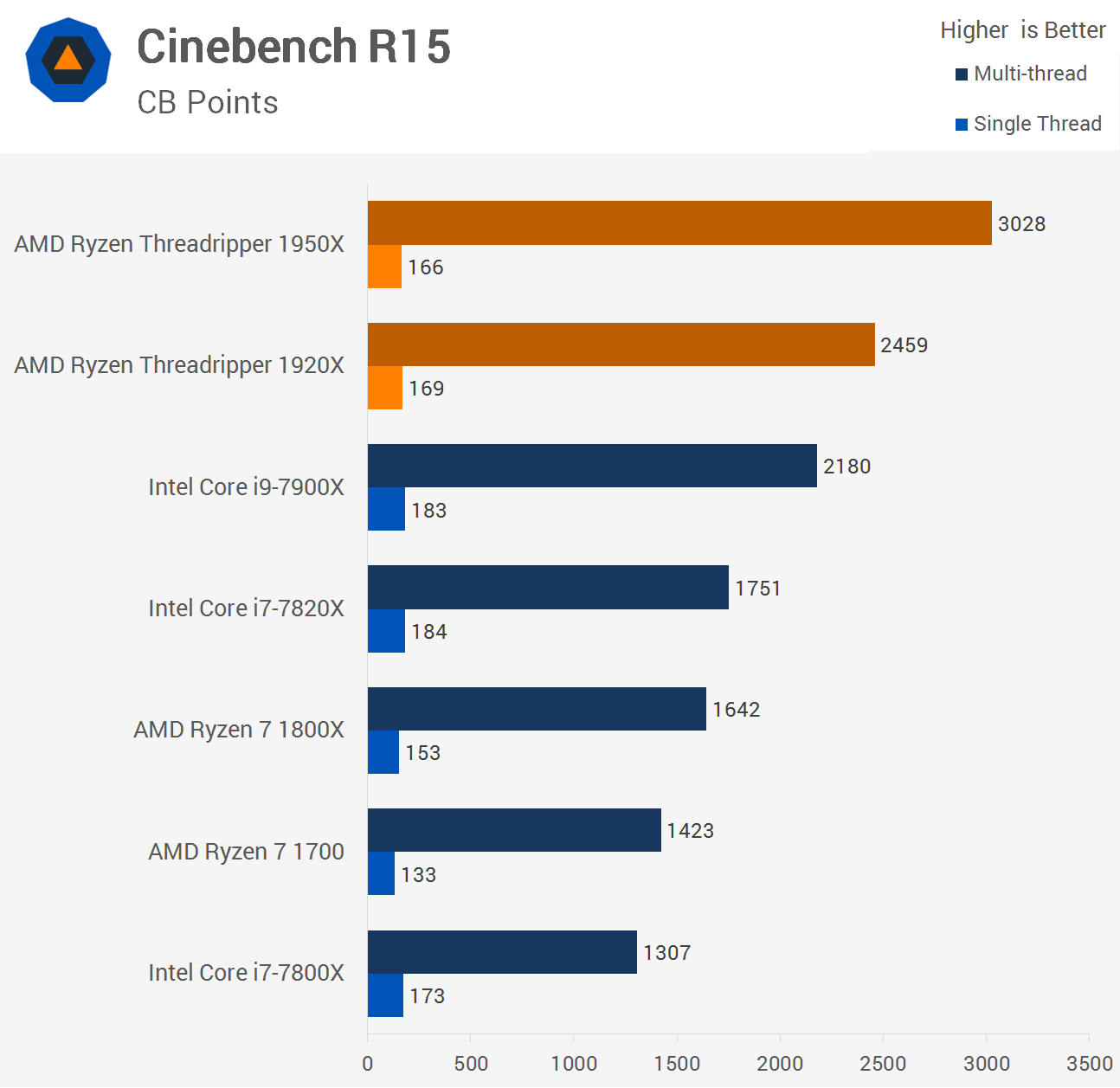 As promised by AMD, the 1950X is good for an incredible multi-threaded score of 3028pts in Cinebench. That's a 39% increase over the i9-7900X, both of which cost $1,000.
The Core i9 CPU is 10% faster for single-threaded tasks, but that's not exactly the point of these CPUs. The 1920X was also 13% faster than the 7900X and 40% faster than the i7-7820X, so a clear win here for AMD in terms of price vs. performance.
Before we move onto the more serious benchmarks, I wanted to see how Threadripper stood up in PCMark 10, which looks at office type workloads and typically isn't core-heavy. To my surprise, Threadripper scored very well in this test and did considerably better than the Core i9-7900X.