Wyze Cam Pan: Is this $30 security camera worth a buy?
By
TechSpot is celebrating its 25th anniversary. TechSpot means tech analysis and advice
you can trust
.
When you buy through our links, we may earn a commission.
Learn more
.
A security camera is something that, ideally, you never want to worry about. You set it up, and expect it to just work.
If you're in the market for a camera, you know there are many options with a wide range of prices. The Wyze Cam Pan is a powerful security camera with an incredibly low price. This camera has full pan, tilt, and zoom (PTZ) capabilities, a free mobile app for monitoring, automatic motion tracking and alerts, free cloud backup, two-way voice communication, and an SD card slot for extended recording space.
At just $30 ($37 if you buy it from Amazon), is it too good to be true? Should you spend a bit extra and go for a pricier camera? Let's take a closer look and find out just how good the Wyze Cam Pan is for the price.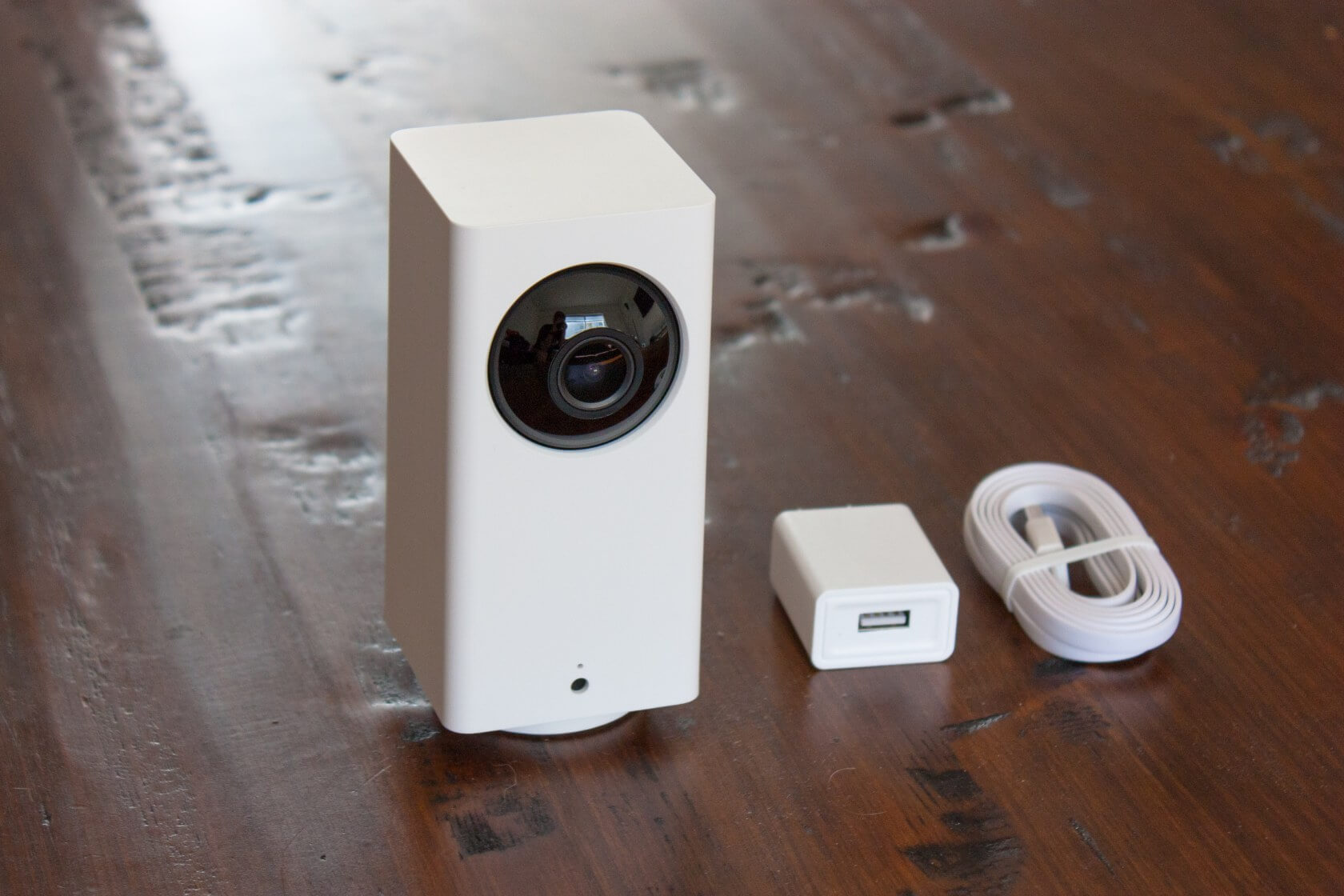 You don't get a whole lot in the package; just the camera and a micro USB power cable with wall plug. You can power it with any USB source as long as it is capable of providing 2A. Keep in mind that if you are upgrading from a previous generation (the original Wyze Cam is still for sale and it's even cheaper at $20), you'll need to use the new power supply and cable since the old models don't deliver enough power.
The camera is all white with a soft touch finish, except for a sphere at the top with the image sensor. That piece has a glossy plastic cover and rotates up and down to provide the camera's tilt capability. In terms of field of view, the camera can see a full 360 degrees horizontally, 93 degrees vertically, and has up to 8x digital zoom.
Since it is a PTZ camera and is designed to be mounted vertically, there is no additional mounting hardware included. You could mount it upside down in the ceiling or sideways on a wall, but it is meant to sit on a shelf or other flat surface overlooking a room.
Around back we find cutouts for the internal speaker as well as a USB port that surprisingly isn't usable. The official statement on the Wyze website is that you shouldn't use it since the camera can move and the cable might get stuck on the camera. In a pinch, you may be able to use it to daisy-chain a second camera or other USB device but your mileage may vary. Maybe it will have a purpose with future software upgrades, but for now I'm at a loss for why it exists.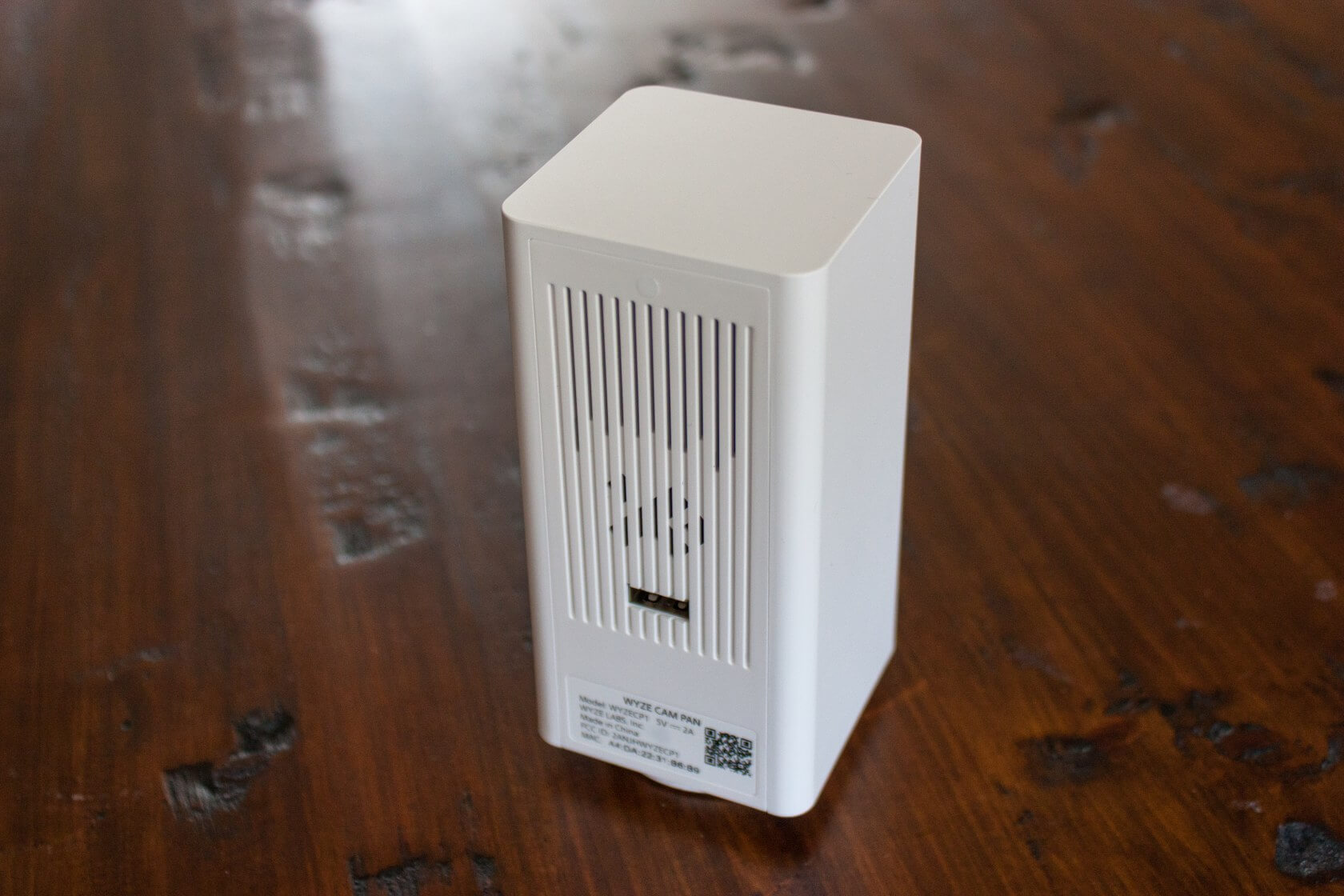 Wyze hasn't published many technical specs for the camera, but we do know it has a 1080p sensor and likely records at around 15fps. Image quality is good and I'll include some photos later in the review. To the left and right of the lens are six total IR LEDs for the surprisingly capable night vision mode. They aren't visible during the day and will only turn on if you have night vision enabled.
If you previously owned an original Wyze Cam or Wyze Cam 2, the Pan is much larger but maintains the same design aesthetic. The original Wyze Cam models were incredibly successful with more than 150,000 registered users. The Pan builds off of their success and includes all the features that made them great. Now, for just a bit more, you get PTZ capabilities as well.
At the base of the unit, we find the rubberized base that the Pan rotates on. This circular base is also where the micro-USB power connector plugs in, so be sure there is enough clearance behind it when you are mounting it. If you want, you can also mount the Pan to a tripod thanks to the included 1/4" mounting socket. Around the outside of the base we find the setup button, a MicroSD card slot, and the microphone. The microSD card slot supports up to 32GB and depending on your quality settings, should be able to store a few days of rolling footage. I would recommend either a 16GB or a 32GB card so you don't have to worry about losing footage.
The Wyze Cam Pan has three main recording modes: continuous, alerts, and time lapse.
Continuous will constantly record to the SD card and replace old footage as the card fills up. The alerts mode will record short 12-second clips whenever it detects movement or certain sounds. These clips can then be automatically backed to the AWS cloud on a rolling 14-day timeframe. You can also setup phone notifications to correspond with these clips. Finally, the time lapse mode can record at pre-defined intervals and could be useful to keep track of a pet or baby every so often.
Setting up the Wyze Cam Pan is simple. Download the free Android of iOS app and press the setup button on the bottom of the camera to begin the process. The app will then display a QR code on your phone screen. Create an account and place your phone in front of the camera to pair the two. The whole process took less than three minutes. If you get stuck, the camera also gives audio directions to guide you along.
Once the camera is linked to your email account, you can view the live feed on your phone anywhere you go. This is great for monitoring your house while you're at work or checking for packages while you're on vacation. Unfortunately, this is where one of the biggest drawbacks comes into play. You can only view the feed on your phone since there is no web or desktop app. This something that Wyze should be able to implement in the future but it's just not there yet. For some this may be a deal breaker, but as long as you have your phone with you, you can still view the footage.
If your home internet connection goes out, you'll still be able to view the footage from the camera as long as your Wi-Fi network stays up. Although, your phone will need to be connected to the network as well.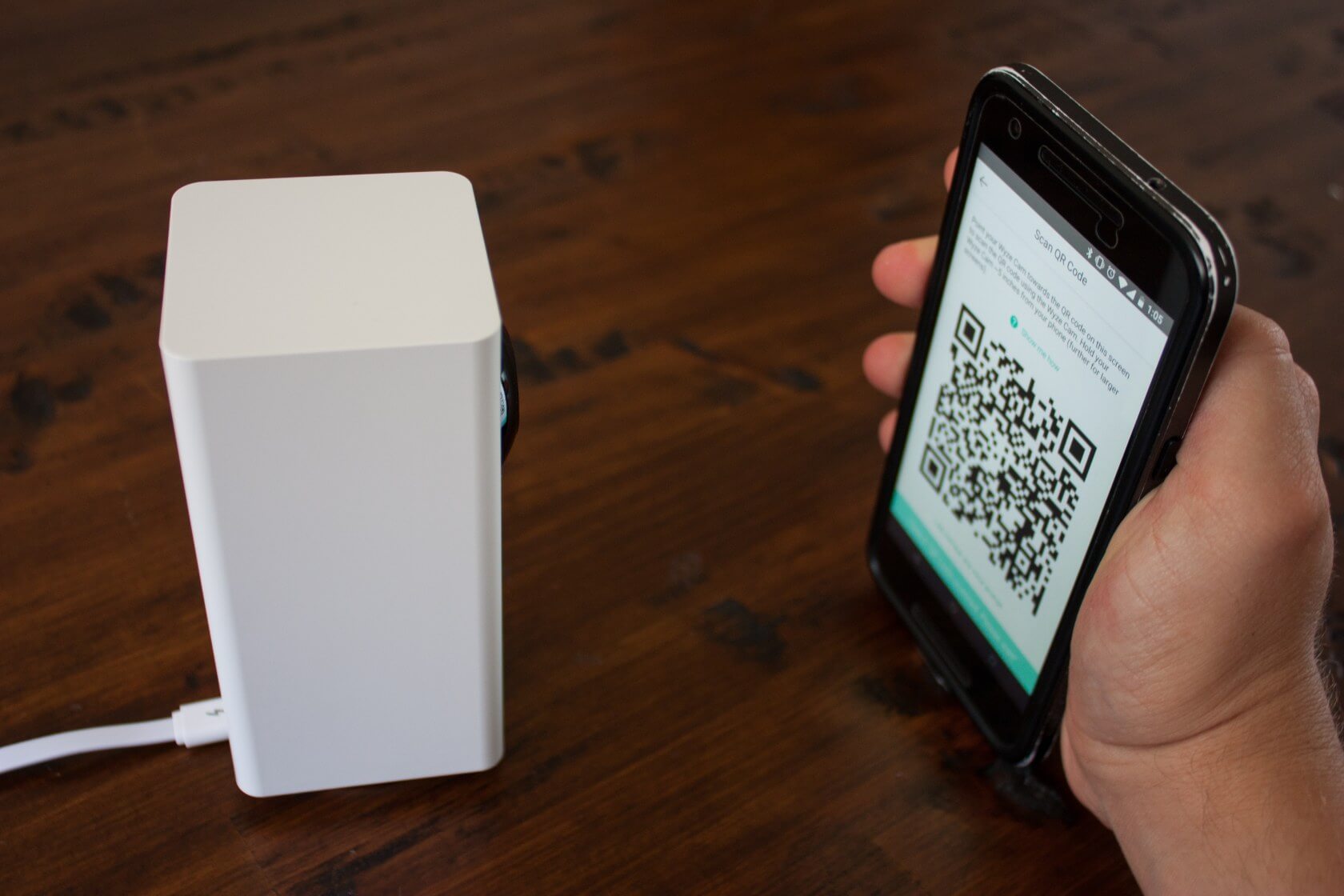 The mobile app is very simple to navigate. From the main screen, you can select either a live look at the camera (right screenshot), or playback from the SD card (left screenshot). When viewing playback, a calendar and timeline will appear that allows you to scrub through your footage to find the particular moment you're looking for. The timeline will turn green during time frames in which the camera was recording. There are options to pause the playback, save screenshots, and save videos to your phone's photo album. You can also pinch to zoom in on certain areas of interest in the footage.
While the footage quality certainly isn't perfect, it's more than sufficient and is much better than I was expecting for $30. The image is bright and crisp and you can zoom in while still maintaining quality. Depending on bandwidth and storage requirements, you can also turn the quality down from HD to SD if needed.
The right screenshot is what the live stream view looks like. Here you can see I have night vision turned on in an otherwise pitch black room. The IR LEDs do a great job of illuminating the whole room while being nearly invisible to the human eye. I was really impressed with how well this feature worked.
At the bottom of the window is a large area for remotely controlling the pan and tilt of the camera just like a joystick. The camera can move very rapidly but I sometimes found it a bit too fast. It rotates almost instantly after you push a button, but the video lags behind by about 15 seconds. This made it cumbersome to line up a shot of a certain area due to the disconnect. Maybe this 10-15 second delay in video playback is something Wyze can improve in future software updates.
Under the "More" tab, you can enable the motion tracking mode, a "Pan Scan" mode, motion tagging, view your saved clips, edit time lapse settings, or turn the camera off entirely. The motion tracking mode worked much better than I expected for a $30 camera. The camera pans and tilts to follow the subject as it moves around its field of view. Below is short footage I took of it in action. Motion tagging gives you the option to add a green box around where the camera detects movement. It's not the best, but gets the job done here.
The Pan Scan is a unique feature that allows you to keep track of a whole room at once. This mode allows you to set pre-defined waypoints around the camera that you want to keep track of. The camera will then cycle through these waypoints every few seconds. The default mode has four waypoints 90 degrees apart with the camera taking about a minute to cycle through all four.
The Wyze Cam Pan has a built-in microphone and speaker for two-way audio but I would generally stay away from using it unless necessary. The speaker inside of the camera has very poor sound quality so it can be heard to tell what's happening at the other end. You can generally have a conversation with someone in front of the camera from your phone, but don't expect much clarity or range beyond that.
The app also offers some more advanced settings as well. You can customize what alerts you want and when you want them. I think the most common choice here would be motion or sound detection since it's pretty obvious when a smoke or CO alarm goes off. There are more settings like adding a timestamp watermark, rotating the image for an upsidedown mount, and configuring night vision mode. Finally, you can reformat the SD card and adjust how sensitive the motor controls are as well.
That's about all there is to it.
The Wyze Cam Pan is a $37 (or less) security camera that can go head to head with cameras that cost more than 5x more. Its three biggest rivals, the Amazon Cloud Cam, the Nest Cam, and the Ring Spotlight Cam, cost $120, $175, and $200, respectively. While they may have a more polished interface (in some cases), flashier advertising, and some extra features like person detection (for which you pay a subscription), the Wyze Cam Pan has almost all of the same features. It works with Alexa or IFTTT, it can send you mobile alerts, and it offers cloud backup just like the other three.
It's not perfect though. I'd love to see web playback and a more responsive interface. That said, if you're in the market for a home security camera, you'd almost be crazy not to consider one. My recommendation would be to buy one first and set it up for a few weeks. If it meets your needs, great. Problem solved for less than $30. If it doesn't, you can consider upgrading to a more premium camera but that won't be likely.