TechSpot is celebrating its 25th anniversary. TechSpot means tech analysis and advice
you can trust
.
When you buy through our links, we may earn a commission.
Learn more
.
CrossfireX vs. Hydra
Note: The latest "1.7.103" driver adds support for the GeForce GTX 580 and Radeon HD 6870 graphics cards as well as the NVidia WHQL driver 263.09 and ATI WHQL drivers 10.10e/10.11 drivers.
Okay now for the fun, or should I say "frustrating" part of our review: testing the Lucid HydraLogix engine. We had big plans to run numerous graphics card configurations to show you what the controller is capable of. Unfortunately, those plans were crushed.
Testing this portion of the the Asus Crosshair IV Extreme quickly became a nightmare and for whatever reason, we weren't able to get the HydraLogix engine working correctly.
Some reviews have shown decent performance when mixing graphics cards, while others say performance declines. When using graphics cards such as the GeForce GTX 480 and Radeon HD 5870 we found nothing happened at all. The Lucid logo would appear in the games we were testing but the performance went unchanged.
When using two Nvidia or two AMD graphics cards we ran into even bigger problems. Most games were unplayable due to massive tearing, while others failed to load. We finally got a pair of Radeon HD 5870 graphics cards working together with the HydraLogix engine, but the performance was less than desirable as you are about to see.
We first tried testing with the Catalyst 10.10 and the Forceware 260.99 drivers along with the HydraLogix 1.7.102 drivers, which are designed to work with Forceware 260.99 according to the release notes. However, this caused the issues mentioned above, and rolling back to older drivers didn't solve any of the problems.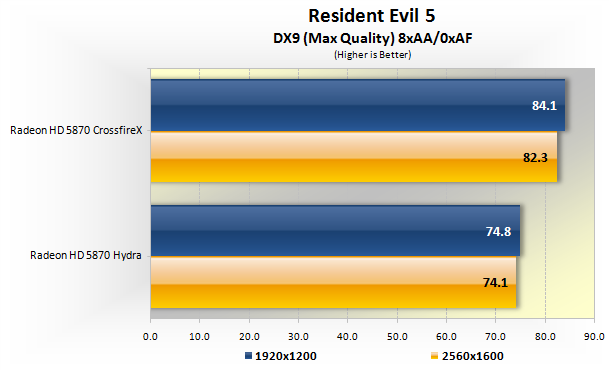 Using the Lucid HydraLogix engine meant that the Radeon HD 5870 graphics card combo was 12% slower when compared to using CrossFire technology – quite the decline. With numbers like that, we can't say we have much faith in this technology right now.