TechSpot is celebrating its 25th anniversary. TechSpot means tech analysis and advice
you can trust
.
When you buy through our links, we may earn a commission.
Learn more
.
Kingston SSDNow V+180 64GB in Detail
The Kingston SSDNow V+180 Series is based on the tried and true Toshiba T6UG1XBG controller and comes in three different sizes: 64GB, 128GB and 256GB. The 64GB model we have costs $2.56 per gigabyte with a total price of about $164. The 128GB version is a slightly better value at $2.14 per gigabyte, while the 256GB version costs $2.55 per gigabyte.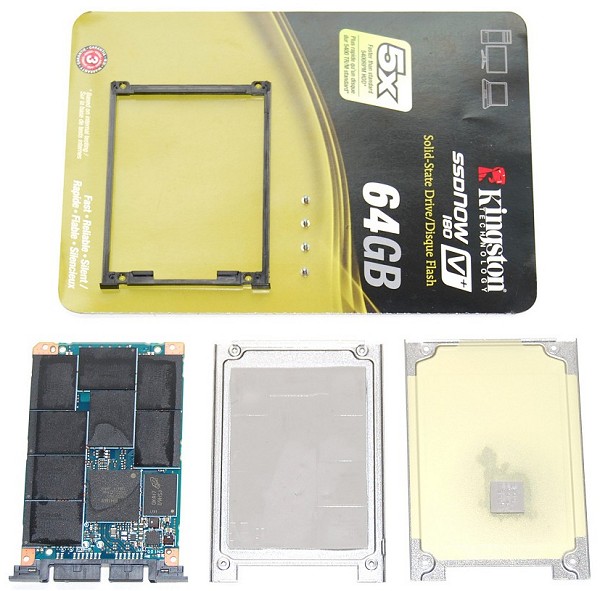 This tiny drive packs eight 8GB NAND flash chips for a total capacity of 64GB. Unlike SandForce-based drives however, the SSDNow V+180 can effectively use the full capacity for user storage. The SandForce SF-1200 controller has to set aside a percentage of the NAND flash memory for its DuraWrite technology, but the Toshiba T6UG1XBG controller has no such requirement.

The SandForce SF-1200 controller does this because it doesn't incorporate a cache buffer. The Toshiba T6UG1XBG controller on the other hand, is accompanied by a Micron OKA17 D9HSJ (128MB) cache. We should point out that in addition to making the controller, Toshiba supplies the SSDNow V+180's NAND flash memory.

The SSDNow V+180 Series is rated for a read throughput of 230MB/s and a write performance of 180MB/s. On paper, the SSDNow V+180 is considerably faster than the OCZ Onyx 64GB, which is rated at 145MB/s and 120MB/s. Meanwhile, the Intel X18-M 80GB is rated for 250/70MB/s and the Crucial RealSSD C300 64GB boasts an impressive read throughput of 355MB/s when using SATA 6Gb/s, but its write speed is only spec'ed at 75MB/s.
Kingston claims that the SSDNow V+180 Series has a MTBF (Mean Time Between Failures) of 1 million hours. This is more conservative than the ~1.5 million hours most manufacturers label their SSDs with. Kingston claims that the drive will withstand 1500G shock resistance, the standard amongst SSDs.
Like all SSD-based products, the SSDNow V+180 drives are very conservative when it comes to power consumption. At idle all three models use less than 0.5 watts and when active consume just 2.9 watts.
Using the compact 1.8" form factor, these drives measure just 54 x 78.5 x 5 mm and weight 48 grams, making them ideal companions for both tablet PCs and netbooks. The drives support RAID and are backed by a limited 3-year warranty.