TechSpot is celebrating its 25th anniversary. TechSpot means tech analysis and advice
you can trust
.
When you buy through our links, we may earn a commission.
Learn more
.
HIS Radeon HD 6850 IceQ X Turbo
The reference Radeon HD 6850 is relatively compact and the HIS version doesn't change this, measuring 8.5" (21.5cm) end to end. This makes it just 0.2" (5mm) longer than the GeForce GTX 460 1GB and Radeon HD 5770.

The GPU has been fabricated using the 40nm process, but features 454 million less transistors than the Radeon HD 5850's Cypress XT core. This allowed AMD to shrink the die from 334mm2 to 255mm2, making the Radeon HD 6850 more fuel-efficient.
By default, the core is clocked at 775MHz – 50MHz higher than the Radeon HD 5850 – while the GDDR5 memory operates at the same speed of 1000MHz (4.0GHz DDR). Pairing that frequency with a 256-bit memory bus gives the Radeon HD 6850 128GB/s of bandwidth, identical to the 5850.
HIS has made some adjustments, increasing the core clock frequency 6% from 775MHz to 820MHz. The GDDR5 memory frequency has also been increased 10% from 1000MHz to 1100MHz (4.4GHz DDR).

HIS is using a conservative clock on the Radeon HD 6850 IceQ X Turbo's memory at 1100MHz as the card uses Hynix H5GQ1H24AFR-T2C, which is rated at 1250MHz (5.0GHz DDR). With enough voltage, that should translate in extra overclocking headroom.
The core configuration of the Radeon HD 6850 is as follows: 960 SPUs (Stream Processing Units), 48 TAUs (Texture Address Units) and 32 ROPs. This is a lighter configuration compared to the old Radeon HD 5850, which featured 1440 SPUs, 72 TAUs and 32 ROPs.
Although the AMD reference cooler found on the Barts Pro GPU is adequate, HIS has replaced it for something more efficient. HIS claims their IceQ X heatsink and fan combo keeps the overclocked HD 6850 13 degrees Celsius cooler than the reference heatsink.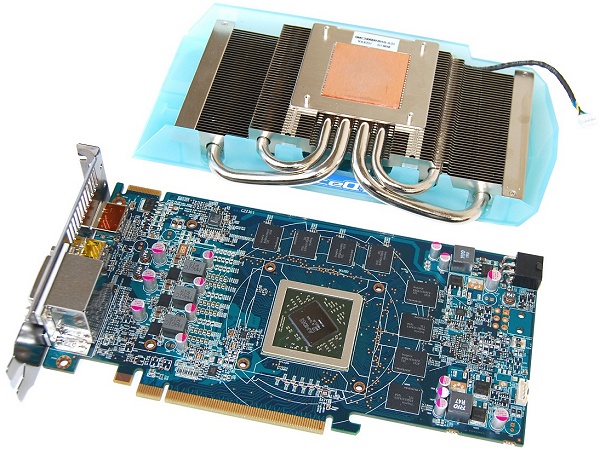 The IceQ X has four large 8mm heatpipes that extract heat from the copper base plate and distributes it across an area of 7.2" (18cm) by 3.2" (8cm) featuring 44 aluminum fins, which are cooled by a large 3.6" (9.2cm) fan that is remarkably quiet, even under load.

Although the IceQ X cooler does an excellent job of keeping the GPU cool, it doesn't address the needs of the memory IC's and power circuitry. HIS has left the card's eight memory chips naked while the three power MOSFETs are cooled with a thin aluminum strip.


To ensure the graphics card gets enough power, the AMD reference design calls for a 6-pin PCI Express power connector – identical to what you'd find on a Radeon HD 5770 or GeForce GTX 460.
The Radeon HD 6850 supports Crossfire with a connector to bridge another 6850, something we'll be testing in this review. The I/O panel sports two dual DL-DVI connectors along with an HDMI 1.4a port and a DisplayPort 1.2 socket. It's worth noting that all Radeon HD 6850 cards can support a max. resolution of 2560x1600 on up to three monitors.