Gigabyte Z68XP-UD3-iSSD Motherboard Review
Page 11 :

Power Consumption & Conclusion By
TechSpot is celebrating its 25th anniversary. TechSpot means tech analysis and advice
you can trust
.
When you buy through our links, we may earn a commission.
Learn more
.
Power Consumption & Conclusion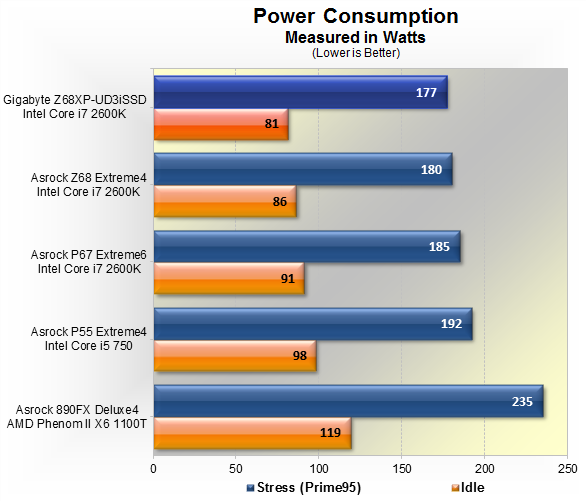 The Gigabyte Z68XP-UD3-iSSD's power consumption figures are very similar to the Asrock Z68 Extreme 4's and the Intel SSD 311 drive has virtually no impact on the board's power draw.
Final Thoughts
As we learned a few months ago in our Asrock Z68 Extreme4 motherboard review, there isn't much of a performance difference between Intel's P67 and Z68 chipsets. Intel's latest Cougar Point chip is more about bridging the gap between the H67 and P67.
As you've probably gathered by now, SRT has been the focal point of Gigabyte's Z68XP-UD3-iSSD because it's the first motherboard we've seen ship with an on-board cache drive right out of the box. Gigabyte's package is also interesting because it comes with the SLC-based Intel SSD 311 20GB drive, which costs $130 alone.
That price makes SRT far less cost effective than we expected. Intel's idea – or at least as we understood it – was to offer an inexpensive ($40-$50), low capacity SSD for SRT, making it easy for someone to boost performance without buying a full-fledged SSD. At nearly twice the price of our 1TB Samsung hard drive, the Intel SSD 311 20GB is a hard pill to swallow on its own.
However, by bundling the drive for $240, Gigabyte makes SRT more feasible to the average enthusiast. The Z68XP-UD3-iSSD is essentially the Z68X-UD3H-B3 ($170) without all the video outputs, so you're getting Intel's cache drive for nearly half price.
Half off or not, you're probably wondering whether the SSD 311 20GB is all it's cracked up to be. When compared directly against Kingston's SSDNow V+ 180 64GB, the answer is yes. We tested Kingston's budget drive with SRT earlier this year and found almost no performance boost in our file copy tests while Intel's cache drive provided up to 50% more throughput. It also significantly improved small file read and write performance as well as write access times.
Outstanding product: Gigabyte Z68XP-UD3-iSSD Motherboard
If you plan to use Intel's hybrid storage technology, you stand to gain the most from using the company's cache drive and Gigabyte's board seems like the best way to get your hands on one. The Z68XP-UD3-iSSD takes Intel's SRT to the next level by shipping a pre-installed cache drive and making setup easier courtesy of Gigabyte's EZ Smart Response technology.
It remains to be seen whether the value proposition is there for SRT to become a trendsetter among enthusiast motherboards and high-end PCs in general, but for now we're digging Gigabyte's solution.