Gigabyte Z68XP-UD3-iSSD Motherboard Review
Page 3 :

Board Design & Layout By
TechSpot is celebrating its 25th anniversary. TechSpot means tech analysis and advice
you can trust
.
When you buy through our links, we may earn a commission.
Learn more
.
Board Design & Layout
Since moving from a north and southbridge chipset configuration to a PCH (Platform Controller Hub), Intel has allowed board makers to use much more compact cooling designs. This was seen when reviewing P55 and P67 motherboards, and such is the case with Z68 products.

The heatsink on the Z68 measures 3.5" x 2.5" and just 0.25" tall. The die surface of the Z68 chipset – or Platform Controller Hub – measures roughly 0.4" x 0.4", so the actual bulk of the heatsink is about 1.2" x 1.2". The larger heatsink cooling the board's power circuitry is 3.3" x 0.9" and 1.1" tall.

Almost all Z68 motherboards support at least two PCI Express x16 slots and the Gigabyte Z68XP-UD3-iSSD is no different, providing gamers with a pair PCIe x16 slots (they run at x8 bandwidth if they're both occupied). The Z68XP-UD3-iSSD also carries three PCIe x1 slots and two traditional PCI slots.

The primary and secondary PCIe x16 slots have been separated by a pair of PCIe x1 slots to help improve air-flow between dual graphics cards, a design that most motherboard manufacturers use today.
We only have one noteworthy gripe with Gigabyte's layout: it puts the CMOS battery between the PCIe x16 slots, making it impossible to access with even one graphics card installed. This design flaw can be found on a number of motherboards and many board makers appear unwilling to correct it.
The rest of the Z68XP-UD3-iSSD board design looks quite good. The 24-pin power connector is well placed on the right hand side of the board, where it is accompanied by the four SATA 6Gb/s ports and four SATA 3Gb/s ports.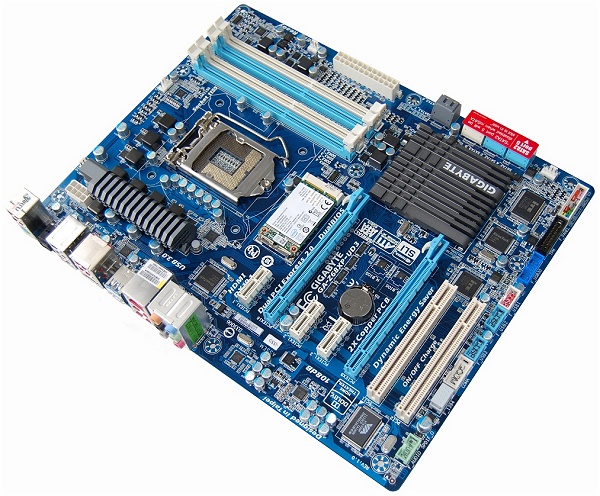 The newly added mSATA connector is just below the LGA115 socket and comes outfitted with an Intel SSD 311 20GB drive (model "SSDMAESC029G2"). Considering this is a low-profile interface, the mSATA connector and its drive do not cause any compatibility issues on the ATX motherboard.

Looking at the I/O panel, we have a single legacy PS/2 port, eight USB 2.0 ports, two USB 3.0 ports, Ethernet, a Firewire port, HDMI and S/PDIF-out, along with six audio jacks. Although the Z68 chipset brings support for DisplayPort, VGA and DVI they are not utilized by the Z68XP-UD3-iSSD.
Overall, we are pleased with the Gigabyte Z68XP-UD3-iSSD's design and layout. Its cooling is sufficient, its layout is geared toward multi-GPU setups and its I/O panel provides all the necessary connectivity.