TechSpot is celebrating its 25th anniversary. TechSpot means tech analysis and advice
you can trust
.
When you buy through our links, we may earn a commission.
Learn more
.
Inside the U2442F, Performance/Benchmarks
Although it's not something we do every time we review a laptop, we decided to take apart the Gigabyte U2442F to see how things look on the inside. Only the back cover needs to be removed to get full access, though in doing so we had to remove eight rubber plugs and 21 screws.
At the front of the Ultrabook is the Li-polymer (11.1V, 47.73Wh) battery which measures 210mm by 75mm and is just 10mm thick. Adjacent from the battery is a 2.5" hard drive. Our review unit came with the Toshiba MQ01ABD075, which is a 750GB, 5400-RPM, SATA II drive.

Interestingly, the 2.5" hard drive is not screwed into the Ultrabook but rather it just sits in place inside a rubberized caddy which not only holds the drive but also reduces vibration and therefore noise.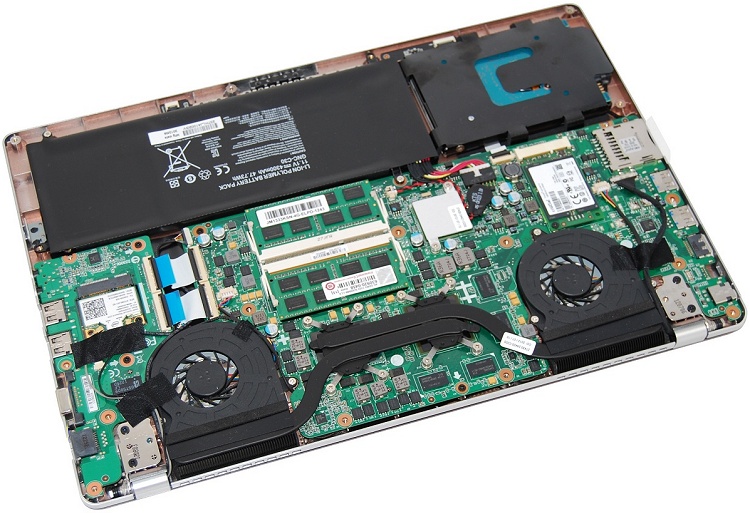 The U2442F's internals are dominated by the motherboard, a green PCB measuring 260mm by 140mm. The vast majority of the hardware components are on this PCB, though there is a smaller 60mm by 140mm PCB on the right side which houses the Wi-Fi and Bluetooth card along with a few USB ports.
Both DIMM slots are loaded with a pair of DDR3-1333 4GB sticks for a total capacity of 8GB. The 3rd Generation Intel Core i7 processor consists of the i7-3517U (1.9GHz - 3.0GHz), though it is also possible to get the slightly faster i7-3537U (2.0GHz - 3.1GHz) processor in this same model.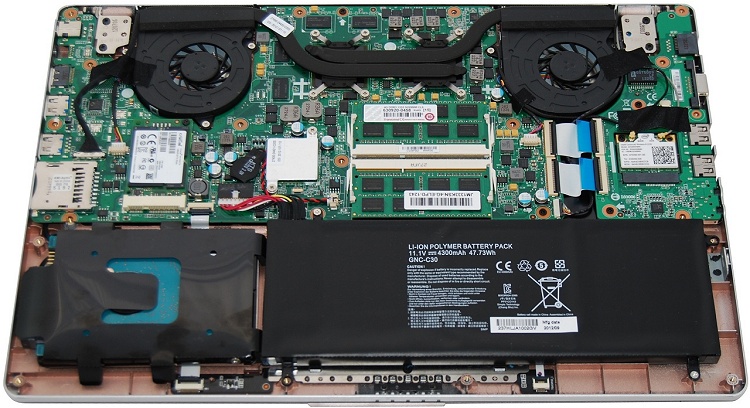 All variations of the U2442F come with the Nvidia GeForce GT 650M 2GB GPU, while the integrated Intel HD 4000 graphics can be used for less demanding tasks. The GeForce GT 650M 2GB GPU is quite a decent solution when armed with dedicated GDDR5 memory.
However this isn't the case in the U2442F, as the GeForce GT 650M uses slower DDR3-1866 (CL13-13-13) memory. The result is a severely capped memory bandwidth of just 28.8GB/s, opposed to 64GB/s if it used GDDR5 memory.
As a comparison the GeForce GTX 650 desktop graphics card has a memory bandwidth of 80GB/s and we don't hold that particular GPU in high regard when it comes to gaming performance, so we are not expecting much from the U2442F.
Gigabyte uses active cooling on both the GPU and CPU, using a pair of 45mm blower fans which are connected using a low-profile heatpipe. The mobile Intel HM77 Express chipset is passively cooled using a small aluminium heat spreader.

Along the 750GB 2.5" hard drive there's a mSATA slot which can be fitted with either a 128GB or 256GB SSD. Gigabyte has picked the highly regarded Crucial m4 which is a high speed SATA 6Gb/s SSD.
Benchmarks Results
Synthetic Tests
Yoga 13
Aspire S5
TimelineU M5
MacBook Air
Gigabyte U2442F
3DMark 06
3DMark Score
4393 3DMarks
5263 3DMarks
11958 3DMarks
5785 3DMarks
8497 3DMarks
3DMark
Cloud Gate Score
N/A
N/A
N/A
N/A
4443 3DMarks
PCMark Vantage
PCMark Suite
N/A
13643 PCMarks
6743 PCMarks
N/A
N/A
PCMark 7
PCMark Suite
N/A
N/A
N/A
N/A
4875 PCMarks
| | | | | | |
| --- | --- | --- | --- | --- | --- |
| Application Tests | Yoga 13 | Aspire S5 | TimelineU M5 | MacBook Air | Gigabyte U2442F |
| | | | | | |
| iTunes Encoding Test | 1 min 25 sec | 1 min 15 sec | 1 min 19 sec | 51 sec | 1 min 14 sec |
| | | | | | |
| File Transfer Test | | | | | |
| Small files | 24 sec | 10 sec | 1 min 11 sec | 22 sec | 20 sec |
| Large file | 22 sec | 10 sec | 1 min 19 sec | 22 sec | 10 sec |
| | | | | | |
The iTunes encoding tests consist of converting 14 MP3s (119MB) to 128Kbps ACC files and measuring the operation's duration in seconds. For file transfers, we measure how long it takes to copy two sets of files from one location to another on the same hard drive. On the small files test we transfer 557 MP3s, totaling 2.56GB. For the large file, these same MP3s were zipped into a single file measuring 2.52GB.
| | | | | | |
| --- | --- | --- | --- | --- | --- |
| Gaming Performance | Yoga 13 | Aspire S5 | TimelineU M5 | MacBook Air | Gigabyte U2442F |
| | | | | | |
| Far Cry 2 | | | | | |
| 1024x768, Medium Quality | 23.5 fps | 35.2 fps | 69.0 fps | 37.3 fps | 47.9 fps |
| Native res, High Quality | 15.3 fps | 21.9 fps | 55.5 fps | 19.3 fps | 39.6 fps |
| | | | | | |
| StarCraft 2 | | | | | |
| 1024x768, Medium Quality | 16.9 fps | 21.8 fps | 39.7 fps | 25.1 fps | 28.5 fps |
| Native res, High Quality | 10.8 fps | 15.2 fps | 29.9 fps | 16.1 fps | 24.5 fps |
| | | | | | |
15.6" 1366x768 LED-backlit display
Intel Core i5-3317U (1.7GHz - 2.6GHz)
6GB DDR3 RAM
Intel HD 4000 Graphics + GeForce GT 640M LE 1GB
20GB SSD + 500GB 5400RPM HDD
Windows 7 Home Premium 64-bit

13.3" 1600x900 IPS LED multi-touch display
Intel Core i5-3317U (1.7 - 2.6GHz)
Intel HD Graphics 4000
4GB of DDR3 RAM
128GB SSD
Windows 8 64-bit

13.3" 1366x768 LED-backlit display
Intel Core i5-3317U (1.7GHz - 2.6GHz)
4GB DDR3 RAM
Intel HD 4000 Graphics
2 x 128GB SSD RAID0
Windows 7 Home Premium 64-bit

13.3" 1440x900 LED-backlit display
Intel Core i5-3427U (1.8GHz - 2.8GHz)
4GB DDR3 RAM
Intel HD 4000 Graphics
128GB SSD
Mac OS X, Windows 7 Home Premium 64-bit

13.3" 1600x900 LED-backlit display
Intel Core i7-3517U (1.9GHz - 3.0GHz)
8GB DDR3 RAM
Nvidia GeForce GT 650M 2GB
Intel HD 4000 Graphics
Toshiba 750GB HDD
Crucial m4 128GB SSD
Windows 8 64-bit