TechSpot is celebrating its 25th anniversary. TechSpot means tech analysis and advice
you can trust
.
When you buy through our links, we may earn a commission.
Learn more
.
Software, Performance, Battery Life
The Nexus 7 runs pure Android 4.3 'Jelly Bean' without any device-specific customizations. The result is a good blend of optimization, design and functionality, with most aspects of the standard Android smartphone software transitioning very well to small tablets, especially after a lot of refinement since Android 3.0.
In my last review I chastised Sony for not optimizing the Xperia Z Ultra's software for the large screen, but the Nexus 7 is an entirely different ball-game. For starters, the OS itself is running in a tablet-specific mode, designed for devices of this screen size, complete with an optimized lockscreen, app drawer, notification pane and homescreens. Each of the apps also runs in a tablet mode, meaning more information is displayed on the screen compared to the smartphone versions.
For example, the calendar app shows the week view and a small month view side by side, and the contacts app show both a list of contacts and contact info in one screen. These optimizations extend to all Google-made apps and that's exactly what you want to see.
Unfortunately one of the main downsides to purchasing an Android-powered tablet is the small selection of awesome tablet apps you can find in the Google Play Store. Third-party apps are clearly not up to the standard found in the iOS App Store, and although there are some really good apps to be found and enjoyed, there simply isn't enough of them. The problem certainly isn't as bad as with Windows Phone or Windows 8 - with Android on tablets I see improvements each month - but at the same time it could certainly be better.
On the upside, you'll find no shortage of solid, high-quality games to play on the powerful Qualcomm Snapdragon chipset, which is something I'll look at below.
Performance
When choosing an SoC for the new Nexus 7, Asus decided to ditch Nvidia in favor of Qualcomm, incorporating a Snapdragon S4 Pro chipset into the tablet. Tearing down the Nexus 7 reveals the SoC is an APQ8064-1AA, which is actually closer to a Snapdragon 600 than the S4 Pro it's branded as, due to the inclusion of Krait 300 CPU cores as opposed to Krait 200s usually found in the S4 line.
The APQ8064-1AA features a quad-core Krait 300 processor clocked at 1.5 GHz, alongside an Adreno 320 GPU clocked at 400 MHz, an LPDDR3 memory controller, a Hexagon QDSP6V4 digital signal processor (DSP), and radios for Bluetooth 4.0 and dual-band Wi-Fi 802.11a/b/g/n. The chip is produced using a 28nm LP process, and is very similar to the APQ8064 SoC seen in the LG-made Nexus 4, if not a little faster.
Alongside the Snapdragon SoC is 2 GB of RAM and 16 GB / 32 GB of internal storage. Unfortunately there's no microSD card slot to expand the storage, though I still found it to be plenty of space even on the 16 GB model. There's also a version available with LTE connectivity, although for this review we tested the Wi-Fi only model.
As with essentially all devices in the upper performance echelon these days, the Nexus 7 is a smooth and capable performer. Android feels well optimized for the device, so you're always getting the interface rendered at 60 frames per second with no lag to speak of. App switching is fast, and 2 GB of RAM allows a lot of applications to be stored for quick access, although task management isn't as fast as recent Snapdragon 800 CPUs I've used.
In the early days of Google's Chrome browser for Android, which is the only browser included out of the box on the Nexus 7, it wasn't exactly the fastest or most stable piece of software. However, improvements to both Android and Chrome, especially in recent months, have made Chrome much nicer to use. It can be a little slow when zooming in or switching tabs while you wait for the webpage to re-render, but overall I was happy with the browsing capabilities of the 7-inch device.
The Adreno 320 GPU inside the Nexus 7's SoC is snappy, and despite it needing to render over 2.3 million pixels, it's more than capable of running today's Android games smoothly. Everything from my personal favorite games such as Real Racing 3, to console-to-Android ports like Grand Theft Auto III run fluidly and close to 60 frames per second on the Nexus 7. The large screen also helps to make this a worthy portable gaming system, easily as capable as the top-end smartphones but for a fraction of the cost.
Looking at benchmark results, the tablet performs as expected. In Vellamo it scored 20% lower than Snapdragon 600-powered smartphones, although this can partly by explained by a ~15% clock speed decrease. It's also a little slower than other devices in the Peacekeeper benchmark, although it was expected considering the Krait 300 cores and 1.5 GHz clock speed.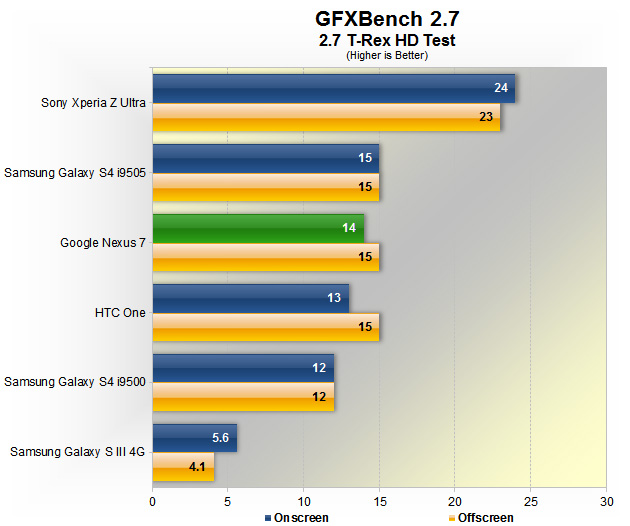 The Nexus 7's Adreno 320 GPU also performs on-par with other Adreno 320-powered devices in GFXBench, although you can see the newer Adreno 330 in the Xperia Z Ultra powering ahead with a 50% lead.
Battery Life
In an interesting move, Asus has reduced the battery size of the new Nexus 7 opting for a 15 Wh (3950 mAh) battery over a 16 Wh (4325 mAh) unit. Clearly this move was made to slim down the device, and as the SoC has seen a performance boost, the battery life should suffer as a result.
With that said, I found battery life to be very good from the 2nd-gen Nexus 7, perhaps even surpassing the original thanks to software optimizations and a more power-efficient CPU. Whether you're browsing the web on Wi-Fi or watching a video, generally the tablet lasts at least nine hours, if not more if you use a low brightness setting.
If you're big into gaming or high-performance tasks, you could probably get four hours of usage out of a fully-charged Nexus 7, which isn't too bad from a device of this class. Naturally the more strenuous the task, the less battery life you'll get, but four hours is enough to crack through a number of missions in GTA: Vice City or Modern Combat 4.
In our battery rundown test, where we loop a 720p video at 75% brightness in airplane mode until the battery dies, the Nexus 7 performed very well, lasting for 8 hours 40 minutes. The relatively high screen brightness set during the test means you could easily get more if you adjust the settings, and even so, nearly nine hours is a very respectable outcome.