TechSpot is celebrating its 25th anniversary. TechSpot means tech analysis and advice
you can trust
.
When you buy through our links, we may earn a commission.
Learn more
.
Performance: Intel's 'Bay Trail' Atom Z3740
Once again, the Lenovo Miix 2 8 makes use of Intel's 'Bay Trail' Atom Z3740 SoC, which includes a 1.33 GHz quad-core 'Silvermont' CPU with a 1.86 GHz Turbo boost, an Intel Gen 7 HD Graphics GPU clocked at 667 MHz, and a dual-channel LPDDR3 memory controller. The SoC is paired with a dual-band Wi-Fi 802.11a/b/g/n modem and Bluetooth 4.0.
I spoke further about the Z3740 in my Asus Transformer Book T100 review, and like I expected, the performance from the Lenovo Miix 2 8 is largely the same. Navigating Windows 8.1's 'Metro' interface is smooth and perfectly hardware accelerated, and launching applications is reasonably fast. Web browsing performance is also quite good, not as speedy as a 'Haswell'-powered machine, but nevertheless very acceptable for a tablet.
It is definitely possible to game on the Lenovo Miix 2 8, especially if you are just playing titles from the Windows Store. The Intel HD Graphics GPU, rendering to the 1280 x 800 display, is roughly as powerful as the Qualcomm Snapdragon 800 or Apple A7 GPU rendering to 1080p or above, so mobile-friendly titles generally run quite well. I did experience some micro-stutter in games like Asphalt 8, which wasn't present when playing the same game on the Transformer Book T100, but the game is definitely still playable.
As the Miix 2 8 features an x86-64 capable processor, it's running Windows 8.1 with full desktop capabilities. General performance around the desktop UI is great, and the Z3740 is even capable of running some apps such as web browsers and Office without a struggle. However it's definitely not a suitable platform for running professional apps such as Photoshop or Lightroom, as the Silvermont CPU cores simply aren't powerful enough. Also, forget running most desktop games unless you can put up with horrible frame rates.
All of this is of little consequence though, because there is one major issue with the Lenovo Miix 2 8: touchscreen responsiveness. During my time with the tablet, around half the time I went to use it, the touchscreen simply wouldn't work after powering the display on, leaving me unable to get past the lockscreen. After a series of turning the display on and off, and waiting several minutes, eventually something would kick into gear and the touchscreen would work again, but issues like this are simply unacceptable.
The problem also rears its head on a regular basis when using the on-screen keyboard. I consistently struggled to type at a reasonable pace, as the Miix 2 8 did everything from failing to register key presses, to inputting random special characters and even switching apps, as if the gesture was somehow being activated as I typed.
The whole cacophony of touchscreen-related issues makes the Miix 2 8 an incredibly frustrating tablet to use. There are periods where I forgot about the dodgy digitizer, but as soon as I opened an app like Twitter to compose a tweet, I found myself cursing again as I had to reduce my typing speed to a snail's pace to actually get key presses to register correctly.
It's not like I got a defective unit either: over the course of several weeks Lenovo sent out three Miix 2 8s, including one brand new retail model ordered through the Lenovo store. All of them had identical touchscreen issues, ruling out one-off issues with the model I was using. I'm hoping that there might be a software fix for the problem currently in development, but there are no guarantees.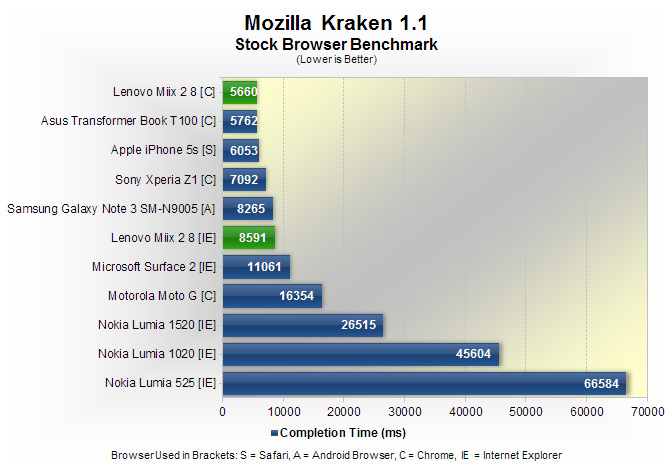 For what it's worth, I ran a few benchmarks on the Lenovo Miix 2 8 to compare it to other tablets on the market. As expected, it matches the Transformer Book T100, which has the same Z3740 SoC inside, and on CPU performance, beats top-performing ARM processors.
Interestingly, in 3DMark the Lenovo Miix 2 8 posted a significantly higher score than the T100, despite the test being screen resolution independent. In GFXBench though, offscreen results for the T-Rex HD benchmark on the Miix 2 8 and T100 are the same, with differences showing in the resolution-dependent onscreen benchmark. The Miix 2 8 has to render to slightly fewer pixels, and so posts a higher score in this test.
Internal storage in the 32 GB Miix 2 8 is quite limited: the storage partition is just 21.5 GB in size with 10.1 GB free after Windows 8.1 is installed. Luckily there's both a 64 GB model (for $40 more) and a microSD card slot in the device; you can't install Store apps on the microSD card, but it does provide a cheap way to add more storage for your media.
Lastly, I found Wi-Fi performance from the Miix 2 8 to be quite good. Streaming a 1080p video from my local media server was no trouble on either 2.4 GHz or 5 GHz 802.11n networks, indicating good throughput performance for media-related tasks. You don't get 802.11ac radios, but these routers aren't very prevalent in houses at the moment, so it's of little concern.