Motorola Moto G (2014) Review
Page 2 :

Performance: Déjà Vu By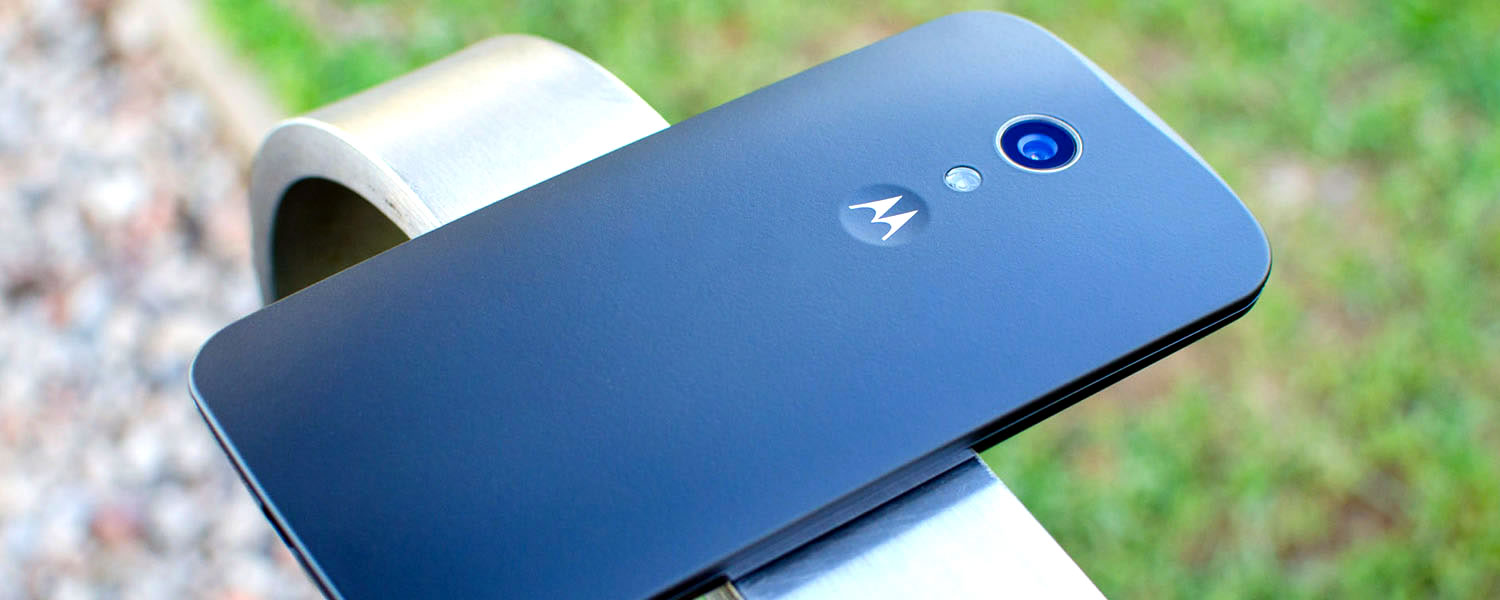 TechSpot is celebrating its 25th anniversary. TechSpot means tech analysis and advice
you can trust
.
When you buy through our links, we may earn a commission.
Learn more
.
Performance: Déjà Vu
Internally Motorola hasn't changed much about the Moto G: it's still using Qualcomm's Snapdragon 400 SoC, specifically the MSM8226, paired with the same 1 GB of LPDDR2 RAM. I suspect that Motorola hasn't opted for newer Snapdragon 410 silicon because of Qualcomm's release schedule; the newer SoC likely wasn't ready by the time Motorola was preparing for a launch of the Moto G. There are also cost-related concerns, with the older chip costing less than the newer one.
The MSM8226 in question contains a quad-core ARM Cortex-A7 CPU clocked at up to 1.2 GHz, paired with an Adreno 305 GPU clocked at 450 MHz. Connectivity wise there's single-band Wi-Fi 802.11b/g/n, Bluetooth 4.0, A-GPS+GLONASS, and HSPA+.
There are several models of the Moto G 2014, with the global model packing HSPA+ on the 850, 900, 1900 and 2100 MHz bands, and the North American SKU adding 1700 MHz to the package. As always, check with your carrier before purchasing the Moto G to ensure it will be supported on your network of choice.
Oddly, Motorola hasn't bothered to include LTE in the new Moto G, despite releasing an updated first-generation Moto G earlier this year (the Moto G 4G) that supported the newer, faster connectivity spec. This regression in the latest model is disappointing and frustrating, because you'd hope that the second generation of a smartphone would address one of the major issues with the previous generation, especially after it was already addressed in an interim model.
Is it possible to tell the difference between LTE and HSPA+? In my case, it is. I live in an area with very good LTE speeds (30-50 Mbps down) and average HSPA+ speeds (6-8 Mbps down), so having an LTE-capable smartphone provides me with a cellular connection that's upwards of four times faster. This is definitely noticeable during web browsing and accessing internet-connected apps.
Simply put, if you want LTE on your budget handset, the 2014 Moto G isn't for you.
The second-gen Moto G performs identically to the first-gen in general OS operations, so what I said in my review of that smartphone holds true here as well. The Moto G is lag-free throughout the OS, and delivers decent performance in applications that punches above its low price tag. 3D gaming on the 720p display is also possible, with the Adreno 305 being capable enough to run most high-end titles on the Play Store.
One thing I did notice during my time with the Moto G is that the time it took to load apps, switch between them, and return to the homescreen seemed longer than other Snapdragon 400-powered devices I've used recently. Usually these types of small delays aren't particularly noticeable, but it seemed quite obvious after a few days with the Moto G as my daily driver. Considering this hasn't been an issue on other handsets, it's likely a software optimization issue that will be resolved in a future update.
I'd be interested to see how the Moto G performs after it gets a promised update to Android L sometime in the future. ART is said to bring some performance improvements to existing devices, and Motorola typically has been very good at updating its devices in recent years.
The benchmarking section below isn't going to be all that interesting, as we've reviewed numerous Snapdragon 400 handsets in the past. It's made even more uninteresting because the previous generation model is exactly the same internally. What we're looking for here is consistency, hopefully with some improvements, although unlikely.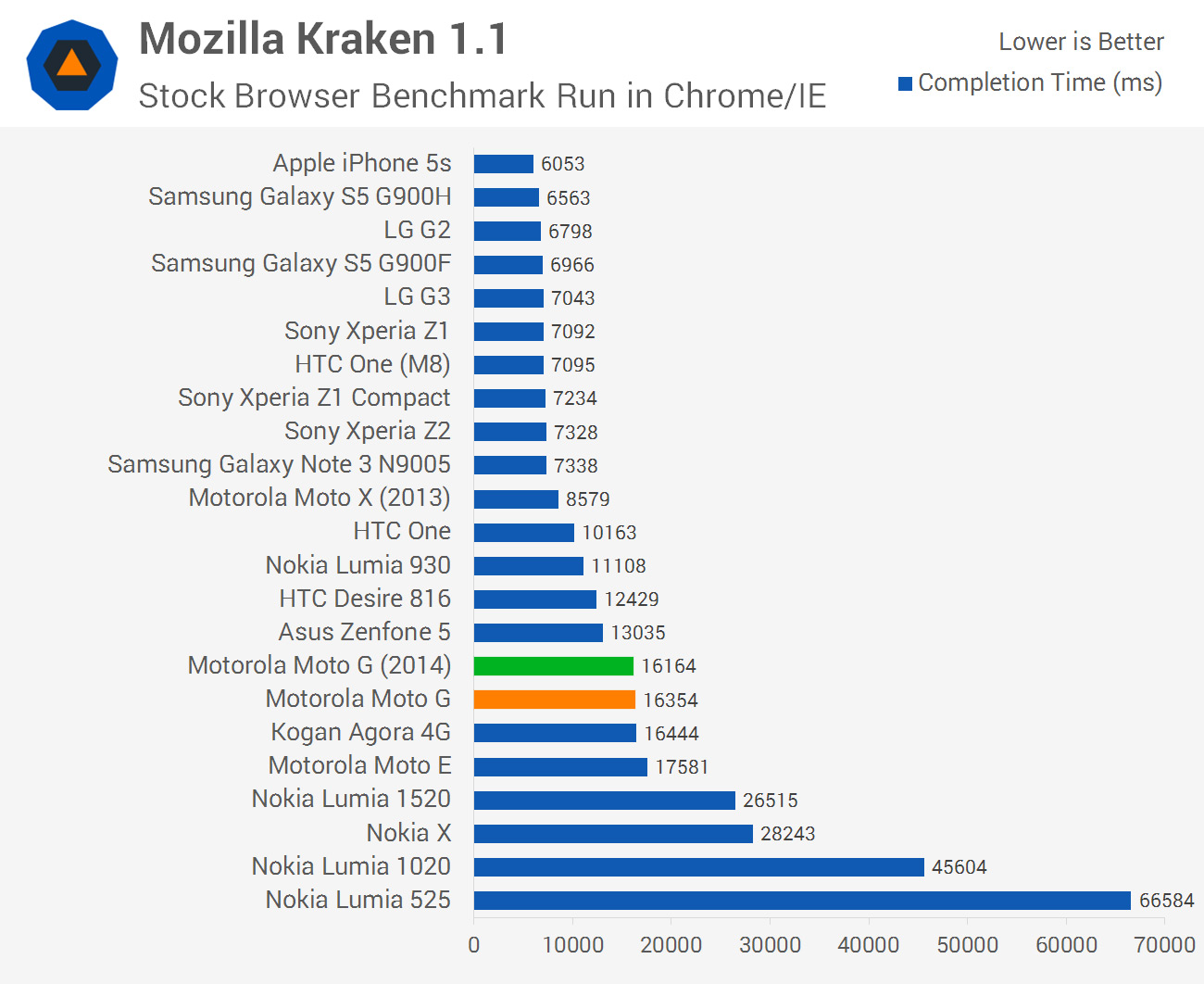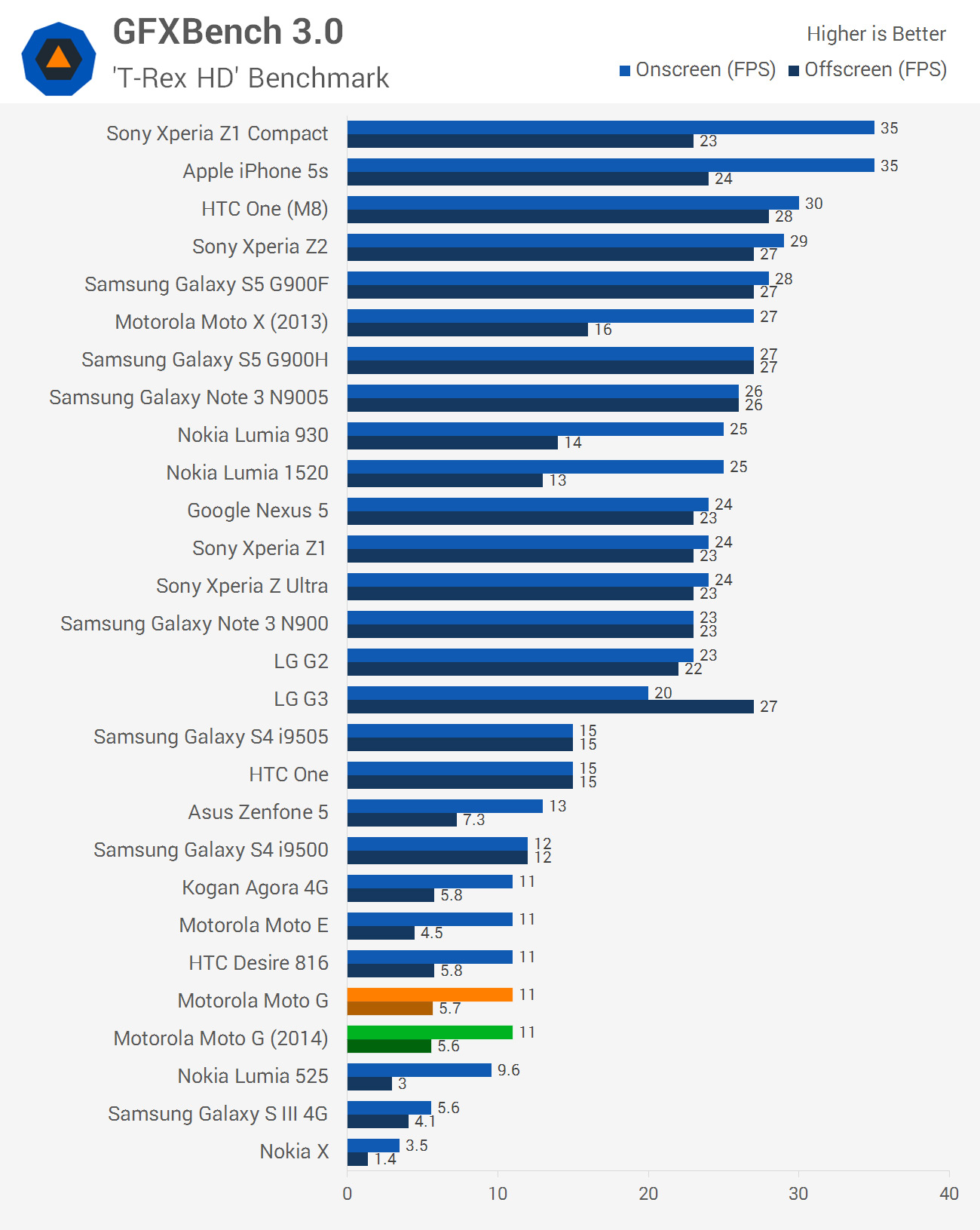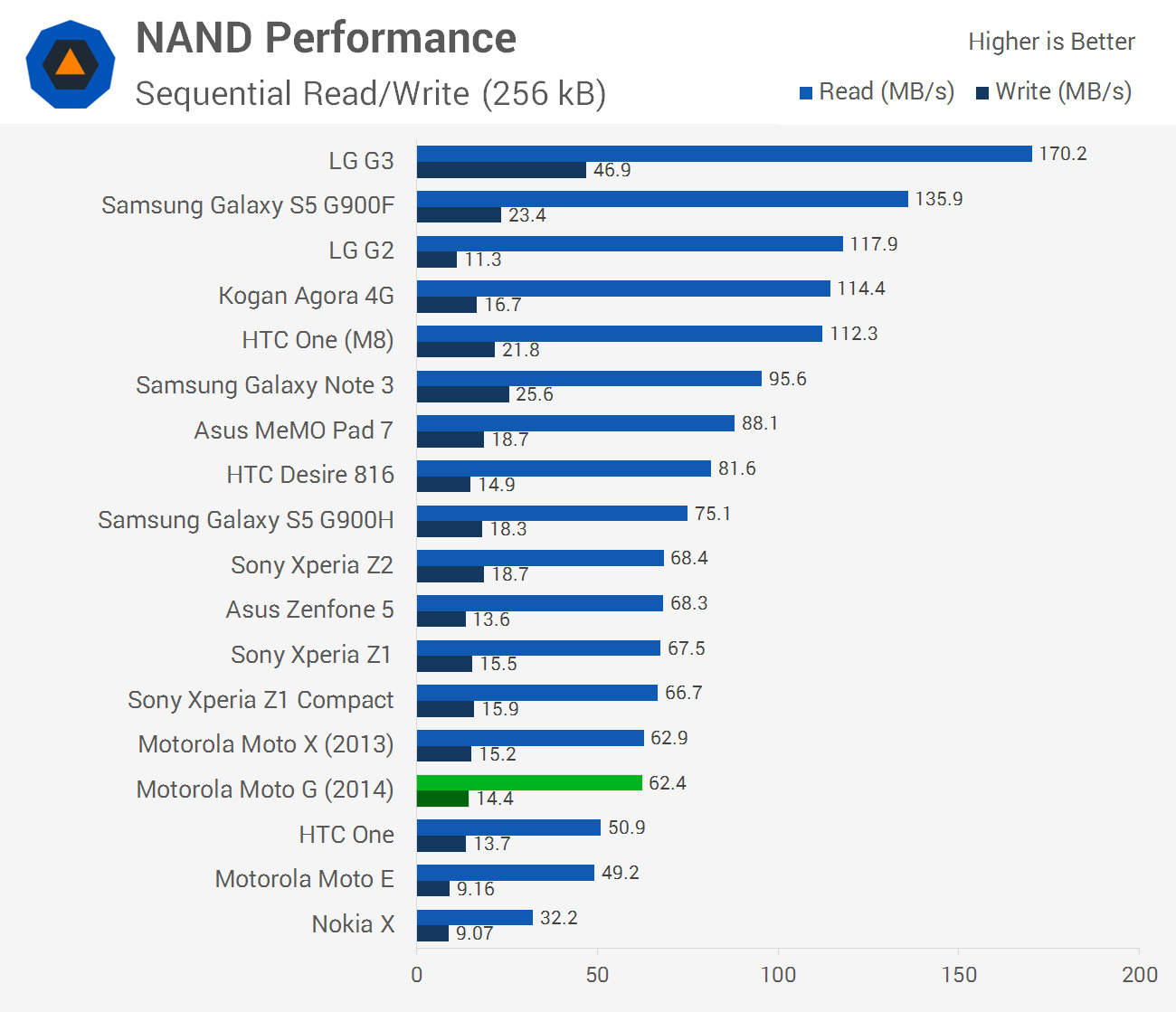 As I expected, the 2014 Moto G performs identically to the 2013 Moto G. However, as you'll notice by comparing the benchmarks I've run in this review to some of my other recent reviews, not all the benchmarks I usually run are here. This is because the Moto G crashed while running a few of them, which again points to something suspicious about the phone's software. Stability isn't a major issue on this handset, but I hope Motorola looks into this while preparing a software update.
Finally, a quick word on storage. Motorola is only shipping one variant of the Moto G storage wise, packing just 8 GB of internal NAND, with 5.51 GB available to the user out of the box. However, there's now a microSD card slot underneath the back panel, which means you can pack in up to 128 GB of extras storage on the cheap. A lack of expandable storage was one issue with the first-gen Moto G, so it's great to see Motorola addressing an issue there.