TechSpot is celebrating its 25th anniversary. TechSpot means tech analysis and advice
you can trust
.
When you buy through our links, we may earn a commission.
Learn more
.
Performance: Core M-5Y70 Revisited
Inside the Lenovo ThinkPad Helix is an Intel Core M-5Y70, which is the very same 14nm Broadwell part I first had hands-on time with in the Lenovo Yoga 3 Pro. While some aspects of Broadwell were intriguing, and I go into more detail on the hardware in my review of the Yoga 3 Pro, it delivered performance and battery life that wasn't as impressive as I was expecting.
The Core M-5Y70 features a base clock of 1.1 GHz across two cores (with Hyper Threading), with a Turbo Boost frequency up to 2.6 GHz. There's also Intel HD Graphics 5300 inside, clocked at 850 MHz, plus 4 MB of L3 cache. The base model of the ThinkPad Helix comes with 4 GB of DDR3L-1600 memory, though my review unit was blessed with 8 GB. The TDP for this part is just 4.5W, much lower than the older Haswell low-power parts.
Note that the entry-level ThinkPad Helix includes the slower Core M-5Y10, clocked at 0.8 GHz with Turbo Boost capabilities up to 2.0 GHz. Graphics in this model is also clocked at a lower 800 MHz, though the model remains the same. While I received the 5Y70 model to review, and the benchmarks that follow are for that processor, those that buy the 5Y10 variant should expect around 25% lower performance on paper.
Before I head into some benchmarks, one thing I did notice about the ThinkPad Helix is that the Core M processor inside seems much less stressed when having to render to a 1080p display, as opposed to a 3200 x 1800 display like was seen in the Yoga 3 Pro. CPU usage was noticeably lower while web browsing, especially when scrolling through media heavy websites, a task which wasn't as choppy on the Helix.
The Core M CPU isn't made for highly intensive tasks such as gaming or video editing, so you won't see great performance from the Intel HD Graphics 5300 chip. However it is possible to do some light image editing in Photoshop (especially if you get the model with 8 GB of RAM) while simultaneously editing a PowerPoint slideshow, which is great news for the worker on the go.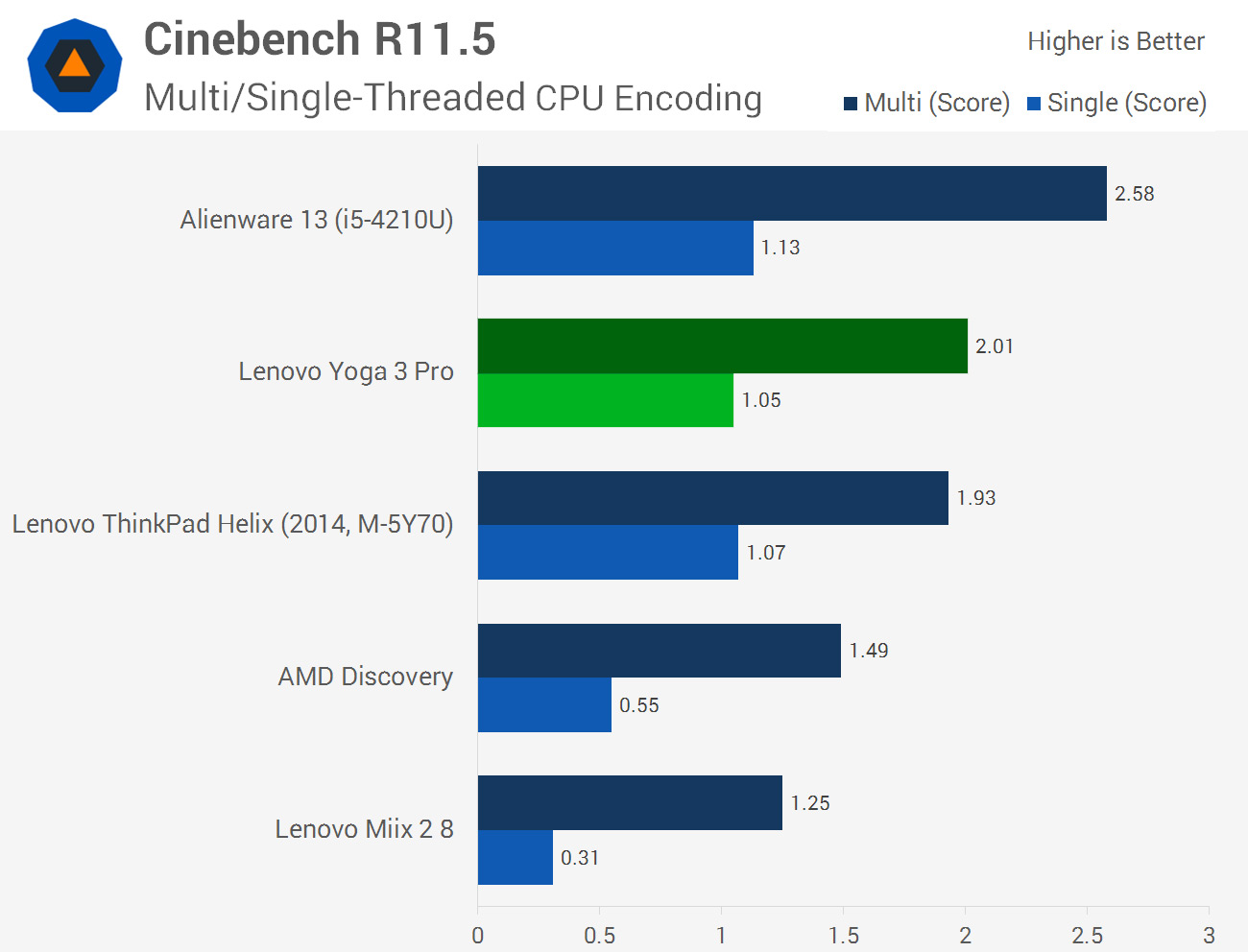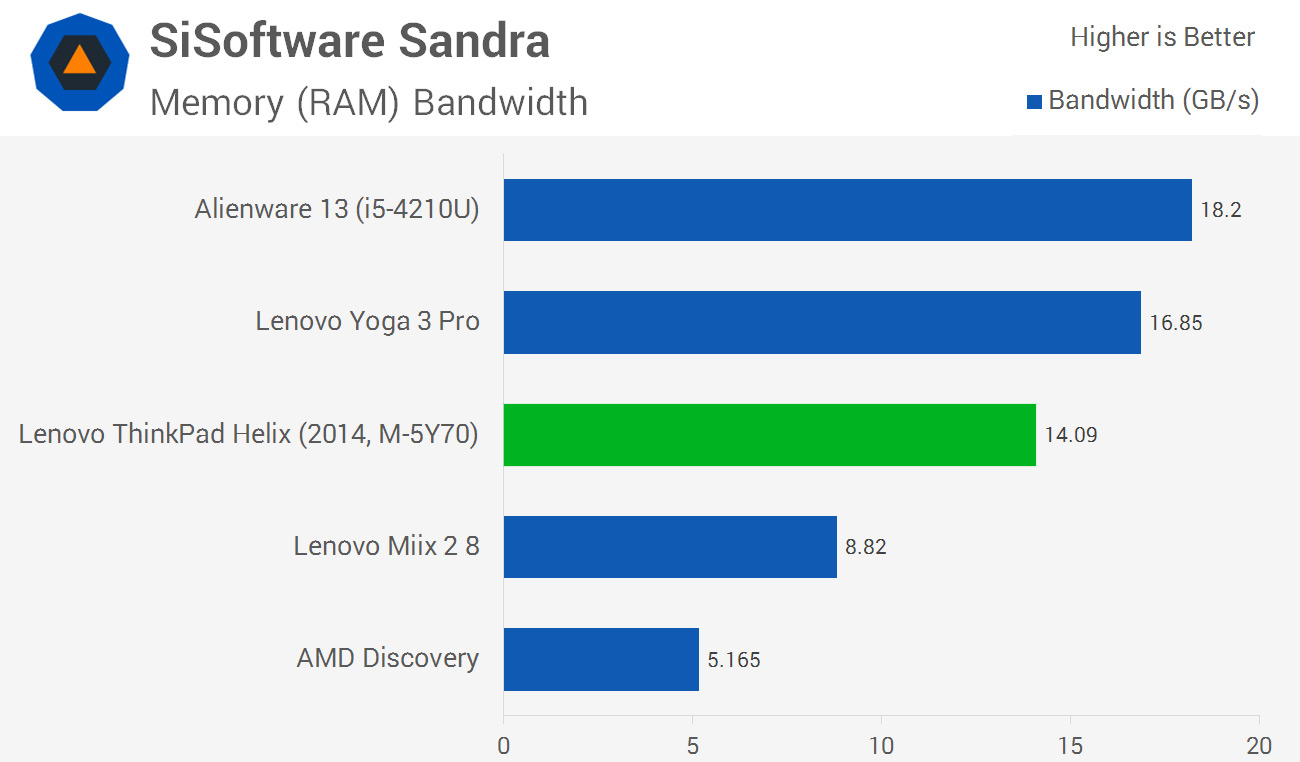 One interesting thing I didn't mention throughout the benchmarks above is that I ran all of them while the Helix was docked into the included Ultrabook Keyboard. You might think this is a relatively trivial piece of information, but it's not: performance actually decreases when the device is used as a standalone tablet.
I can't honestly explain to you why the behaviour is different between the tablet mode and the docked keyboard mode. There is no extra cooling in the dock, no extra battery, and nothing else that should impact performance. However, when I removed the tablet from the Ultrabook Keyboard, performance decreased across the board by around 25%.
Usually the only performance difference I would expect to see would maybe be a drop when switching from AC power to battery power, but this is not the case with the Helix: performance in either tablet or docked mode doesn't change on or off battery power. Instead, something in the Helix's software or firmware is telling the tablet to throttle when not docked to the keyboard, which quite frankly makes no sense considering the standard keyboard is a completely passive accessory.
Running Cinebench, for example, results in a CPU clock speed of around 1.63 GHz with 100% usage when run in the dock. Undock the tablet, and suddenly CPU clock speeds drop to 1.35 GHz at peak (100%) usage with occasional dips to 1.0 GHz and 75% usage. This is with absolutely no change in cooling solution or available battery capacity, and strikes me as pointless throttling.
There is also no immediately obvious way to disable this throttling (though I can't say I spent ages looking for a solution). In the Windows power options there are noticeably fewer options than I am used to seeing on other laptops, including no processor or graphics power controls. Normally that's where I would look if I wanted to switch to, or create, a performance mode, but one simply doesn't exist on the ThinkPad Helix.
This means that if you want to get the most out of your ThinkPad Helix from a performance perspective, you'll need to leave the tablet docked into the keyboard, even though the keyboard is only a basic accessory. I would understand the Ultrabook Pro keyboard with its included battery allowing the Helix to raise power consumption limits, but raising these limits makes no sense on the regular keyboard.
As for storage, the ThinkPad Helix review unit I was sent contained a 128 GB Samsung solid state drive, though more expensive models include 256 GB drives. Performance was average from this drive: I recorded 389 MB/s sequential read and 125 MB/s sequential write. There's nothing particularly bad about read performance from this SSD, but write is a tad slow.
Complementing the Core M CPU inside the ThinkPad Helix is Intel's Dual Band Wireless-AC 7265 chip that provides Wi-Fi 802.11a/b/g/n/ac and Bluetooth 4.0. While I haven't had any trouble with this chip previously, on the ThinkPad Helix I had a few issues getting it to connect to my home Wi-Fi network when the signal strength was average to poor. Other devices I've tested had no trouble connecting in exactly the same areas of my apartment, but for some reason the Helix is a little temperamental.
Also included in some models of the ThinkPad Helix is an LTE-capable modem, activated by inserting a SIM into the micro-SIM card slot. I tested the feature briefly and it seemed to work well on Australian LTE networks, with decent signal and good data speeds. No doubt it will be a handy feature for working on a train or outside the office.