Samsung Galaxy A5 Review
Page 6 :

Battery Life By
TechSpot is celebrating its 25th anniversary. TechSpot means tech analysis and advice
you can trust
.
When you buy through our links, we may earn a commission.
Learn more
.
Battery Life
Inside the Galaxy A5 is a non-removable 8.74 Wh (2,300 mAh, 3.8 V) lithium-ion battery. This battery is 24% larger than the one we got with the Galaxy Alpha, a bigger increase than the display size (13% larger) or overall volume of the handset (12%), which indicates Samsung has managed to compact the components inside the device. Getting rid of the removable battery and its plastic housing would also have contributed to the larger cell inside the A5.
The Snapdragon 410 also has lower power requirements than the Snapdragon 801 or Exynos 5430 used in the Alpha, which will contribute to better battery results. However, lower processing power doesn't necessarily always equate to a longer lasting smartphone, as we've seen from several mid-range handsets such as the original Moto G.
In my general usage of the handset, I found it to have acceptable battery life. I wouldn't go so far to say it has life as good as the current crop of high-end smartphones, especially when you're out and about using LTE networks, though it didn't prematurely die during a day's worth of typical usage. Getting on to the benchmarking section should reveal more.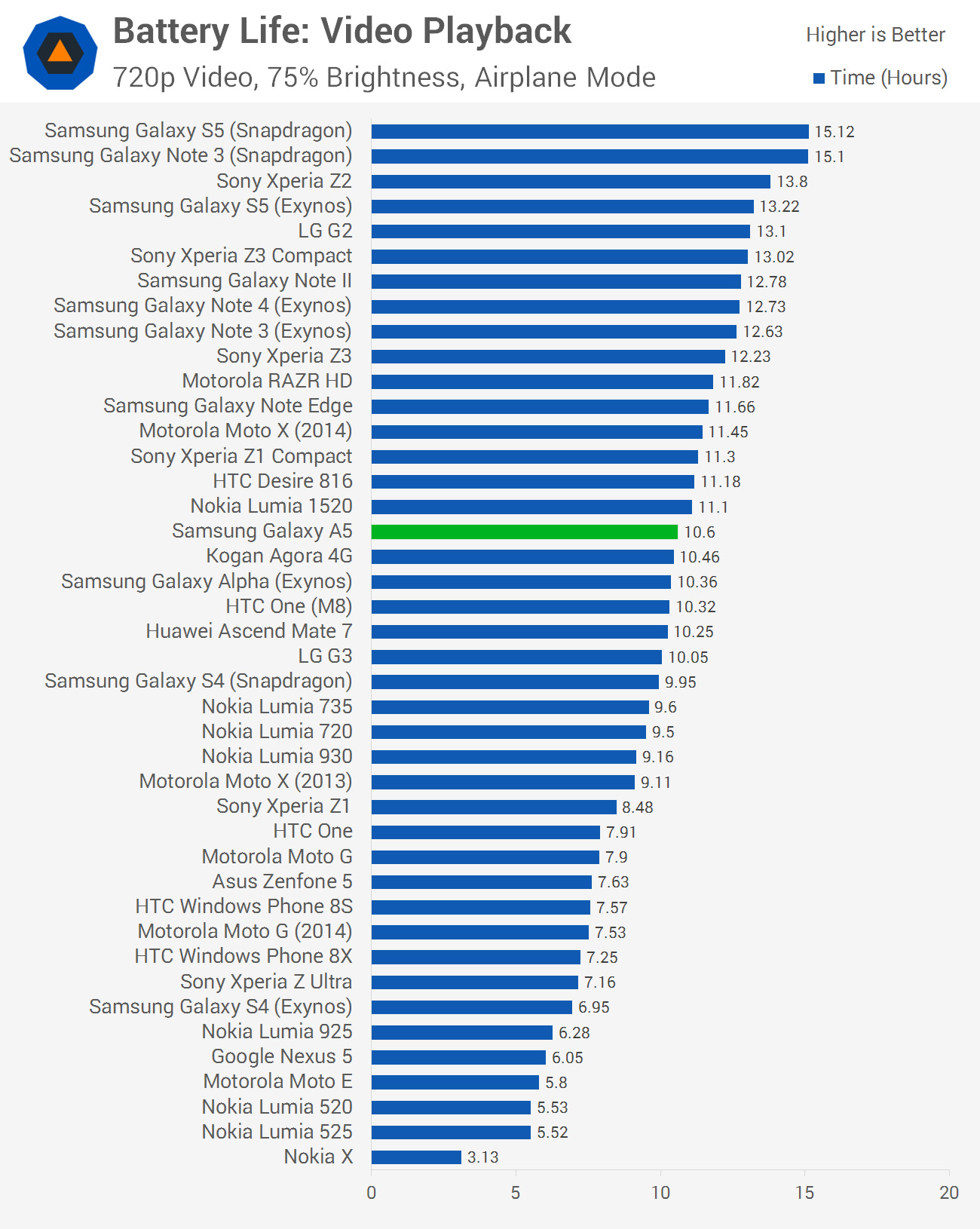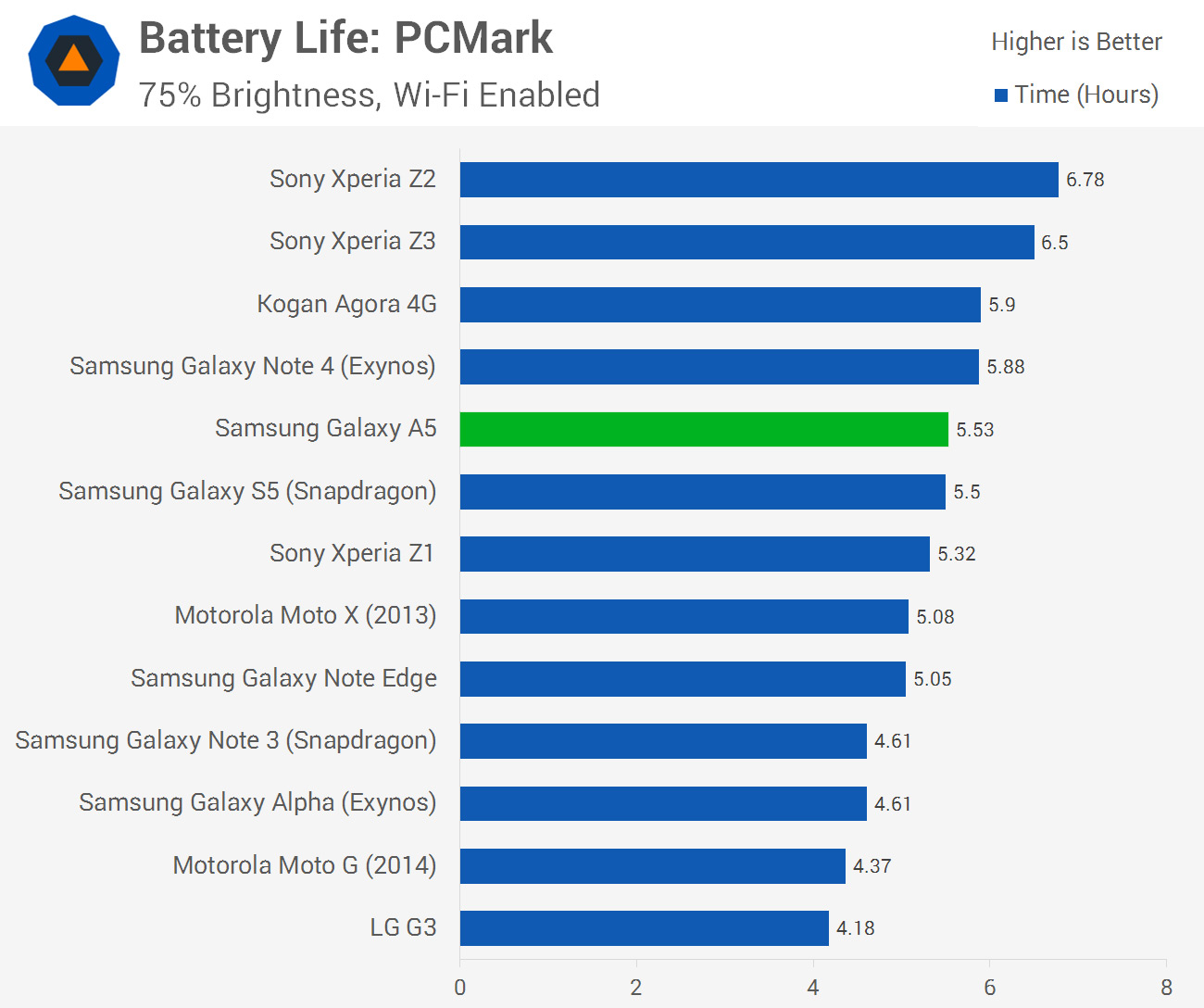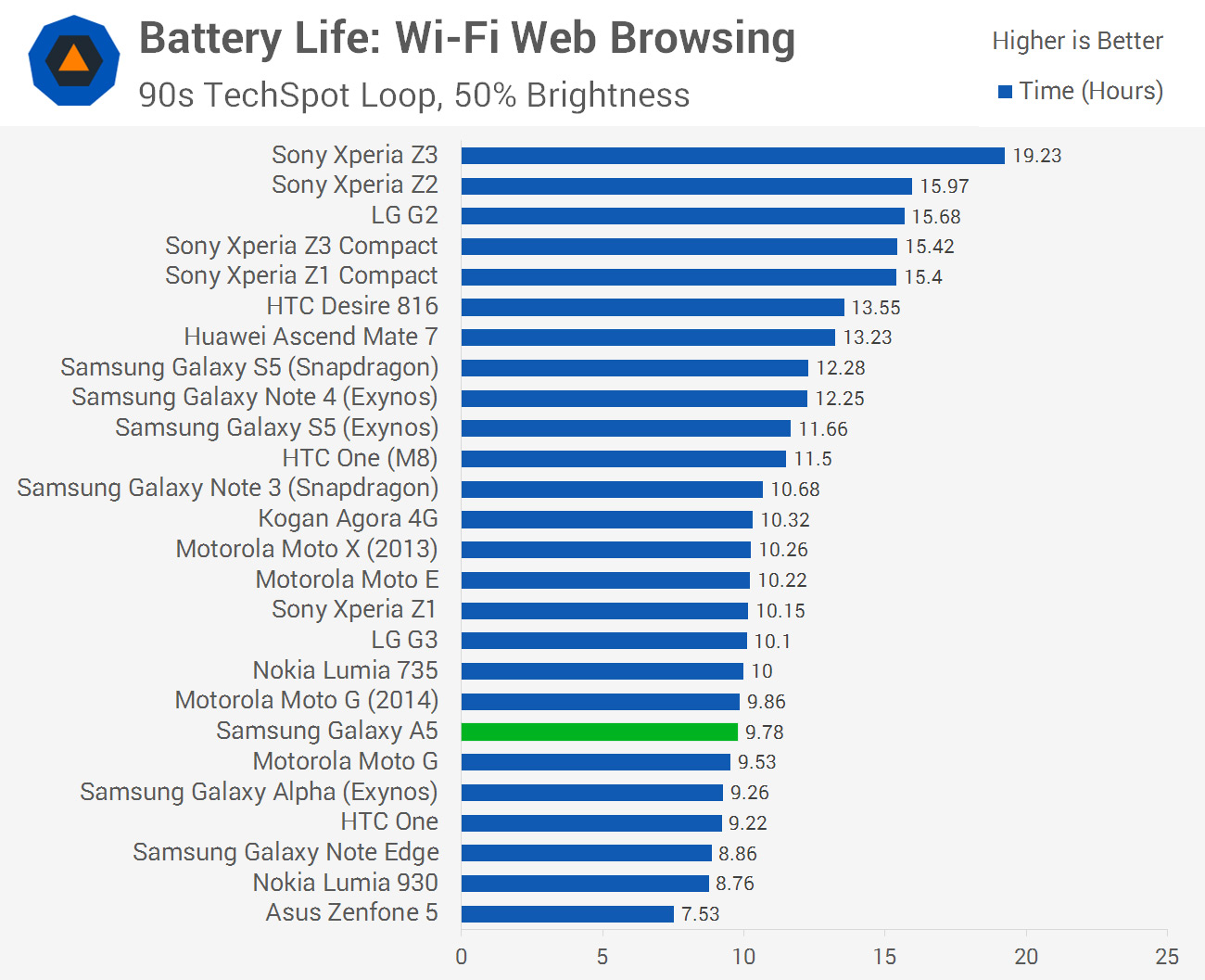 From the charts above, you'll notice that the Snapdragon 410 doesn't improve on the battery performance we saw with the Snapdragon 400, which isn't too surprising considering the similar power requirements of the CPU and the use of the same 28nm manufacturing node.
The Galaxy A5 is a decent performer in general processing tasks, lasting longer than most flagships due to a more efficient (and lower power) SoC design. Wi-Fi browsing performance is adequate but not great, falling around similar devices such as the Moto G 2014, both of which contain smallish batteries.
LTE battery performance was the biggest letdown of the Galaxy A5, noticeable in both real world usage and in our benchmarks above. The modem integrated into the Snapdragon 410, along with the smallish 8.74 Wh battery, contribute to weak performance in this area.
As with previous Samsung handsets, the Galaxy A5 includes an Ultra Power Saving Mode that turns the display to grayscale, turns off mobile data and Wi-Fi while the screen is off, and claims to provide significantly extended standby time. There's also a less intense power saving mode designed for more typical users.