Samsung Galaxy A5 Review
Page 3 :

Hardware Overview & CPU Performance By
TechSpot is celebrating its 25th anniversary. TechSpot means tech analysis and advice
you can trust
.
When you buy through our links, we may earn a commission.
Learn more
.
Hardware Overview & CPU Performance
Inside the Galaxy A5 is a new SoC to our test bench: the Qualcomm Snapdragon 410. This is an evolutionary step for Qualcomm's mid-range product, and I'm not expecting to see significant gains over the previous generation Snapdragon 400 that was seen in a huge array of $160-400 devices.
The main new feature of the Snapdragon 410 is a quad-core ARM Cortex-A53 CPU cluster, which in the MSM8916 in the Galaxy A5 runs at 1.2 GHz. As I've mentioned in our look at the high-end Exynos 5433 in the Galaxy Note 4, the Cortex-A53 is the low-power successor to the Cortex-A7 based on ARM's latest ARMv8 architecture. This means the Snapdragon 410 is 64-bit capable, although I believe only 32-bit instructions are supported on the Galaxy A5's current software edition.
ARM's specification sheet for the A53 lists raw performance as 2.3 DMIPS/MHz, which is a 21% increase over the 1.9 DMIPS/MHz of the A7. This equates to performance in the ballpark of the Cortex-A9, found in numerous flagships of 2012, but with power consumption on par with the A7. For just a few years of advancement, this is a pretty impressive feat.
Based on this information, I'm expecting roughly 20% more CPU performance from the Snapdragon 410 compared to the MSM8x26 variants of the Snapdragon 400 in equivalent workloads. Both the Snapdragon 410 in the Galaxy A5, and the Cortex-A7-based MSM8226 found in the second-gen Motorola Moto G (for example), are clocked at 1.2 GHz over four cores, providing a great clock-for-clock comparison.
The higher-clocked MSM8x28 variants of the Snapdragon 400, which include four 1.6 GHz Cortex-A7 cores, should still be faster than the 1.2 GHz Snapdragon 410 in CPU-bound workloads by around 10%.
As for the GPU, Qualcomm has opted for a minor bump to the Adreno 306, succeeding the Adreno 305 in the Snapdragon 400. This GPU is still an entry-level part geared towards 720p rendering (although the 410 supports up to WUXGA displays), and as it's clocked at 400 MHz, we're not going to see a significant performance increase over the Snapdragon 400 in GPU-bound workloads, if any.
Other features of this chip include a single-channel LPDDR3 memory controller clocked at 533 MHz, providing 4.2 GB/s of bandwidth. The included Hexagon V50 DSP is clocked up to 700 MHz, and there's support for 1080p H.264 encode/decode as well as 720p HEVC decode. Integrated wireless radios include LTE Category 4, HSPA+, Bluetooth 4.0, IZat Gen8C GPS, and dual-band Wi-Fi 802.11a/b/g/n.
It will be interesting to see how the Snapdragon 410 fares from an energy efficiency perspective later in this review. Both the Snapdragon 410 and 400 are manufactured using a 28nm LP process, so there won't be any inherent gains from shrinking to a newer node like with Qualcomm's highest-end products.
As for the Galaxy A5 specifically, we're getting support for LTE on FDD bands 1, 3, 5, 7, 8, 20 and TDD 40, enough for major networks across Europe, Asia Pacific, and Latin America. Most notably missing are bands to support North American networks, though the region could be supported in one of the many variants of the device. As always, check with your carrier before making a purchase.
Storage-wise, the Galaxy A5 comes with 16 GB of internal NAND as standard with microSD card support. Of that 16 GB, around 12 GB is usable out of the box. One notable omission from higher end devices is NFC support, so no mobile payments from the Galaxy A5.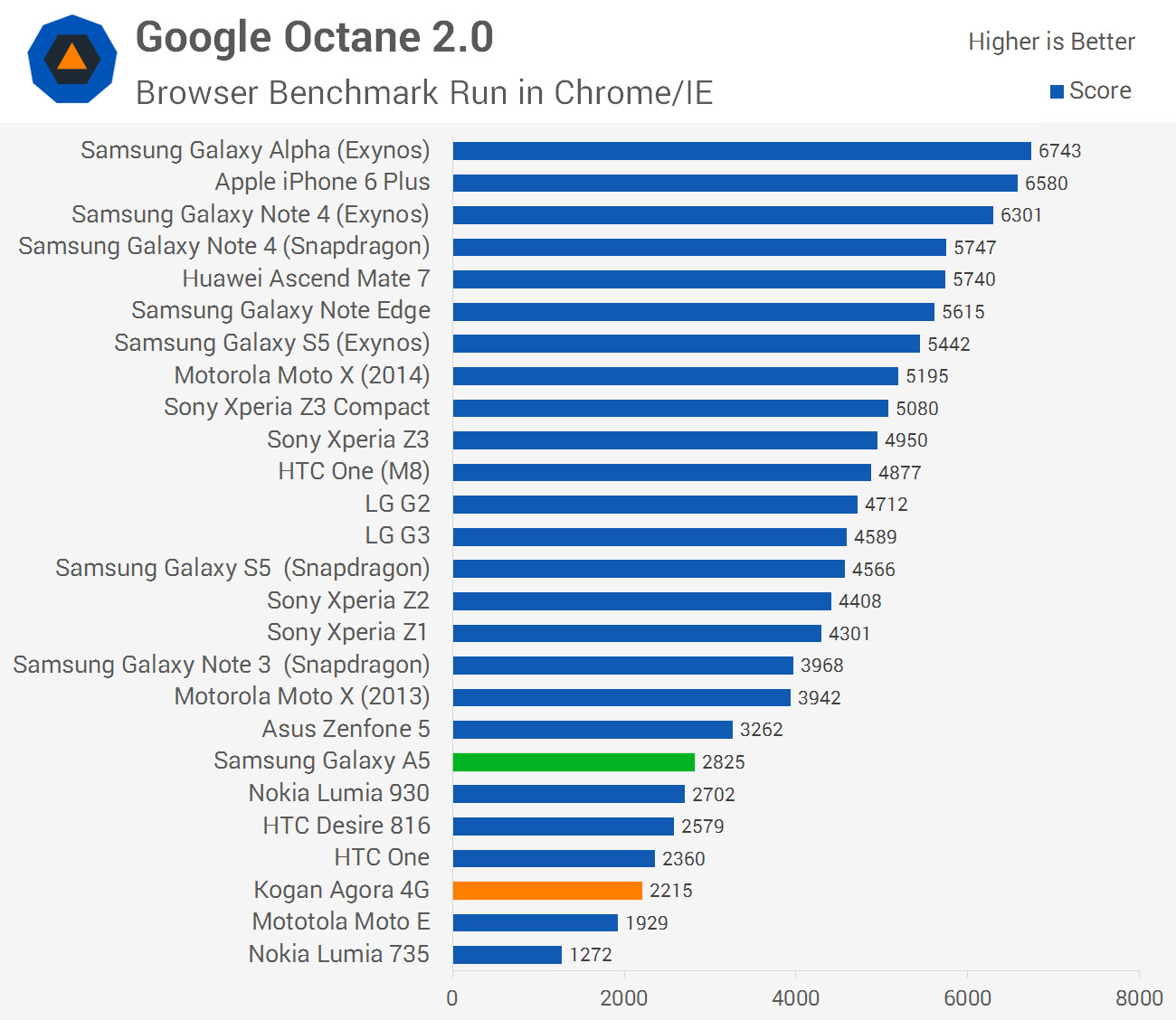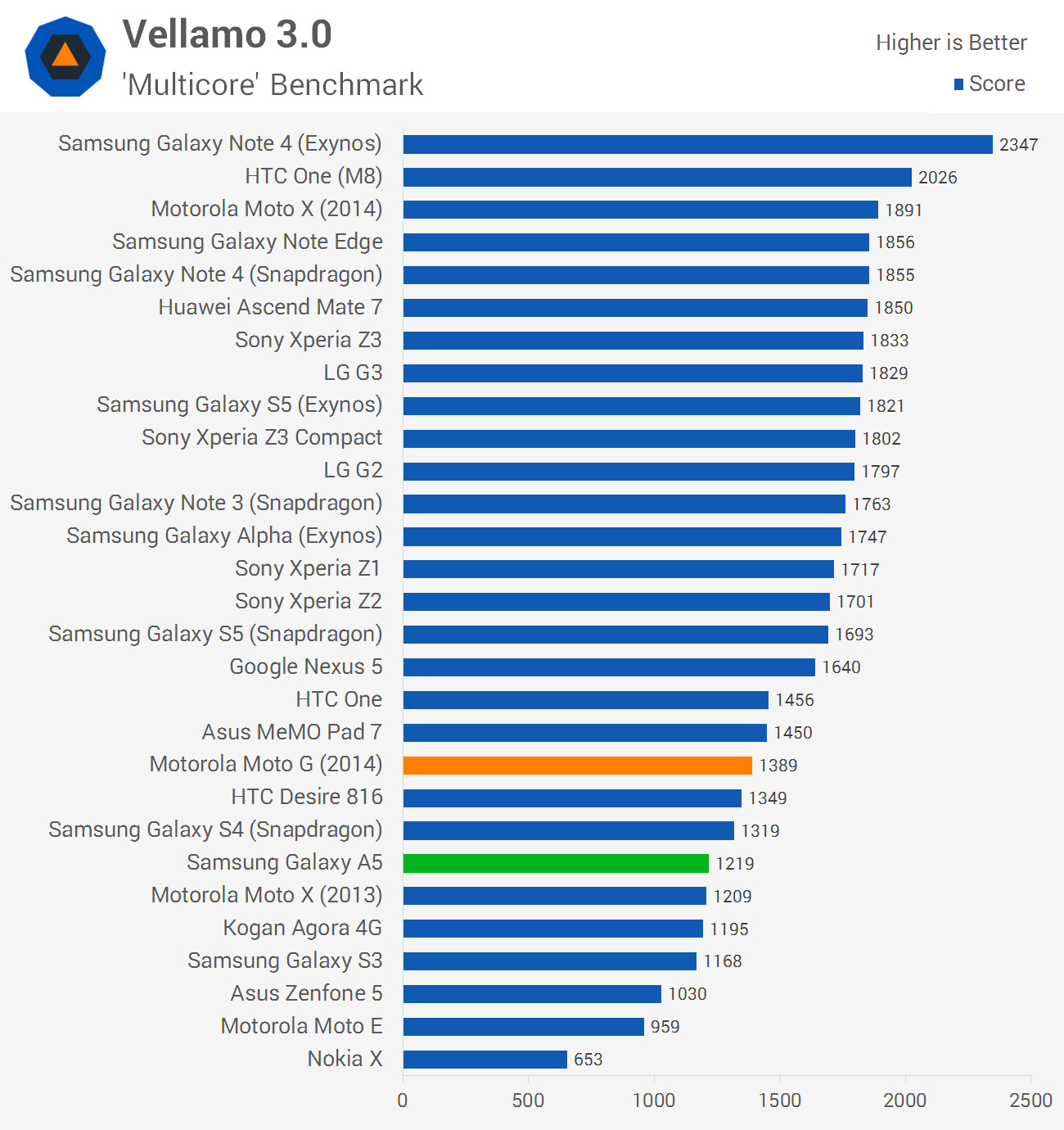 Across our CPU-limited benchmark suite, the Snapdragon 410 was, on average, 23% faster than the equivalent 1.2 GHz quad-core Snapdragon 400. This is in line with what I was expecting for the jump from Cortex-A7 to Cortex-A57 on the CPU side.
The 1.6 GHz Snapdragon 400 variant was faster than the Snapdragon 410 by around 5-10%, though the Snapdragon 410 saw some wins in Vellamo and Octane. Generally speaking, CPU performance is still well within the bounds of entry-level to mid-range handsets in 2015. That said, seeing performance approach that of older flagships like the Snapdragon S4 Pro-powered Moto X 2013 and Galaxy S4 is certainly impressive.