ASUSPRO D320SF-K (With 320SF-K MAIN BD)
Processor: lntel(R) Pentium(R) CPU G4560@ 3.50 GHz
Graphics card: lntel(R) HD Graphics 610
Wireless card: Realtek 8821AE Wireless LAN 802.11 ac PCl-E NIC
Storage: 931 GB, TOSHIBA DT01ACA100
Memory: Total 4 GB
I've installed a SATA 2.5" Disk SSD in place of the original 3.5" HDD, disconnecting the SATA and Power cables from it and connecting it to the new SSD I installed.
When I turn on the computer opens the BIOS window instead of the OS startup installed on the SSD or Windows installation USB stick placed on the COMPUTER's USB port.
When I try to set up computer BOOT the choice options are inactive, as you can see in this images: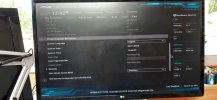 The BIOS BOOT configuration with the original 3.5" HDD disk and a WINDOS installation USB stick is as follows: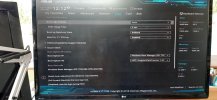 How should I proceed to solve this problem and replace the original 3.5" HDD disk with the SSD SATA 2.5"?