TechSpot is celebrating its 25th anniversary. TechSpot means tech analysis and advice
you can trust
.
When you buy through our links, we may earn a commission.
Learn more
.
If you've played around a bit with Windows 8, you know it's just one of those things that needs to be touched. A mouse is okay, a trackpad gets by, but don't-call-it-Metro begs to be touched. The live tiles and lengthy Start screen are designed for just that, and nothing else truly satisfies.
While manufacturers haven't exactly flooded the market with touch-enabled laptops, there are some good options out there already. Expect a crush of touchable Windows 8 machines at CES early next year, but for those shopping this holiday, we have cherry picked the best touch-enabled, Windows 8 laptops.
Because the market has yet to be saturated, each manufacturer seems to have chosen a specific kind of consumer to chase. That means, for the manufacturer agnostic, it's likely that there is a solid choice for your usage case. Whether you need something basic to poke and prod at, or require a sleek and specced-out Ultrabook, someone's got you covered.
On A Budget?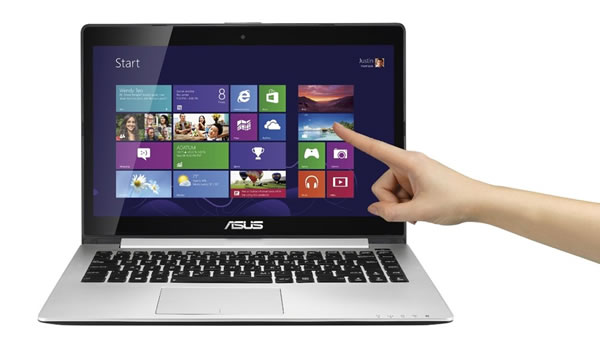 Asus is targeting the dollar conscious this holiday season with their new family of Vivobooks. Their Q200, S400 and S500 Ultrabooks start at $499, $599 and $649. Individually, those touchable screens are 11.6, 14.1 and 15.6 inches. Those initial prices net users an i3 processor that is upgradeable to the i5 and i7. The Vivobook family takes its cues from Asus' successful Zenbook, but forgets to bring along the 1080p screen and SSD. These omissions are forgivable, considering the price these Ultrabooks arrive at.
Craving Power?
Sony's T13 Ultrabook starts off at $769 at 13.3 and 14.1 inches. The T13 has an understated aesthetic that is only accented by sharp corners on the palmrest and lid. While the jury is out on how comfortable those corners are, they help the machine cut a rather dashing figure.
The reasonable starting price can quickly leap north of $1000. The T13 is a very upgradeable machine. The aluminum clad Ultrabook can be kitted with an i7 processor, a half-terabyte SSD, 8GB of RAM and a Microsoft Signature-like clean install of Windows 8 that Sony calls Fresh Start. That does kick the price up a bit, to the tune of $2069. That's a pricey laptop with a 1366x768 display.
That's where the HP Spectre XT TouchSmart comes in. This 15.6 inch machine will launch in December at a hefty $1399, but its spec sheet is mighty impressive. The screen resolution is 1920x1080. HP's pre-order site for the computer indicates that the base model will come equipped with an i7.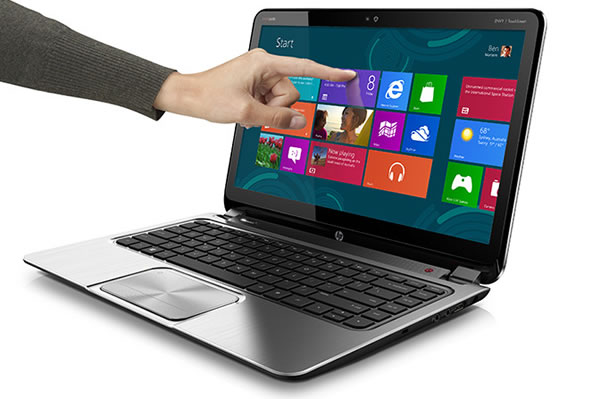 The Spectre XT includes all of HP's goodies for its prized line of top-end computers like a 2-year warranty and full copies of Photoshop Elements and Premiere Elements. This will also be HP's first machine with a Thunderbolt port.
Speaking of ports, the Spectre XT clocks in with a pair of 3.0 USB's, supported by one 2.0. Like many of HP's products these days, the Ultrabook is equipped with Beats Audio. The all-aluminum and magnesium body of the machine is alarmingly attractive, as well.
Convertibles: Flip, Spin or Off With Its Head?
The Lenovo IdeaPad Yoga 13 is a fairly standard Ultrabook by specs alone. Two things set this PC apart, its name and the reason it has that name. The Yoga's hinge allows the screen to bend all the way backwards, enabling a range of form factors that simply weren't possible (or useful) before. It's easy to see that bending the hinge all the way back and using the Yoga as a tablet would have drawbacks. The user would end up holding the keyboard as the 'back' of the tablet. Not to mention that a 13-inch tablet may not be so easy on the wrists. The other usage case, the tee-pee case, leaves the 1600x900 screen in a stable place that would be perfectly angled for movie watching or playing Fruit Ninja.
The IdeaPad Yoga 13 starts at $999 with an i3 processor, 4GB of RAM and an 128GB SSD. It is upgradeable to an i7 for the power hungry. An 11-inch model is coming soon, but will run Windows RT, leaving it outside the criteria for this list.
The Dell XPS 12 is expensive. It starts at $1199, but packs specs to match. The i5 processor inside is backed by 4GB of RAM, a 128GB SSD and a 12.5-inch 1080p panel. The XPS 12's real trick harks back to Dell's Inspiron Duo from 2010. The screen flips inside the hinge, turning the PC into a veritable tablet on demand. What was a neat trick for the Atom powered and Windows 7 equipped Duo is a real asset for the XPS 12 and Windows 8. In truth, this was very nearly your reporter's next laptop. The deal breaker was the lack of SD card reader.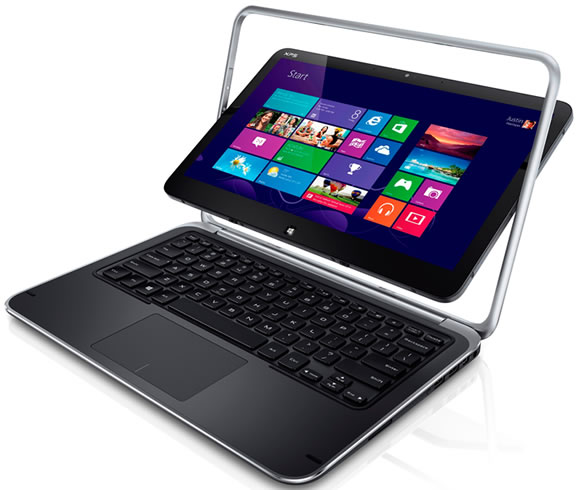 Hewlett-Packard has a third take on how to draw extra utility out of the laptop form factor. Their Envy x2 is an 11.6-inch laptop that looks like a classed-up netbook. Indeed, it runs the latest of Intel's Atom processor, so the similarities are more than skin deep. The screen is a mixed bag. It's IPS quality, but only clocks in at 1366x768. The screen's real appeal is that it detaches. This laptop truly converts to a tablet, letting you leave the keyboard behind. Like other tablets, the x2 even packs an (8MP) rear-camera.
As you would imagine, the x2 is plenty thin and light at .76 inches and a hair over three pounds. The dual batteries of both the tablet and the base promise great battery life, even if HP hasn't shared their rating yet. It also remains to be seen how well the Atom-based PC will perform in the Windows 8 environment. The x2 will launch in December at $849.
Windows 8 Laptops - Specs at a Glance
Asus VivoBook Q200 - $499
Display: 11.6-inch, 1366x768
Processor: Intel Core i3
GPU: Intel HD 4000
RAM: 4Gb
Storage: 500GB HDD, 5400RPM
Ports: 1 USB 3.0, 2 USB 2.0, HDMI, VGA, LAN
SD Reader: Yes
Dimensions: 11.9x7.8x0.85 inch, 3.08lb

Sony Vaio T13 - $769
Display: 13-inch, 1366x768
Processor: Intel Core i3
GPU: Intel HD 4000
RAM: 4GB
Storage: 320GB HDD, 32GB Hybrid Drive
Ports: 1 USB 3.0, 1 USB 2.0, HDMI, VGA, Ethernet
SD Reader: Yes
Dimensions: 12.7x8.9x.7 inch, 3.4lb

HP Envy Spectre XT TouchSmart - $1399
(Launches in December)
Display: 15.6-inch, 1920x1080
Processor: Intel Core i7
GPU: Intel HD 4000
RAM: Standard model unannounced
Storage: Standard model unannounced
Ports: 2 USB 3.0, 1 USB 2.0, Thunderbolt, HDMI, Ethernet
SD Reader: Yes
Dimensions: .7 inch thick, 4.77 Ib
Lenovo IdeaPad Yoga 13 - $999
Display: 13-inch, 1600x900
Processor: Intel Core i3
GPU: Intel HD 4000
RAM: 4GB
Storage: 128GB SSD
Ports: 1 USB 3.0, 1 USB 2.0, HDMI, Ethernet
SD Reader: Yes
Dimensions: 13.1x8.9x.67 inch, 3.4lb

Dell XPS 12 - $1199
Display: 12.5-inch, 1920x1080
Processor: Intel Core i5
GPU: Intel HD 4000
RAM: 4GB
Storage: 128GB SSD
Ports: 2 USB 3.0, Mini-Display Port
SD Reader: No
Dimensions: 12.48x8.46x.79 inch, 3.35lb

HP Envy x2: $849
(Launches in December)
Display: 11.6-inch, 1366x768
Processor: Intel Atom Z2760
GPU: Intel HD 4000
RAM: 2GB
Storage: 64GB SSD
Ports: 2 USB 2.0, HDMI
SD Reader: Yes
Dimensions: 11.93x8.12x.76 inch, 3.11lb