LG Display to start mass production of 17-inch foldable OLED panels for hybrid laptops
Could hybrid laptops be the next big thing?
By Shawn Knight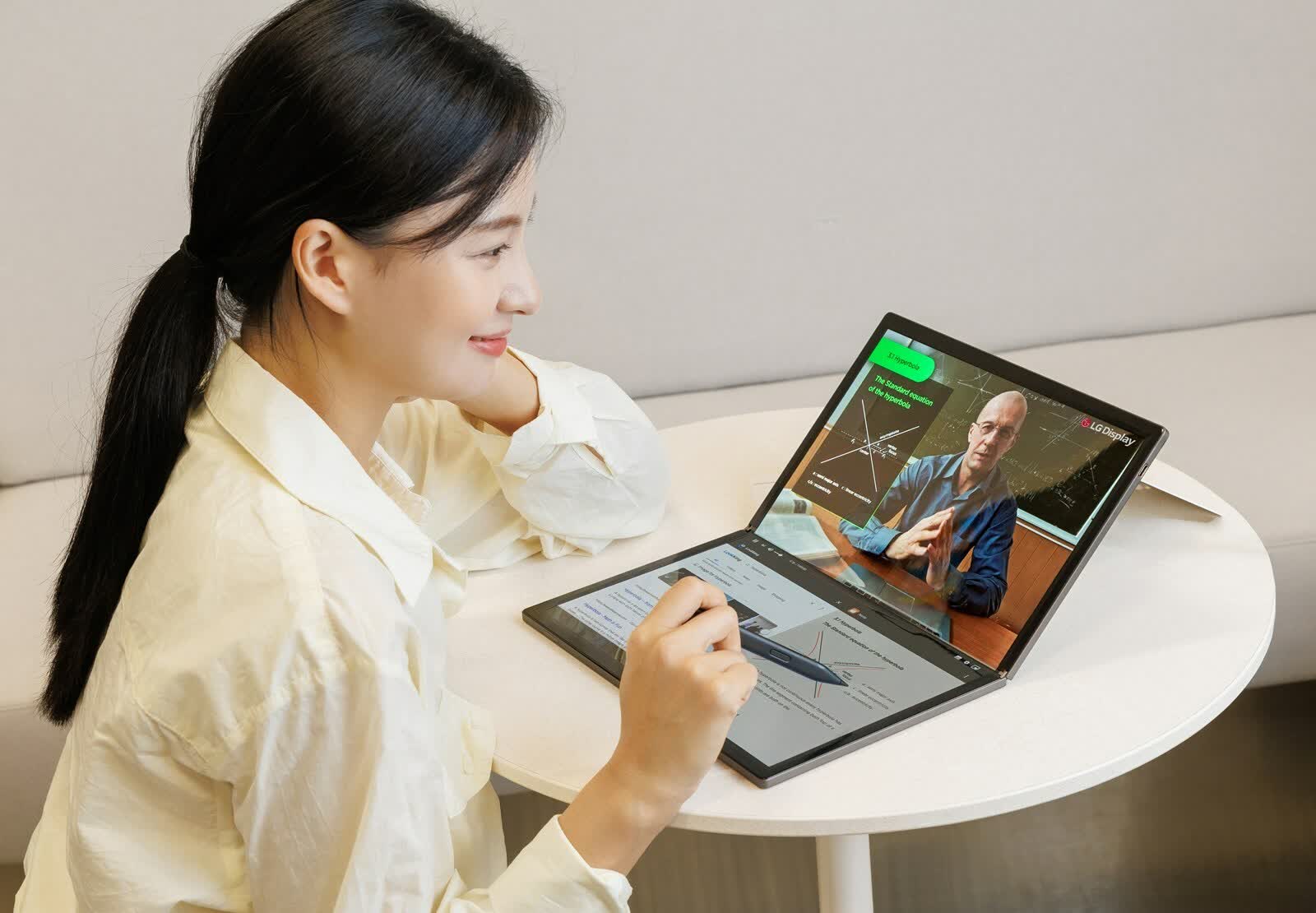 TechSpot is celebrating its 25th anniversary. TechSpot means tech analysis and advice
you can trust
.
In brief: LG Display has announced plans to start mass-production of its 17-inch foldable OLED panel for use in hybrid laptops. The panels will utilize a Tandem OLED structure like those found in select automotive displays, albeit with dramatically improved durability for IT applications.
First introduced in 2019, LG's Tandem OLED utilizes two-stack OLED technology that adds a second layer to the mix. This extra layer boosts brightness and enhances energy dispersion across display components to heighten stability and extend longevity, we're told.
LG Display said the panels additionally feature a special material designed to minimize creasing at the fold point. The end product is said to be seamless and exhibit crystal-clear picture quality.
Worth noting is the fact that the display is of the in-folding variety, meaning it folds inwards instead of outwards. The panel boasts a resolution of 2,560 x 1,920 pixels and can be used as a portable 17-inch monitor or tablet with a 4:3 aspect ratio when fully unfolded, or as a 12.3-inch laptop with a 3:2 aspect ratio when utilizing the fold.
The display is also touch-enabled, and will allow users to interact directly with on-screen content using either a finger or a stylus.
Hybrid tablet-laptops could be the next big thing in foldable display technology. Earlier this month, HP announced its new Spectre Foldable PC with – you guessed it – a 17-inch foldable OLED that could very well be sourced from LG Display. HP's latest starts at a sky-high $5,000, however, meaning pricing will need to come down significantly before mainstream adoption is even a consideration.
Durability is also a major unknown. LG Display talked up the toughness of its screen but assuming it's still based on a plastic substrate like other foldables, how strong can it really be? The screen on Samsung's Z Fold 5, for example, can be permanently damaged with a fingernail. Just imagine what a fine-tipped stylus could do on a flexible laptop or tablet screen.
LG Display didn't give an exact timeline of its mass-production schedule, nor did it say which products would be the first to ship with its flexible panel.