Acer Aspire One officially on sale in the US starting at $379
By Jose Vilches
TechSpot is celebrating its 25th anniversary. TechSpot means tech analysis and advice
you can trust
.
Acer is taking a leap into Eee PC territory today with their Aspire One sub-notebook now officially available in the US. The notebook comes with pretty much everything we've come to expect from the latest generation of low-cost ultra portable laptops, including Intel's 1.6GHz Atom CPU, an 8.9-inch screen that delivers a resolution of 1024x600 pixels, and a choice of Windows XP or Linux operating systems.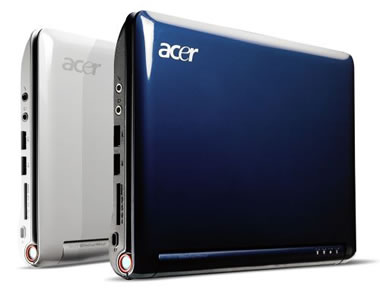 Data storage options include an 8GB NAND flash module with an additional SD card slot for expansion or a 120GB internal hard drive, while RAM is limited to either a measly 512MB or average 1GB - though even the 512MB option is supposedly more than enough to run the custom Linpus Linux OS. Other features of the One include Intel's GMA950 graphics chipset, a web camera, Ethernet, 802.11 b/g Wi-Fi, a 5-in-1 media card reader, three USB 2.0 ports, and either a 3 or 6-cell battery for up to seven hours of running time.
The Linpus Lite Linux OS comes loaded with software organized in a task-centric manner for connectivity, productivity, games and storage. Acer is putting a strong focus on the Internet too, with a browser, multiprotocol IM client, fully functional email application, and VoIP options all neatly presented upon boot up. All in all, it looks like the Eee PC has another very worthy contender on its hands. Three versions of the One are available now priced from $379 to $449, depending on configuration. Check them out after the jump.
Acer® Aspire one AOA110-1722: Available now for a MSRP of $379
* Intel® Atom™ Processor N270 (1.60GHz, 533MHz FSB, 512KB L2 Cache)
* 512MB Memory
* 8GB SSD NAND Flash Module(3)
* 8.9-inch WSVGA Acer CrystalBrite™ 1024 x 600
* Intel® Graphics Media Accelerator 950
* Acer Crystal Eye Web Camera
* 10/100 Mbps LAN
* 802.11b/g Wi-Fi Certified WLAN
* 3-Cell battery
* Multi-in-1 Media Card Reader
* SD Storage Expansion Card Reader
* Linpus™ Linux® Lite
* 3 USB 2.0 Ports

Acer® Aspire one AOA150-1570: Available now for a MSRP of $399
* Intel® Atom Processor N270 (1.60GHz, 533MHz FSB, 512KB L2 Cache)
* 1GB Memory (512MB On-board)
* 120GB Internal Hard Drive(3)
* 8.9-inch WSVGA Acer CrystalBrite ™1024 x 600
* Intel® Graphics Media Accelerator 950
* Acer Crystal Eye Web Camera
* 10/100 Mbps LAN
* 802.11b/g Wi-Fi Certified WLAN
* 3-Cell Battery
* Multi-in-1 Media Card Reader
* SD Card Reader
* Windows XP® Home
* 3 USB 2.0 Ports

Acer® Aspire one AOA110-1566: Available for a MSRP of $449
* Intel® Atom™ Processor N270 (1.60GHz, 533MHz FSB, 512KB L2 Cache)
* 1GB Memory
* 8GB SSD NAND Flash Module(3)
* 8.9-inch WSVGA Acer CrystalBrite™ 1024 x 600
* Intel® Graphics Media Accelerator 950
* Acer Crystal Eye Web Camera
* 10/100 Mbps LAN
* 802.11b/g Wi-Fi Certified WLAN
* 6-Cell Battery
* Multi-in-1 Media Card Reader
* SD Card Reader
* Linpus™ Linux® Lite
* 3 USB 2.0 Ports