TechSpot is celebrating its 25th anniversary. TechSpot means tech analysis and advice
you can trust
.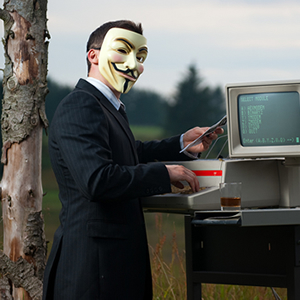 Anonymous has hacked the servers of the Boston Police and other police-related sites, releasing the information late Friday in response to what they call unprovoked mass arrests and brutality experienced by Occupy Boston protesters on October 11.
The hacktivist group made public the passwords and usernames of 1,000 of the Boston Police Patrolmen's Association, as well as the names, addresses and social security numbers of 1,000 Birmingham, Alabama officers. The International Association of Chief of Police website was also targeted, and the group also released a client list and financials of the Matrix Group, a DC-based web design firm with law enforcement customers.
Some of the sites hacked had homepages defaced and were replaced with an anti-police rap video. They claimed to have taken down 40 police-related websites, including the International Association of Chief of Police website that remained unreachable for the majority of the weekend.
"Let this be a warning to BPD and police everywhere: future acts of aggression against our movements will be met with a vengeance," the group said in a statement posted over at Pastebin.
On Friday evening, BPD addressed the situation: "It has come to the attention of the Boston Police Department that various websites used by members of the BPD, including the website belonging to the Boston Police Patrolmen's Association have been hacked into and possibly compromised. In light of this information, the Boston Police Department is requiring all department personnel to secure their login information by resetting their passwords on the BPD network."
"I will confirm that it has happened, and there is an active federal and local investigation into it," said Thomas Nee, President of the BPPA when speaking with the Boston Herald yesterday.
Occupy Boston members have stated that they did not ask Anonymous to do the hacking, but refused to publicly criticize the hacker collective saying they feared their own emails would be hacked.
Last month the Austrian branch of Anonymous published the information of 25,000 police officers in protest of a proposed change to the law that would see telecommunications companies forced to save details of all telephone and internet traffic for a minimum of 6 months, and provide them to police when requested.