ARM CEO: We won't be beaten by Intel on efficiency
By Lee Kaelin
TechSpot is celebrating its 25th anniversary. TechSpot means tech analysis and advice
you can trust
.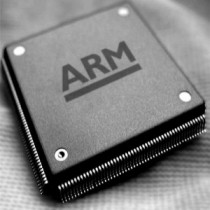 Intel announced new partnerships and two new smartphones with Lenovo and Motorola Mobility in Las Vegas at the Consumer Electronics Show last week, as the processor giant put ARM on notice of its intention to compete in the low power consumption smartphone and tablet markets.
Lenovo's K800 smartphone debuted at the show, featuring Intel's 32nm Medfield Atom Z2460 single core processor with hyper threading clocked at 1.6GHz. Motorola's offering is currently in the final processes of preparation and is due to be delivered for carrier validation this summer.
However, Warren East, CEO of the dominant chip maker ARM Holdings isn't concerned about Intel's latest effort to challenge their lead. "Intel has taken some designs that were never meant for mobile phones and they've literally wrenched those designs and put them into a power-performance space which is roughly good enough for mobile phones," he said.
The announcement by Intel during CES came as no surprise really, though many industry insiders have questioned whether the firm's dominance on the computer stage can be tamed and put to good use in smartphones where battery performance can be a severe limitation for processors.
"People want to do more things with their phones, but battery size remains constant," said East. "It's like having a car with a fixed-size fuel tank and you want to drive 100 more miles. You've got to make the engine more efficient. That's what we do for a living."
ARM has every right to feel confident at this point. The British company currently licenses their ARM chips to over 250 different hardware and software companies including its new ARM Cortex A7 design, which offers a 20-percent reduction in power consumption whilst improving performance over previous designs.
Microsoft's next operating system will also run on ARM's processors natively, opening up a whole new spectrum of potential uses in Windows 8 based ultraportable notebooks and power efficient computers. The firm's upcoming ARMv8 64 bit architecture will also compete against Intel in the PC and server markets, and while it might not win awards for raw power, it will offer reduced power consumption and efficiency that could potentially massively reduce ongoing monthly costs when used for the right applications in the server market.
It is certainly going to be an interesting year for both companies as they launch in various markets in direct competition with each other. While I don't think either firm will overturn the dominance they exert in their respective markets, the competition will almost certainly result in better products for consumers.