TechSpot is celebrating its 25th anniversary. TechSpot means tech analysis and advice
you can trust
.
Popular Linux distribution Ubuntu announced the immediate availability of their latest release yesterday, bringing with it Unity and its file searching tool HUD to enterprise users as part of the long-term support release which distribution backer Canonical will offer security updates for until 2017.
"There's a significant set of aesthetic changes for users, and ultimately beauty is a feature," Steve George, head of communications at Canonical, told ZDNet. "Users enjoy their environments more when they look beautiful and modern." That said, it's also true that Unity continues to seriously divide loyal followers and this latest release is unlikely to be any different despite some major improvements.
It's an important change as well, since it is the first long-term release (LTS) to feature both the Unity interface now at version 5.10 as well as the heads-up display (HUD) context-sensitive searching tool which enables users to control programs by typing commands, as opposed to the more traditional method using a menu.
LTS releases are announced on a two yearly basis, with users receiving five years of security and maintenance fixes on the server editions. Desktop users traditionally get three years of support, but this release marks the first time Ubuntu has offered a uniform five year policy for all LTS releases. Those wanting a more bleeding edge experience can opt to upgrade to the next release in October, codenamed Quantal Quetzal.
Users can now resize the application launcher icons in the left-hand bar in the Appearance settings. The Workspace and Bin icons also now exhibit 'chameleonic behavior' and tint themselves to the background color. Also making a debut is a new video lense for the dash, enabling searches for video content contained online with the likes of BBC's iPlayer and YouTube as well as searching local video files.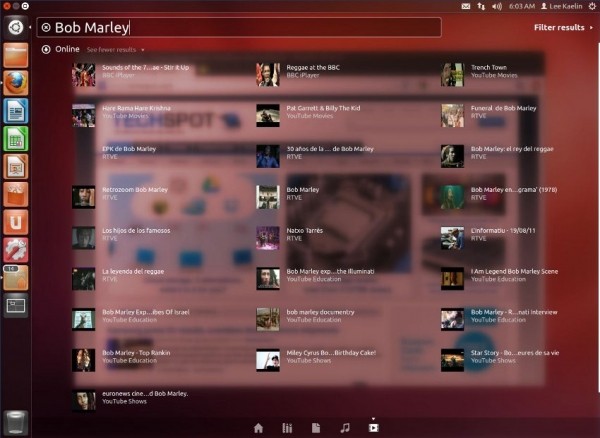 Other than the obvious visual changes, the kernel has been upgraded to version 3.2, offering performance and stability fixes over the previous 3.0 version released with Ubuntu 11.10. Ubuntu 12.04 LTS now includes Metal-as-a-Service (MaaS), a provisioning tool which Canonical claims "brings the cloud experience to traditional hardware." Essentially it automates the installation of scale-out software like OpenStack onto physical nodes.
"I think we've been smart to try and link together what people are already doing but in a polished solution," Dave Walker, an engineering manager at Ubuntu commented. "Also I think it's currently difficult to scale what people are currently doing to a vast array of servers." MaaS has a theoretical scalability of up to 100,000 nodes, and one will be required per rack in a production environment.
Canonical's push into the enterprise market has been rewarded with HP certifying Ubuntu 12.04 to run on several Proliant servers,  in what is expected to be the beginning of a long-term alliance between the two firms as Canonical looks to take on Red Hat Enterprise Linux for both workstations and server infrastructure.
Looking to desktops, Dell, HP and Lenovo have also certified the new release for workstation environments, and ARM is on the way as well with the announcement that HP's new ARM-based Moonshot servers will use Ubuntu Linux.
The full list of changes in Ubuntu 12.04 can be read in the release notes.