Intel launches second wave of Ivy Bridge processors ahead of Computex
By Jose Vilches
TechSpot is celebrating its 25th anniversary. TechSpot means tech analysis and advice
you can trust
.
Intel officially launched its Ivy Bridge architecture back in April with over a dozen third-generation Core i5 and Core i7 processors, all but one of them being quad-core parts destined for high-performance laptops and desktops. Now, the company is following up with another 14 processors to the line-up, only this time the chips are mainly dual-core parts catering to a number of different market segments and platforms.
The new additions consist once again of both Core i7 and Core i5 parts. Of the 14 processors, six are desktop-grade Core i5s --- five quad-core parts and a single dual core --- while the remaining eight are mobile processors split evenly between the standard mobile version (marked with an "M" suffix) and the ultra-low-power variants we'll soon start seeing inside in Ultrabooks (with a "U" designation).
Desktop parts are priced between $184 and $205 in 1,000 bulk quantities, topping out with the Core i5-3570 clocked at 3.4GHz (3.8GHz Turbo) and featuring a TDP of 77 Watts. Meanwhile, the new mobile processors are priced between $225 and $346. The standard 35W parts top out with the Core i5-3520M clocked at 2.9GHz, while the i7-3667U leads the pack for ultra-low-power variants clocked at 2.0GHz.
All chips offer PCIe 3.0 support as well as features like Intel Secure Key, OS Guard, and Virtualization technologies. Detailed specifications of these new processors are available in the tables below.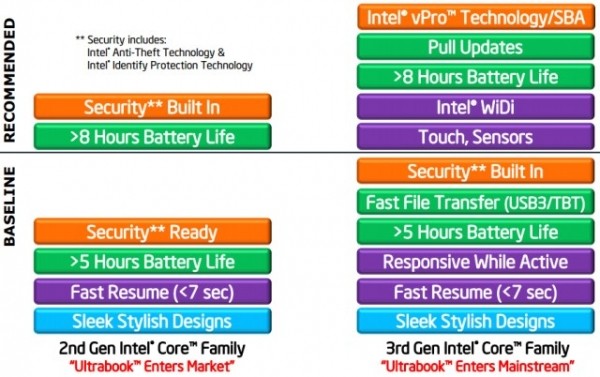 As far as Ultrabooks are concerned, Intel says it has a whopping 110 different ultrabooks in the pipeline now, 30 of them featuring touch screens and 10 offering convertible designs. They've also slightly tweaked their definition of what it takes to build an Ultrabook, mandating either USB 3.0 or Thunderbolt, Intel Identity Protection and Intel Anti-Theft support, and have storage that is "responsive while active."
Third generation Intel Core desktop processors
| CPU model | i5-3570 | i5-3570S | i5-3475S | i5-3470 | i5-3470T | i5-3470S |
| --- | --- | --- | --- | --- | --- | --- |
| Price | $205 | $205 | $201 | $184 | $184 | $184 |
| TDP | 77W | 65W | 65W | 77W | 35W | 65W |
| Cores / threads | 4/4 | 4/4 | 4/4 | 4/4 | 2/4 | 4/4 |
| Base frequency | 3.4GHz | 3.1GHz | 2.9GHz | 3.2GHz | 2.9GHz | 2.9GHz |
| Turbo Boost | 3.8GHz | 3.8GHz | 3.6GHz | 3.6GHz | 3.5GHz | 3.6GHz |
| DDR3 | 1600MHz | 1600MHz | 1600MHz | 1600MHz | 1600MHz | 1600MHz |
| L3 cache | 6MB | 6MB | 6MB | 6MB | 3MB | 6MB |
| GPU | Intel HD 2500 | Intel HD 2500 | Intel HD 4000 | Intel HD 2500 | Intel HD 2500 | Intel HD 2500 |
| GPU base frequency | 650MHz | 650MHz | 650MHz | 650MHz | 650MHz | 650MHz |
| GPU max dynamic frequency | 1150MHz | 1150MHz | 1100MHz | 1100MHz | 1050MHz | 1050MHz |
| PCIe Gen. 3 support | Yes | Yes | Yes | Yes | Yes | Yes |
Third generation Intel Core mobile processors
| CPU model | i5-3210M | i5-3320M | i7-3360M | i5-3520M |
| --- | --- | --- | --- | --- |
| Price | Not listed | $225 | $266 | $346 |
| TDP | 35W | 35W | 35W | 35W |
| Cores / threads | 2/4 | 2/4 | 2/4 | 2/4 |
| Base frequency | 2.5GHz | 2.6GHz | 2.8GHz | 2.9GHz |
| Turbo Boost (SC) | 3.1GHz | 3.3GHz | 3.5GHz | 3.6GHz |
| Turbo Boost (DC) | 2.9GHz | 3.1GHz | 3.3GHz | 3.4GHz |
| DDR3/DDR3L | 1600MHz | 1600MHz | 1600MHz | 1600MHz |
| L3 cache | 3MB | 3MB | 3MB | 3MB |
| GPU | Intel HD 4000 | Intel HD 4000 | Intel HD 4000 | Intel HD 4000 |
| GPU base frequency | 650MHZ | 650MHZ | 650MHZ | 650MHZ |
| GPU max dynamic frequency | 1100MHz | 1200MHZ | 1200MHZ | 1200MHZ |
| PCIe Gen. 3 support | Yes | Yes | Yes | Yes |
Third generation Intel Core mobile ultra processors
| CPU Model | i5-3317U | i53427U | i73517U | i7-3667U |
| --- | --- | --- | --- | --- |
| Price | Not listed | $225 | Not Listed | $346 |
| TDP | 17W | 17W | 17W | 17W |
| Cores / threads | 2/4 | 2/4 | 2/4 | 2/4 |
| Base frequency | 1.7GHz | 1.8GHz | 1.9GHz | 2.0GHz |
| Turbo Boost (SC) | 2.6GHz | 2.8GHz | 3.0GHz | 3.2GHz |
| Turbo Boost (DC) | 2.4GHz | 2.6GHz | 2.8GHz | 3.0GHz |
| DDR3/DDR3L | 1600MHz | 1600MHz | 1600MHz | 1600MHz |
| L3 cache | 3MB | 3MB | 4MB | 4MB |
| GPU | Intel HD 4000 | Intel HD 4000 | Intel HD 4000 | Intel HD 4000 |
| GPU base frequency | 350MHz | 350MHz | 350MHz | 350MHz |
| GPU max dynamic frequency | 1050MHz | 1050MHz | 1050MHz | 1050MHz |
| PCIe Gen. 3 support | Yes | Yes | Yes | Yes |