TechSpot is celebrating its 25th anniversary. TechSpot means tech analysis and advice
you can trust
.
Hardcore Star Trek fan Daniel Craft, 41, was given the opportunity to view – in its current entirety – the upcoming Trek flick Into Darkness. What makes this story special though, is that Craft was diagnosed as terminally ill with only weeks to live, resulting from a rare form of cancer responsible for producing a vascular tumor in his liver. Although not exactly technology news per say, this rather touching story might just be nerdy enough to interest some of our tech-savvy readership.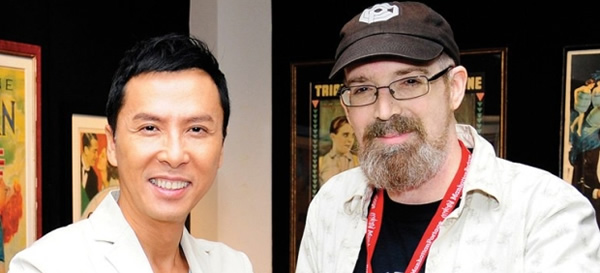 Image from: flixist.com
As co-founder of the New York Asian Film Festival, Craft was also an undeniable lover of film. He had already been struggling with leukemia and constant hospitalization when he got the bad news of his new, incurable cancer. He knew he wanted to see as many movies as possible before he passed away.
Being the huge Star Trek fan that Craft had always been though, good friend Gary Hendrix reached out to Reddit in hopes that someone could fulfill a seemingly simple enough wish: view the second installment of J.J. Abrams' Star Trek reboot before it became an impossibility. Into Darkness, of course, isn't scheduled to be out for at least another five months. It would seem likely the plea would go unanswered; however, the Internet (and its communities) are powerful tools. 
He was hospitalized and had to exchange our HOBBITT [sic] tickets (where the 10 min Star Trek preview was supposed to be shown) we were able to put him in a car and get over to the HOBBITT but NO PREVIEW???? we, his friends and family, the love of my life - WOULD LOVE him to be able to see the Star Trek movie but even the 10 minutes of the trailer would be AMAZING

Source: Reddit, "Please come to the rescue of a Star Trek fan"
Just a couple days later, film director J.J. Abrams and writer Damon Lindelof took notice and set up a private screening for Craft and his wife. One of the film's producers hand-delivered a DVD containing a "rough cut" of the film and Dan "had a blast" fulfilling one of his final wishes in the comfort of his own apartment.
A day or so after the thread began, Paige, Dan's wife, got a voicemail from JJ Abrams and Damon Lindelof that was very nice and very straightforward: a producer for the movie would get in touch with them. The next day, one of the film's producers showed up at the door of their apartment with a DVD containing a very rough cut of Star Trek: Into Darkness in his hands. Paige had made popcorn, Dan had spent the previous day resting so he could sit through the movie, and after signing about 200 non-disclosure agreements they watched the film and had a blast.

Source: Reddit, "Thank you, r/StarTrek"
If you're a Star Trek fan, you may understand the significance of this unusual gift – Star Trek's positive vision of humanity's future has long remained a source of inspiration for science fiction writers and those who aren't, sometimes in personal ways.
Unfortunately, just a couple days after enjoying Into Darkness with a bowl full of popcorn and his wife, Daniel Craft passed away.