TechSpot is celebrating its 25th anniversary. TechSpot means tech analysis and advice
you can trust
.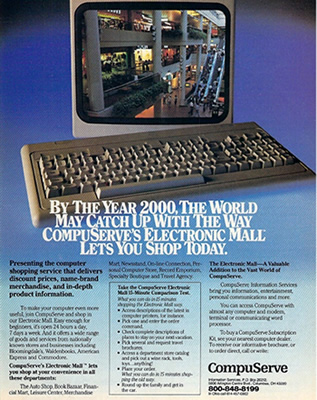 Presenting CompuServe's ancient online "mall" as an example of Precambian prior art, Newegg successfully defeated Soverain Software's supposed patent claim to what is essentially the modern day shopping cart. If Soverain had won the verdict, there's a good chance nearly every website with a shopping cart would owe the firm one percent of all future revenue plus a potentially enormous, retroactive payout.
Although Newegg eventually proved Soverain is little more than a patent troll in a federal court, the firm's claim to have invented the shopping cart had already landed it numerous favorable verdicts and hugely lucrative payouts.
Some instances of Soverain flexing its purported shopping cart patents date back nearly a decade – one such example being Amazon's $40 million out-of-court setttlement with the firm over its "one-click" shopping back in 2005. After losing their own legal battles, Victoria's Secret and Avon had both (pdf) been condemned to pay seemingly absurd awards of roughly $9 million each plus a one percent royalty on all future web sales. JCPenney and others had also lost to the firm. Zappos, TigerDirect, CDW and several others chose to "settle" with Soverain while numerous lawsuits against many major retailers/e-tailers still remain pending. 
In a troublesome turn of events, Newegg also lost its initial trial – the popular electronics e-tailer attempted to invoke patent "obviousness" in hopes of invalidating Soverain's case, but the presiding judge removed the question of "obviousness" from the jury, stating: "I don't think there's sufficient testimony to present an obviousness case to the jury. I think it would be very confusing to them." Subsequently, the court upheld the jury's decision and ordered Newegg to pay up $2.5 million in damages for its supposed unlicensed use of Soverain's shopping cart technology.
Thankfully though, Newegg's legal team appealed the ruling and won. The original verdict of $2.5 million in damages was repealed.
"We conclude that the prior art CompuServe Mall system, by clear and convincing evidence, rendered obvious the 'shopping cart' claims," the verdict reads (pdf). "These claims are invalid; the district court's contrary ruling is reversed." The ruling continues, "and therefore the judgments of infringement and damages are vacated".
The federal appellate court's ruling sets an ostensibly positive precedent for the health of global e-commerce. Online retailers – particularly those who've recently lost against Soverain – may now look to Newegg's victory to defend themselves against present and future shopping cart patent claims.