PlusD is Wikileaks' searchable archive of U.S. classified documents
By Rick Burgess
Wikileaks has unveiled a newly searchable archive dubbed the "Public LIbrary of U.S. Diplomacy" or otherwise known as PlusD. The whistle-blowing organization hopes its efforts to sort, tag and analyze an enormous collection of more than two million U.S. documents will help onlookers more easily find what they're looking for.
The focus of the archive is primarily formerly classified U.S. diplomatic cables spanning from 1973-1976 and still-classified documents dating mostly from this century. As a result, some of the files deal with hot-button topics like 9/11, Watergate, the Vietnam War and the United States' sometimes questionable involvement with various dictators abroad. There are plenty of smaller issues touched on as well, including everything from corrupt deals to UFO sightings.
WikiLeaks obtained and reverse-engineered all 1.7 million PDFs and performed a detailed analysis of individual fields, developed sophisticated technical systems to deal with the complex and voluminous data, and corrected a great many errors introduced by NARA, the State Department or its diplomats, for example harmonizing the many different ways in which departments, capitals, and people's names were spelt.

 
Although the older documents (mostly lumped together as the "Kissinger Files") have since been declassified, they were publicly released as non-searchable PDFs; this presents a challenge for anyone trying to search for specific information. Wikileaks saw this as a form of purposeful obfuscation, inspiring it to make the content of such documents easy to navigate.
"One form of secrecy is complexity. That's the reason why we decided to merge these files with our existing cables and put a lot of effort into making a user-friendly and accessible database."
a Wikileaks spokesperson
told Forbes
.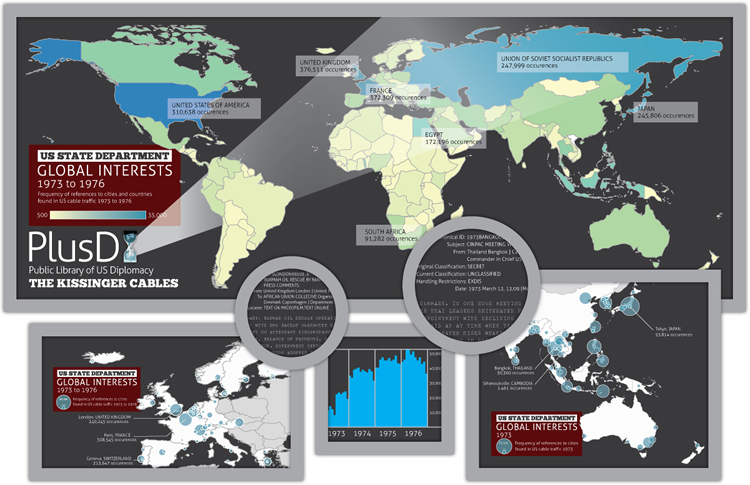 Wikileaks founder Julian Assange himself has been credited for much of the work performed on PlusD.
In August 2012, Ecuador granted Assange political asylum in its London embassy. His relief may only be temporary though as Ecuador has been engaged in talks with Sweden which would extradite Assange for his alleged role in a sexual assault case. However, both Ecuador and Assange fear that he may be extradited to the U.S. afterward to answer for very serious charges related to leaking state secrets.