Twitter's IPO filing reveals data on ad revenue, user base and more
By Jose Vilches
TechSpot is celebrating its 25th anniversary. TechSpot means tech analysis and advice
you can trust
.
Twitter's initial public offering filing with the Securities and Exchange commission went public last night, offering a glimpse at a number of key figures for the seven-year-old microblogging service. From ad revenue to active users to the company's valuation and future outlook. Here are the most interesting tidbits from the filing.
Revenue
Founded in 2006, Twitter only started testing ads in April 2010, generating $7.3 million for the year plus another $21 million from data licensing. Ad sales leapt to $77.7 million the next year, becoming the number one source of revenue for the company, and once again in 2012 to $269.4 million. This year, during the six months ended in June, Twitter had revenue of $253 million ($221 million from ads), or more than twice what it had in the same period of 2012, but it still recorded a loss of $69 million. The company has yet to turn a profit.
Advertising revenue comes from Promoted Tweets, Promoted Accounts and Promoted Trends.
A majority of its revenue derives from mobile advertising – more than 65%. That's seen as as an advantage over rivals like Facebook, which drew 41% of ad revenue from mobile in its most recent quarter, given the growing importance of smartphones and tablets over traditional computers. But it doesn't compare as favorably in other areas. For instance, Twitter measures advertising revenue per 1,000 timeline views. Over the last quarter that figure equated to $0.80, and though ad revenue per user is not specified, others have done the math already putting it at $0.55 versus Facebook's $1.41 of average advertising revenue per user during the same period.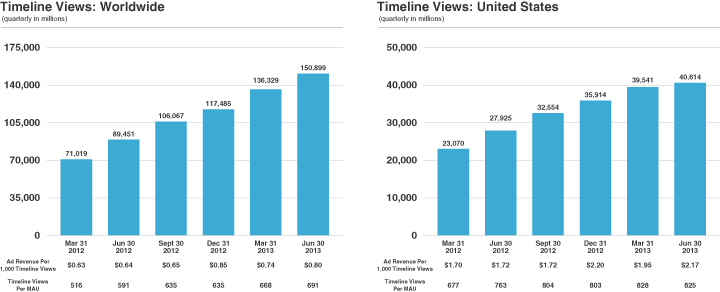 The company didn't break down ad revenue by region but noted around 75% of the total came from the US. International sales are growing, though, with Twitter focusing on Australia, Brazil, Canada, Japan and the UK.
User base
Twitter's S-1 filing reveals the service has 218 million active users per month and 100 million daily active users, spanning nearly every country. About three quarters of them access the service from a mobile device, and although growth is slowing compared last year, the company believes there's significant opportunity ahead with an estimated 2.4 billion Internet users and 1.2 billion smartphone users globally as of 2012.

Users of the service create approximately 500 million tweets every day and the company makes a point to mention how everything news usually break on Twitter in real-time ahead of media outlets.
Going public
The company said it plans to raise a maximum of $1 billion in the offering and will sell shares under the name TWTR, but it didn't say which exchange it will be trading on. The number of shares offered and the price per share at the time of the IPO remains unknown. Based on the number of shares outstanding (44,157,061) Twitter's estimated valuation sits at about $9.7 billion, or at about $13 billion when including equity awards.
The company must now wait through a three-week quiet period, after which it is cleared to begin a "road show" marketing shares to high profile potential investors. Twitter and its underwriters, led by Goldman Sachs, will then set a price per share as they move towards the first day of trading likely in early November.
So who is going to be rich(er)? According to the S-1 filing, co-founder Jack Dorsey owns 4.9% of the company, co-founder and former CEO Ev Williams owns 12% and current CEO Dick Costolo owns 1.6%. If the stock trades in the expected range of $20 to $30 per share, Jack Dorsey's stake would be worth approximately $490 million, William's would be worth around $1.2 billion, and Costolo's around $150 million.