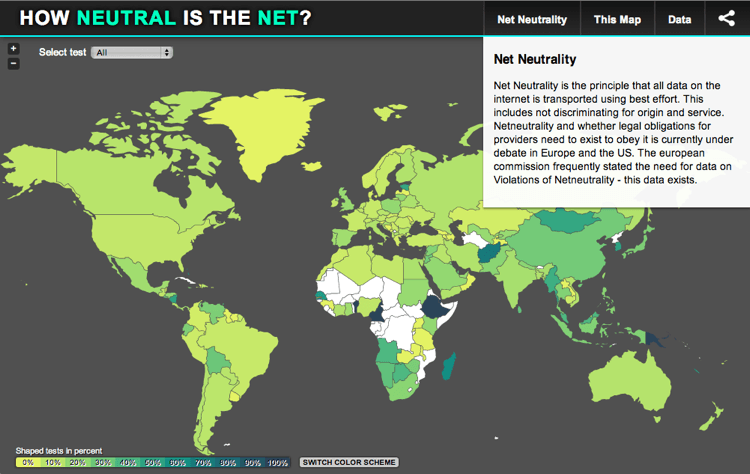 TechSpot is celebrating its 25th anniversary. TechSpot means tech analysis and advice
you can trust
.
Back in 2009 Google and a group of partners formed the Measurement Lab (M-Lab) platform, an open project of distributed servers meant to help researchers gauge just how well an internet connection is working, and conversely help customers determine if their ISP is blocking or throttling particular applications.
The group has been hosting the Glasnost test for a while, developed by the Max Planck Institute, which uses a Java applet to compare your regular download speed and the performance of different application flows between your host and their measurement servers. Though anyone can check their own connection, the M-Lab's latest report offers an interesting general look at the state of ISP throttling around the globe.
As reported by TorrentFreak, the group compiled tests performed between December 2012 and December 2013, and listed throttling percentages for every country where at least 100 tests were performed.
The results show South Korea, Malaysia, Singapore, Japan and Philippines as the worst offenders when it comes to BitTorrent traffic. Greece and Romania fared the best among the countries listed, with only 7% and 9% of tested BitTorrent connections throttled, while the US did relatively well at 14%.
Going into further detail TorrentFreak notes that BitTorrent throttling in the US dropped dramatically after Comcast was exposed for interfering with customers' file sharing traffic, hitting 3% at its lowest point. Traffic shaping rose in the country over the past year, however, with Cox (13%) as the worst offender and Verizon (6%) as the most innocuous. In the UK, TalkTalk (10%) Orange (38%) fared best and worst.
An overview of all the data, including for countries with less than 100 tests as well as other traffic besides BitTorrent, is available via an interactive map netneutralitymap.org. You can also check whether your particular connection is being throttled with the Glasnost browser-based test, and consider running these tests at different times of the day for the best results, since some ISPs may be limiting speeds only during peak hours.
Chart via TorrentFreak