Neowin's Week in Microsoft: Microsoft's future, OnePlus 2, and love of a low-end Lumia
By Steven Parker
After the excitement of Microsoft's Windows 10 event last week, there's hardly been time to catch our breath, as it's been another week packed full of exciting announcements, juicy rumors and tantalising leaks.
With the latest Windows 10 preview, build 9926, now publicly available, we're continuing to discover more about the OS, including various features that have not yet been fully enabled. On Sunday, for example, we at Neowin published a couple of guides to help you activate the new login screen, calendar and clock that are currently baked into the OS, but 'hidden' from view.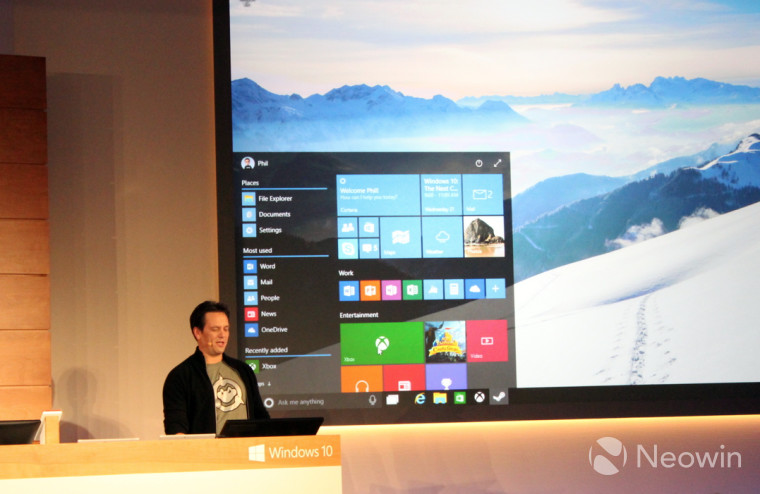 One feature that it isn't yet possible to enable in build 9926 is the transparency control for the new-style Start menu - but this feature is coming in future builds.
Microsoft said this week that over 2.2 million people have now signed up to the Windows Insider program to get early access to OS builds. The company said on Sunday that Insiders can expect to receive new builds more quickly from now on, with the next public preview coming "soon-ish".
In fact, new builds 9931 and 9932 appeared briefly on Windows Update this week due to an error on Microsoft's part, which also saw some earlier builds (including 9918, 9922, 9924 and 9925) being leaked. The company confirmed that this was a mistake, and that none of these builds were ever intended for use outside of Microsoft.
@marypcbuk @jackschofield @ExNokian @sbisson @dinabass 8" & up = "desktop" w/ win32 apps. < 8" = phones, phablets, sm tablets. No dsktp.

--- joebelfiore (@joebelfiore) January 26, 2015
With the launch of Windows 10 still many months away, there is still much about the new OS that has not yet been detailed or confirmed. On Monday, Microsoft clarified one important detail, explaining that the desktop will only be available on Windows 10 devices with screen sizes larger than 8-inches.
One of the many new features in Windows 10 is the company's new, leaner web browser, currently known by its development codename, 'Project Spartan'. The name is a tip of the hat to the Halo game series, which also provided the name of Microsoft's digital assistant, Cortana - but the company has also been testing other names for its new browser. Many of the possible names that have been revealed are terrible, and include 'Evex', 'IE Entourage' and 'Internet Explorer Elixa'.
But whatever Microsoft ends up calling it, Spartan is shaping up to be a much more impressive product than Internet Explorer. The company confirmed this week that it is working on extensions support for the new browser, although this may not be available in the first release.
Gamepad and Pointer Lock API support, as well as WebGL improvements, are also confirmed, making the browser much more attractive to game developers. Spartan's new 'Edge' rendering engine also supports HTTP Live Streaming and better support for MPEG DASH.
We got a better look at the new touch-friendly Office apps for Windows 10 on Monday, thanks to a video overview published by Microsoft. Alongside the touch apps, new versions of the full Office desktop applications are also coming later this year. On Friday, we revealed a range of new features and functions coming in Office 2016, and this weekend, the first full preview build (16.0.3629.1006) leaked.
Office for Android tablets finally emerged from its beta phase this week, having been downloaded over 250,000 times while in preview...
...while Microsoft also launched a new Outlook app on both Android (as a preview) and iOS (as a final product). Don't be fooled by the Outlook branding though - the 'Outlook' apps are actually based on software acquired as part of Microsoft's purchase of email app developers Acompli in December.
On Monday, Microsoft began the process of switching users of its ultra-affordable 'classic' Nokia feature phones to Opera Mini and the Opera Mobile Store, as it begins the process of phasing out the Nokia Store and Xpress Browser.
Another report popped up this week claiming that Microsoft is investing in Cyanogen, the company that develops the CyanogenMod user experience that has been installed on tens of millions of Android devices. Microsoft is said to be a 'minority investor' in a recent $70m funding round, but its interest in the company is certainly intriguing, given that Cyanogen's CEO recently spoke of 'taking Android away from Google'.
CyanogenMod can be downloaded and installed onto Android devices, but it also comes preloaded on some handsets, including the OnePlus One. However, in India, Cyanogen recently signed an exclusive deal to distribute its software on Micromax handsets, forcing OnePlus to develop its own in-house ROM based on Android 5.0 Lollipop.
A preview version of the new ROM was released earlier this month, and OnePlus announced on Friday that its official name will be 'OxygenOS', promising to share more details about it in mid-February.
Details also emerged this week about the successor to the company's first handset. A report on Monday claimed that the new device will be called the 'OnePlus 2' (rather than 'OnePlus Two'), and that it will go on sale in the third quarter of this year. Its launch is said to have been pushed back due to overheating issues with its Snapdragon 810 processor.
The OnePlus 2 is expected to be crammed full of high-end specs, but a Q3 launch could mean waiting as late as September for the new device.