Tweet sent to epileptic journalist containing strobing GIF classed as "deadly weapon" by court
The tweet caused Kurt Eichenwald to suffer an eight-minute epileptic seizure
By Rob Thubron 29 comments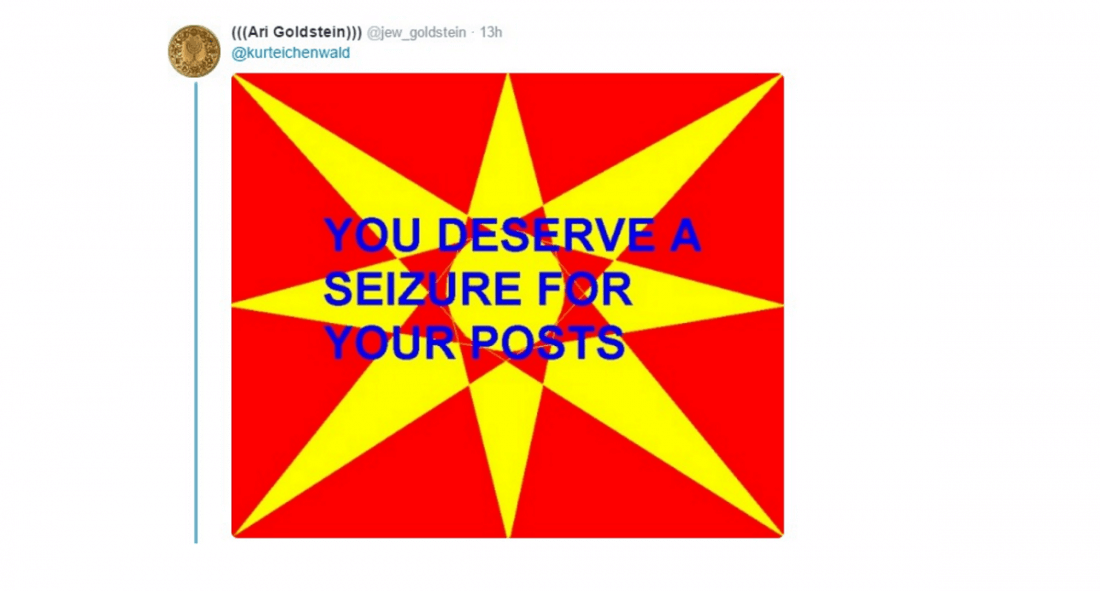 TechSpot is celebrating its 25th anniversary. TechSpot means tech analysis and advice
you can trust
.
A man has been charged with aggravated assault with a deadly weapon after sending a journalist who has epilepsy a tweet containing a strobing GIF. Senior Newsweek writer Kurt Eichenwald had an eight-minute epileptic seizure after viewing the message, and suffered from after-effects for several months.
29-year-old John Rayne Rivello was arrested on Friday, three months after sending the "weaponized tweet" to Eichenwald. The Washington Post reports that Rivello's charges cover hate crimes, "based on alleged anti-Semitic bias associated with the crime." He was released yesterday after posting $100,000 bail.
Rivello appeared to have covered his tracks well, using an anonymous Twitter account on a prepaid SIM card he had bought with cash. But newly unsealed documents uncovered by The Verge reveal how he was eventually found.
Police started by sending a court order to Twitter asking it to hand over all details relating to the @jew_goldstein account, which Rivello used to send the Tweet. His message also included the words "You deserve a seizure for your posts."
Twitter's info didn't reveal much more than a dummy email address, but it did contain the Tracfone number Rivello used. There were no subscriber details associated with the number, so police turned to AT&T, which supports that Tracfone SIM.
The telecoms giant couldn't offer any clues to the perpetrator's identity either, though its toll records showed the SIM had been used with an iPhone 6. After sending Apple a few warrants, the Cupertino company revealed the number was associated with a five-year-old iCloud account owned by John Rivello of Salisbury, Maryland.
Rivello's iCloud account included a screenshot of Eichenwald's wife's response to the strobing GIF, another screenshot of Eichenwald's Wikipedia page that had been altered to show a date of death, and other incriminating evidence. There was also a picture of him holding up his driver's license showing a photo and address, which made finding him a lot easier.
@jew_goldstein This is his wife, you caused a seizure. I have your information and have called the police to report the assault.

--- Kurt Eichenwald (@kurteichenwald) December 16, 2016
Authorities say Rivello targeting Eichenwald "as revenge for what he saw as the reporter's critical coverage of President Trump." Eichenwald recently tweeted that in the time since the attack, he has received more than 40 other GIFs with strobe effects.
More than 40 ppl sent strobes once they found out they could trigger seizures. Details of their cases are with the FBI. Stop sending them.

--- Kurt Eichenwald (@kurteichenwald) March 17, 2017
"Face of the alt-right" Richard Spencer has defended Rivello, tweeting: "There's now a legal fund for Jew Goldstein. It debunks @kurteichenwald claims." The fund currently stands at $11,915 from 278 contributors.