Dystopian thriller Orwell: Ignorance is Strength is now available
You are Big Brother in this desktop simulation
By Cal Jeffrey
TechSpot is celebrating its 25th anniversary. TechSpot means tech analysis and advice
you can trust
.
German indie game developer Osmotic Studios just launched Orwell: Ignorance is Strength. The game serves as season two of the dystopian surveillance thriller Orwell and takes a "darker" turn this time around.
Orwell (now titled, Orwell: Keeping an Eye On You) is a computer desktop simulation that places you in the shoes of Big Brother. As an agent of "The Office," you are tasked with uncovering the identities of suspected terrorists by spying on them using surveillance tools such as security cameras, social media, personal telephone conversations and various other means.
Orwell: Ignorance is Strength continues this theme but this time, players are looking into the disappearance of a state agent and the rising tensions between nations.
"Reporting directly to Orwell adviser, Ampleford, you're tasked with uncovering the truth behind the escalating political tension, and delving deep into the lives of Raban Vhart, editor of The People's Voice and self-proclaimed guardian of truth, his wife, Karen, and his brother, Illya, to uncover their potential involvement."
Players will again be using the government's Orwell security program but Osmotic has added a few new tools and mechanics. In addition to the previous surveillance functions, OIiS introduces a "time-of-day" system to add tension by creating time-sensitive situations. They have also expanded the surveying tools to allow for even deeper digging into the lives of the NPCs. Players can then choose how to disseminate the discovered information to shape world events.
"Use Orwell's upgraded toolset and the information you have uncovered to create your own version of the truth. Then use that to gain influence and control over the situation."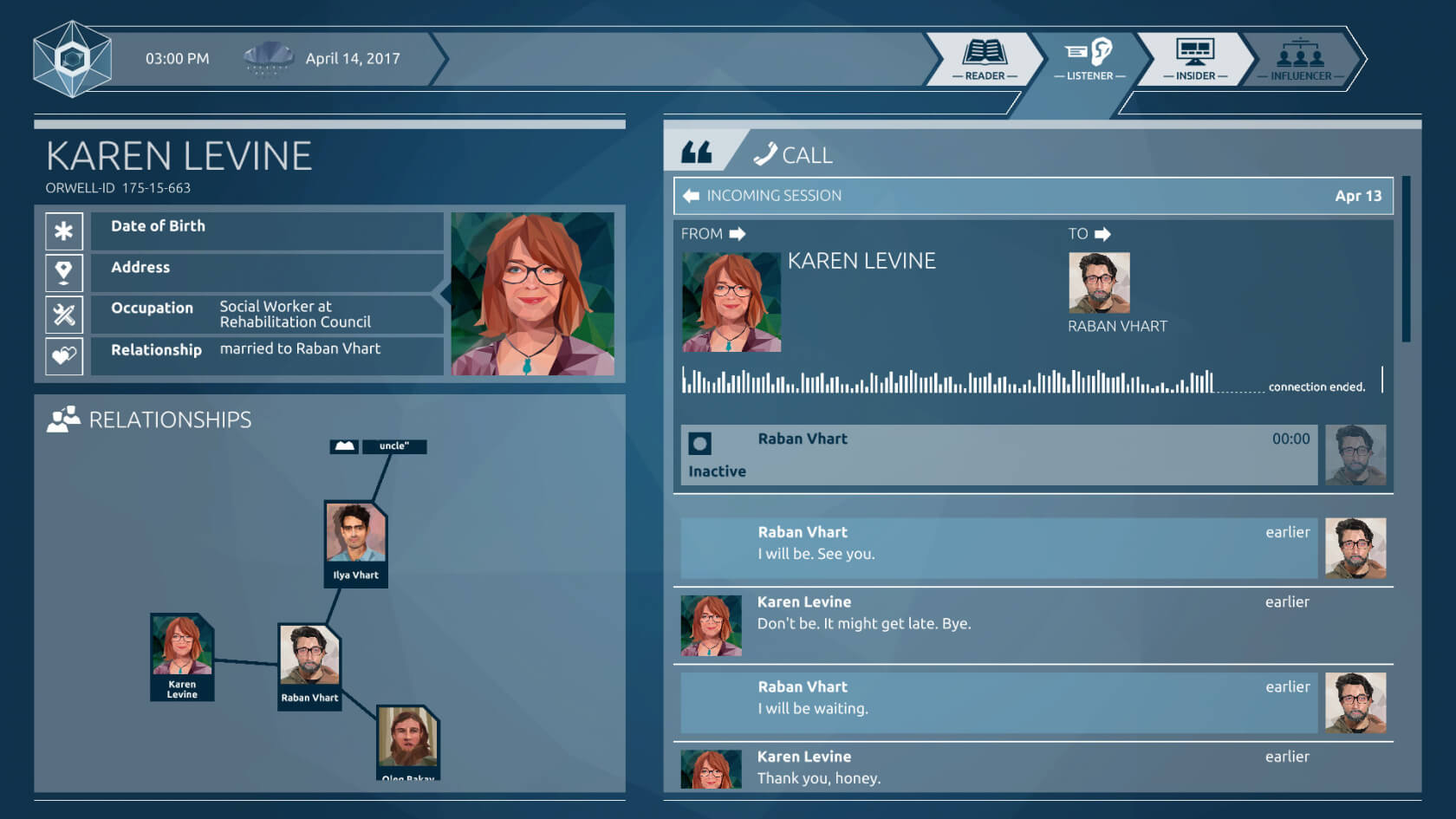 The original game was well-received with mostly positive reviews on Steam and high scores from publications like Polygon which gave Orwell a nine out of 10. We tabulated a metascore of 79 for it.
It was also announced that two more episodes would be released over the next five weeks.
"The Orwell series takes the unusual format of releasing as a season of episodes with very short intervals between them," says publisher Surprise Attack. "Inspired by serialized drama, the goal is to increase the suspense as players wait for the next episode and connect with each other in the forums to share theories and thoughts on what might happen next."
Episode One: Thesis - 8am PST/5pm CET, Thursday February 22
Episode Two: Antithesis - 8am PST/5pm CET, Thursday March 8
Episode Three: Synthesis - 8am PST/5pm CET, Thursday March 22
I have to admit that when the original Orwell first arrived, I somewhat wrote it off as a gimmicky title that Osmotic Studios was just throwing out there to make a quick buck. However, seeing its commitment to releasing continuing content has given me pause in my judgment and now I'm intrigued.
Orwell: Ignorance is Strength is available for Windows, Mac and Linux for $9 on both Steam and GOG although Steam has the best price if you want to grab both games in the series. Right now, you can pick up a bundled deal for just $10.48 which is 48 percent off the standard retail price for both games.