AMD B450 chipset, 2nd-gen Threadripper board spotted at Computex
We went on a hunt for AMD B450 motherboards, but while visiting the MSI booth we found more
By Steven Walton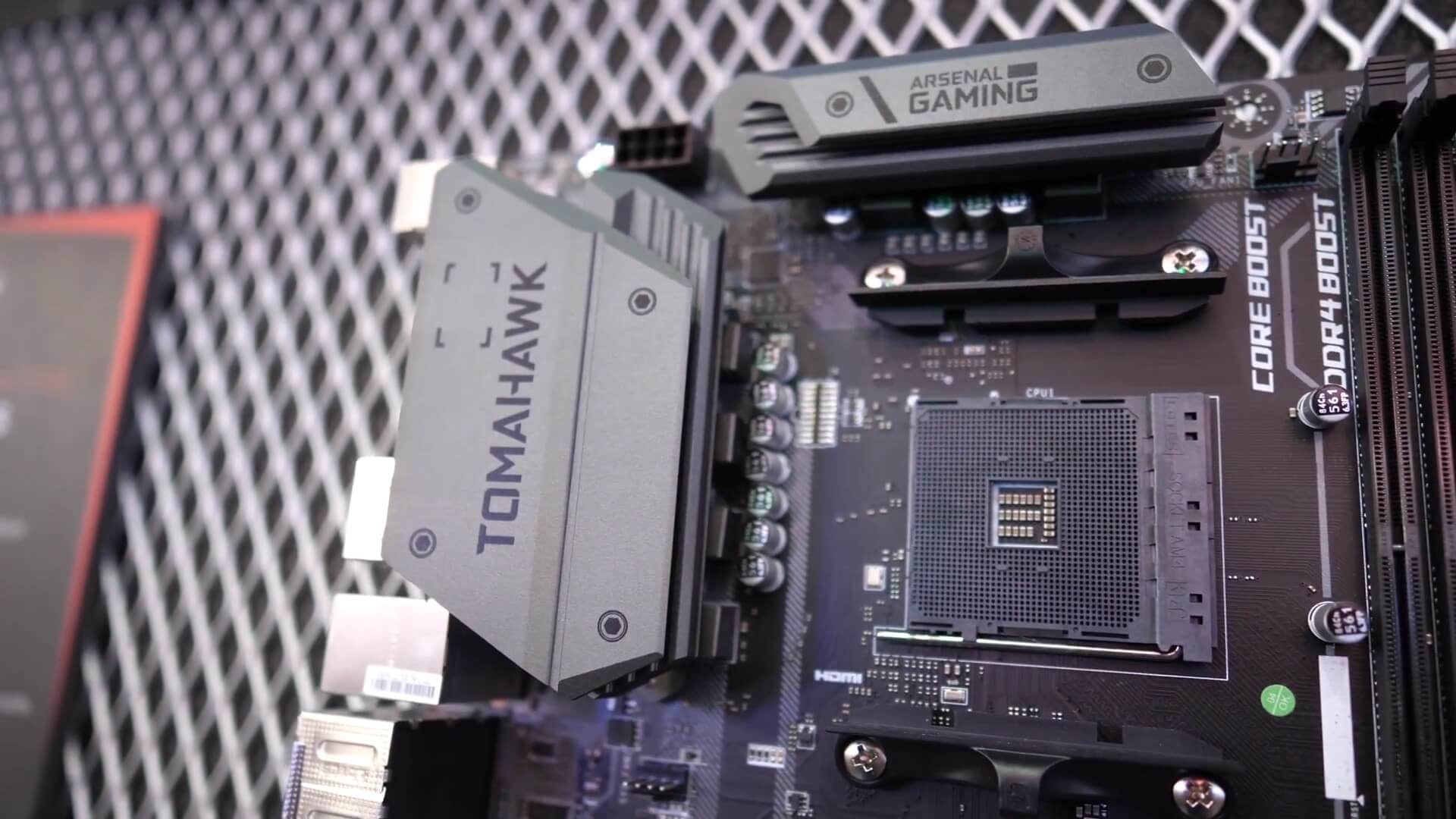 TechSpot is celebrating its 25th anniversary. TechSpot means tech analysis and advice
you can trust
.
Today at Computex 2018 we went on a hunt for AMD B450 motherboards, but while visiting the MSI booth found another very interesting motherboard, which I'll get to in a moment. For now let's focus on those elusive B450 motherboards. AMD released their 2nd-gen Ryzen processors alongside the new X470 chipset weeks ago, and while we were expecting B450 motherboards to appear shortly after, as in days or weeks, that never happened.
In fact, AMD's still yet to officially announce the B450 chipset however some motherboard partners did have boards on display at the show. At the heart of the MSI booth we found the motherboard section and proudly on display was the B450 Tomahawk and B450-A Pro.
Although they only had two B450 boards on display at Computex, MSI told us we can expect a full range of boards to be available soon. Both models on display featured a 4+2 phase VRM and this means you'll really only want to be overclocking the 6-core and lower tier Ryzen processors. That said, we imagine if your serious about overclocking the Ryzen 7 parts you'll probably get your hands on a new X470 board such as the X470 Gaming Pro Carbon, for example.
While we're expecting improved BIOS support with B450 boards, a big advantage is that all models will support 2nd-gen Ryzen CPUs out of the box. Additionally moving forward, support for future CPUs without the correct BIOS won't be an issue with any MSI B450 boards as they all have a BIOS flashback button on the I/O panel which allows the user to update the BIOS without requiring a CPU.
MSI confirmed this feature will be supported by all B450 motherboards on their lineup, even the most affordable models. We imagine going forward this will become a standard MSI feature regardless of chipset, so that's certainly good news for builders and consumers.
As of writing, MSI hasn't released any pricing information but we are expecting the B450 models to slot in at the same price points as comparable B350 models. MSI did tell us that availability is set for next month and that's when you can expect to see reviews.
Apart from the BIOS flashback feature, the only other noteworthy upgrades for these upcoming models include repositioning of the M.2 port and the Tomahawk gets two extra SATA ports. We'll be testing B450 motherboards when they're out next month to see how they differ from existing B350 models, though we're not expecting much.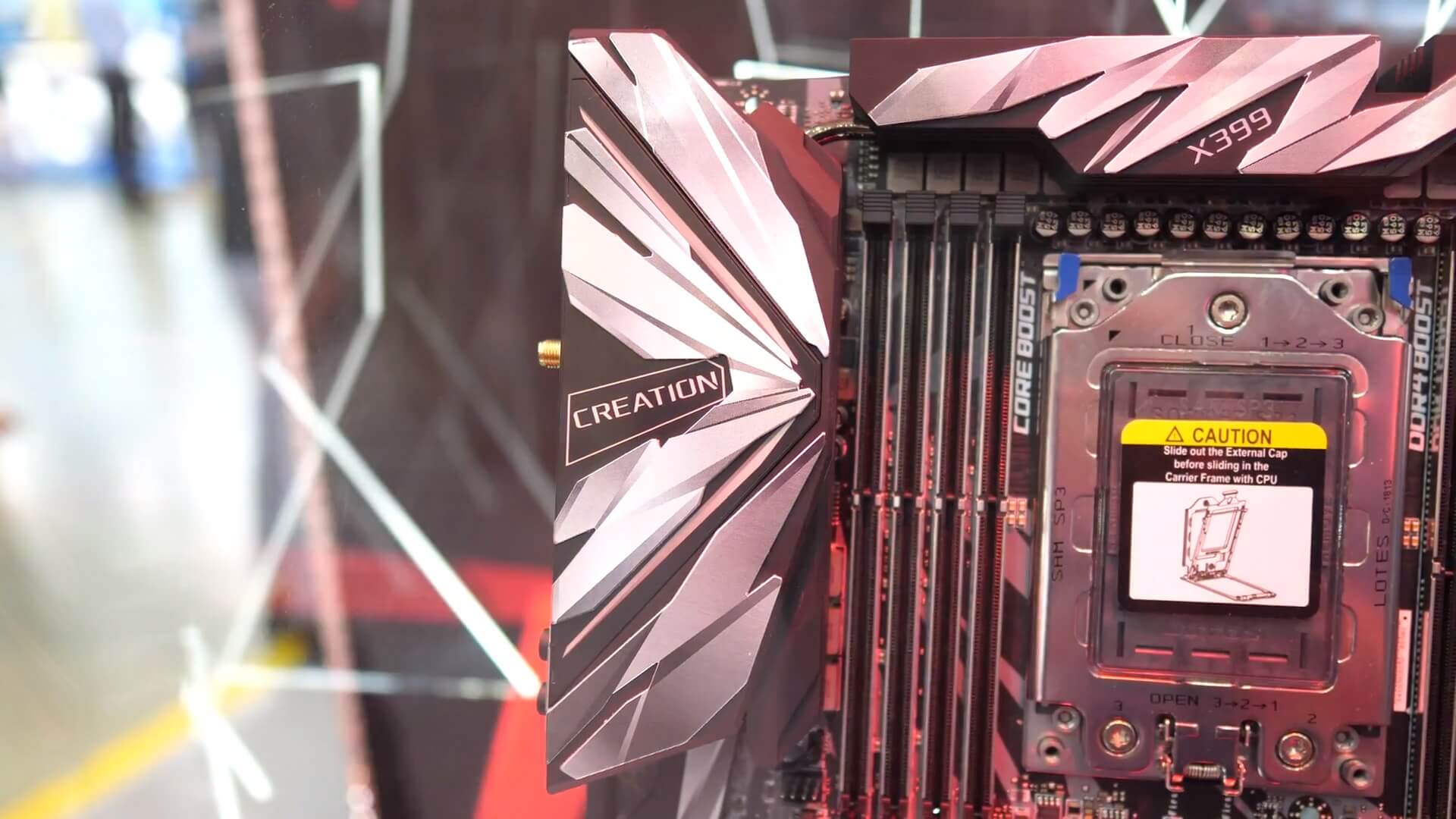 The motherboard that really caught our attention was the X399 Creation, and what an incredibly beastly creation it is. We can safely say we've ever seen a motherboard that looks anything like this thing before, the shattered glass design of the chipset and M.2 heatsink is certainly very out there, but we have to admit we think it looks pretty cool. As a side note, right now the full name is MEG X399 Creation, but we told MSI to drop the MEG part and it sounds like they're taking our advice.
The highlights of the X399 Creation besides the striking looks include an insane 19-phase digital VRM fed via a pair of 8-pin power connectors, four PCIe x16 slots, 8 SATA ports, three full speed M.2 slots onboard with another four via an included expansion card that's bundled with the board.
MSI calls it the Xpander-AERO and it's a PCIe x16 card that supports an additional four M.2 NVMe SSDs which are cooled by a large aluminum heatsink with active cooling, essentially it looks like a Mini ITX graphics card so that's very cool. We're going to need to stock up on M.2 drives to really test that thing out.
The X399 Creation packs loads of features, the I/O panel alone includes 10 USB ports which includes a Type-C port and four Gen2 3.1 ports. There's dual Gigabit LAN using Intel controllers, an Intel 9260 module supporting 802.11ac WiFi and Bluetooth 5.0. MSI's also included a clear CMOS and a BIOS flashback button on the I/O panel.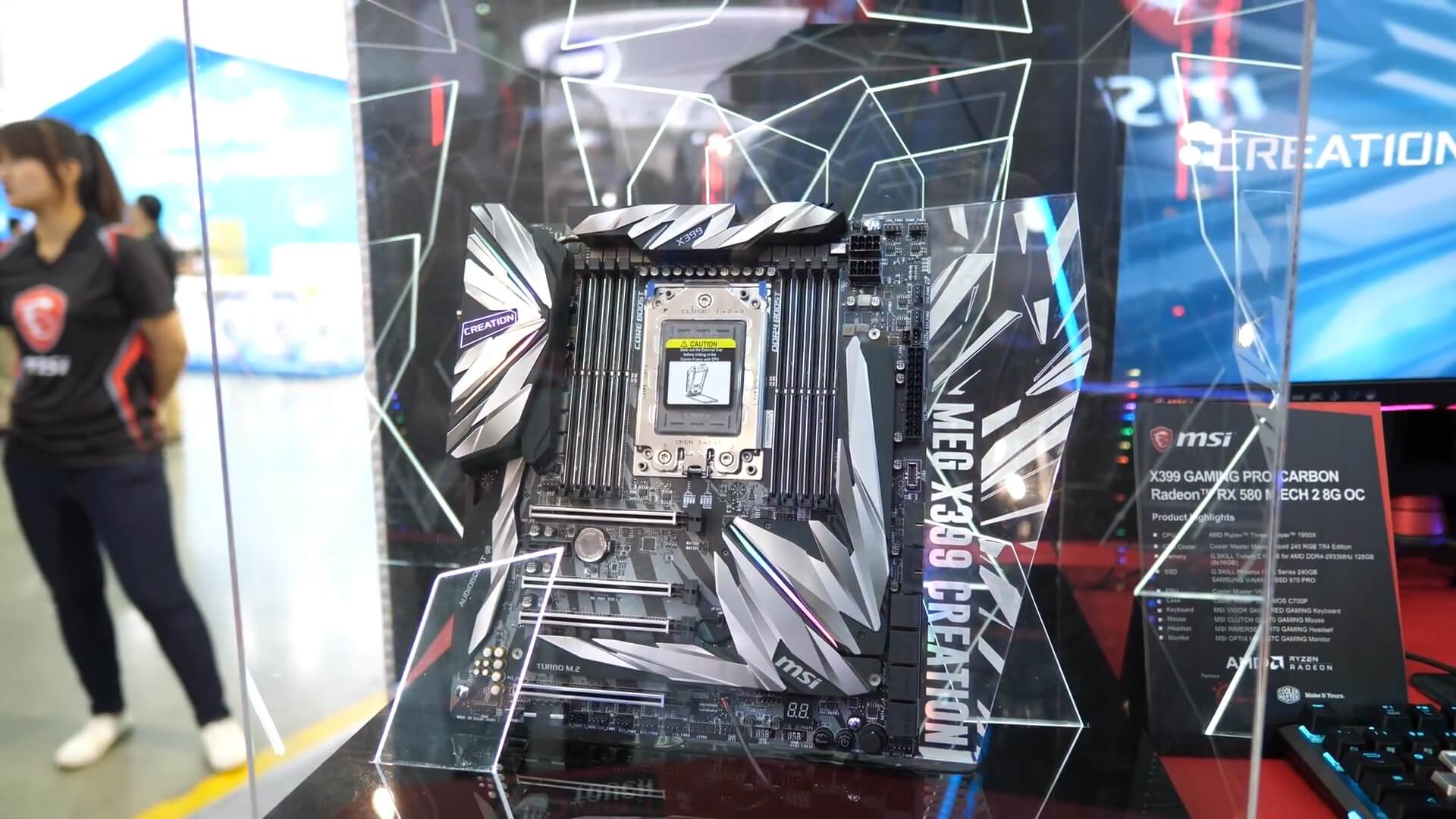 The 19-phase VRM really caught our attention and we've seen a few new X399 motherboards at this year's show, all packing extreme VRMs. We were almost expecting to see new X499 boards for those upcoming 2nd gen Ryzen Threadripper parts, but it seems like X399 will be sticking around for a little longer yet. With these new X399 motherboards packing such insane power delivery capabilities we have to wonder just how many cores the updated Threadripper CPUs will pack, hopefully we'll have word on that very soon.
MSI says they're targeting professionals and content creators in particular with this motherboard as the name suggests. So it's great to see an X399 board without 'Gaming' in the title, this makes a lot more sense. MSI hasn't done away with RGB though. Overall we have some new motherboards to look forward to, expect B450 coverage next month, while the X399 Creator won't be ready until later in the year.