This PCIe card houses 21 M.2 SSDs for up to 168 terabytes of blazing-fast storage
When you get overwhelmed by the need for speed
By Adrian Potoroaca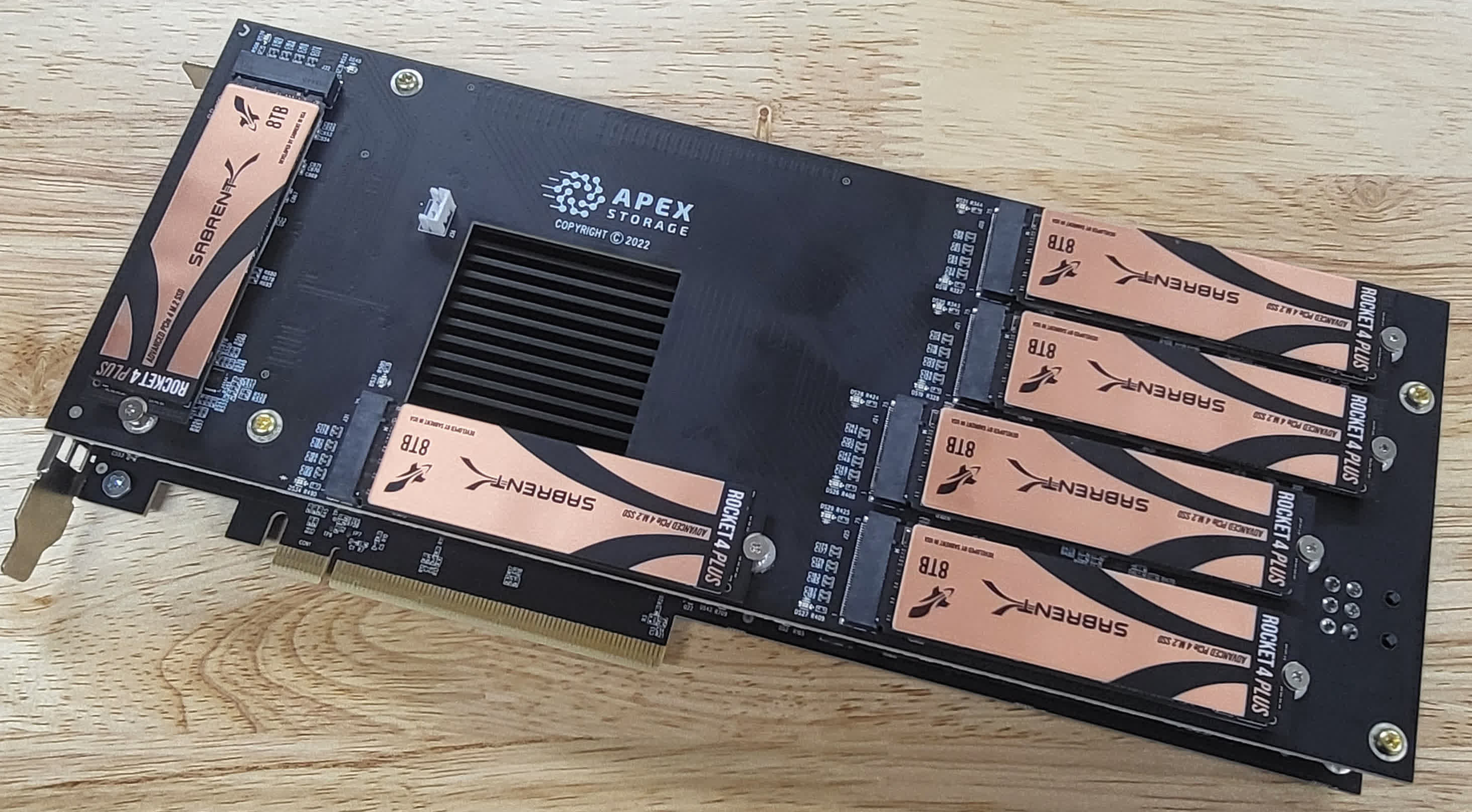 TechSpot is celebrating its 25th anniversary. TechSpot means tech analysis and advice
you can trust
.
Forward-looking: The first commercial SSDs had capacities measuring in the gigabytes and speeds of around 50 megabytes per second. Today, companies like Sabrent and Apex Storage are developing drives that can store well over 100 terabytes of data and can work at the very limits of PCIe 4.0 tech in terms of speed.
Last year, Sabrent revealed an exotic SSD called the Destroyer 2 that was monstrously fast compared to your average consumer solid-state drive. Designed primarily for workstation use, the behemoth could be configured with up to 64 terabytes of storage and reach sequential read and write speeds of around 28,000 megabytes per second.
This year, the company is launching an upgraded version of the device that will offer more speed and the ability to cram even more storage into a relatively compact add-in card. We're told it's the result of a collaborative effort between Sabrent and Apex Storage – a company focusing on high-density NVMe storage solutions for professional and enterprise workloads.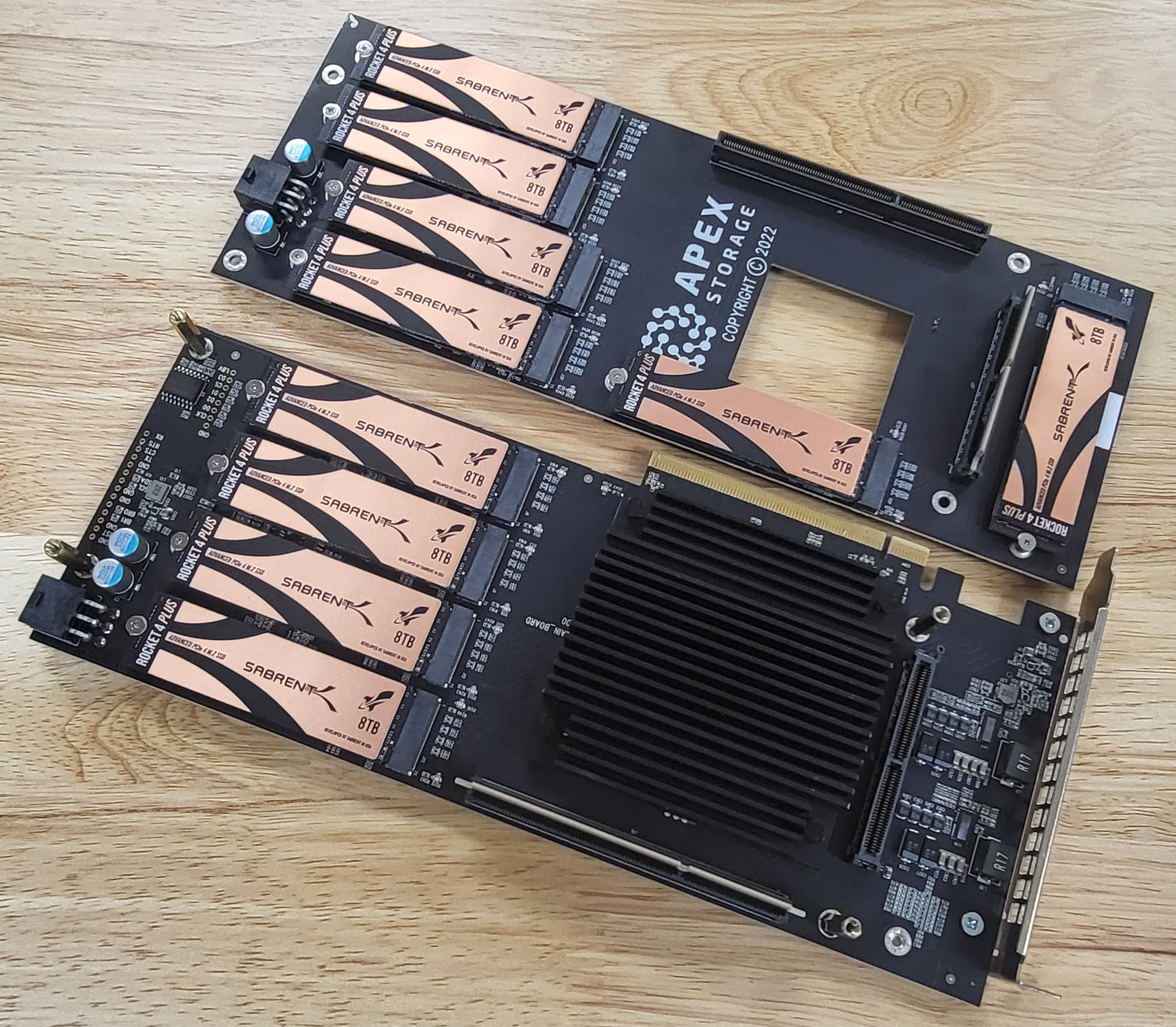 The Apex X21 Destroyer will come equipped with up to 21 8-terabyte Sabrent Rocket 4 Plus SSDs, which are among the best storage devices for enthusiasts, gamers, and professionals in need of fast scratch disks. This means you can get 168 terabytes of storage crammed into what looks like a one-and-a-half slot PCIe card. Come the day when 16-terabyte M.2 SSDs become available, you'll be able to pack 336 terabytes in there.
As for the speed of the new Destroyer SSD, Sabrent's preliminary tests show it can reach sequential read and write speeds in excess of 31 gigabytes per second – pretty close to the maximum speed of a PCIe 4.0 x16 slot. Normally, the $2,800 Apex X21 carrier board is rated for up to 30.5 gigabytes per second in sequential reads and 28.5 gigabytes per second in sequential writes. Random reads and writes are rated at 7.5 million IOPS and 6.2 million IOPS, respectively, but Sabrent has yet to provide any figures on that front.
Also read: Anatomy of Solid State Drives
There are some internal differences between Apex X21 Destroyer and the old Destroyer 2 solution. The most important is that the former product used a RAID card while the new Destroyer uses two PCIe 4.0 switches and will require third-party software or hardware solutions if you want to configure RAID arrays.
The second difference is that the Apex X21 Destroyer needs to draw external power from two eight-pin PCIe power connectors, whereas the Destroyer 2 only needed one six-pin connector to keep eight SSD blades running.
Sabrent is still conducting internal testing for the new product and has yet to provide info on a release date or pricing. Judging by the price of the carrier board and Rocket Plus 4 SSDs, a fully kitted Apex X21 will likely cost north of $25,000.