PC enthusiast tames AMD's Ryzen 9 7950X using copper bars for complete silence
The resulting build weighs 13 kg and isn't an ideal setup, but it works surprisingly well
By Adrian Potoroaca 11 comments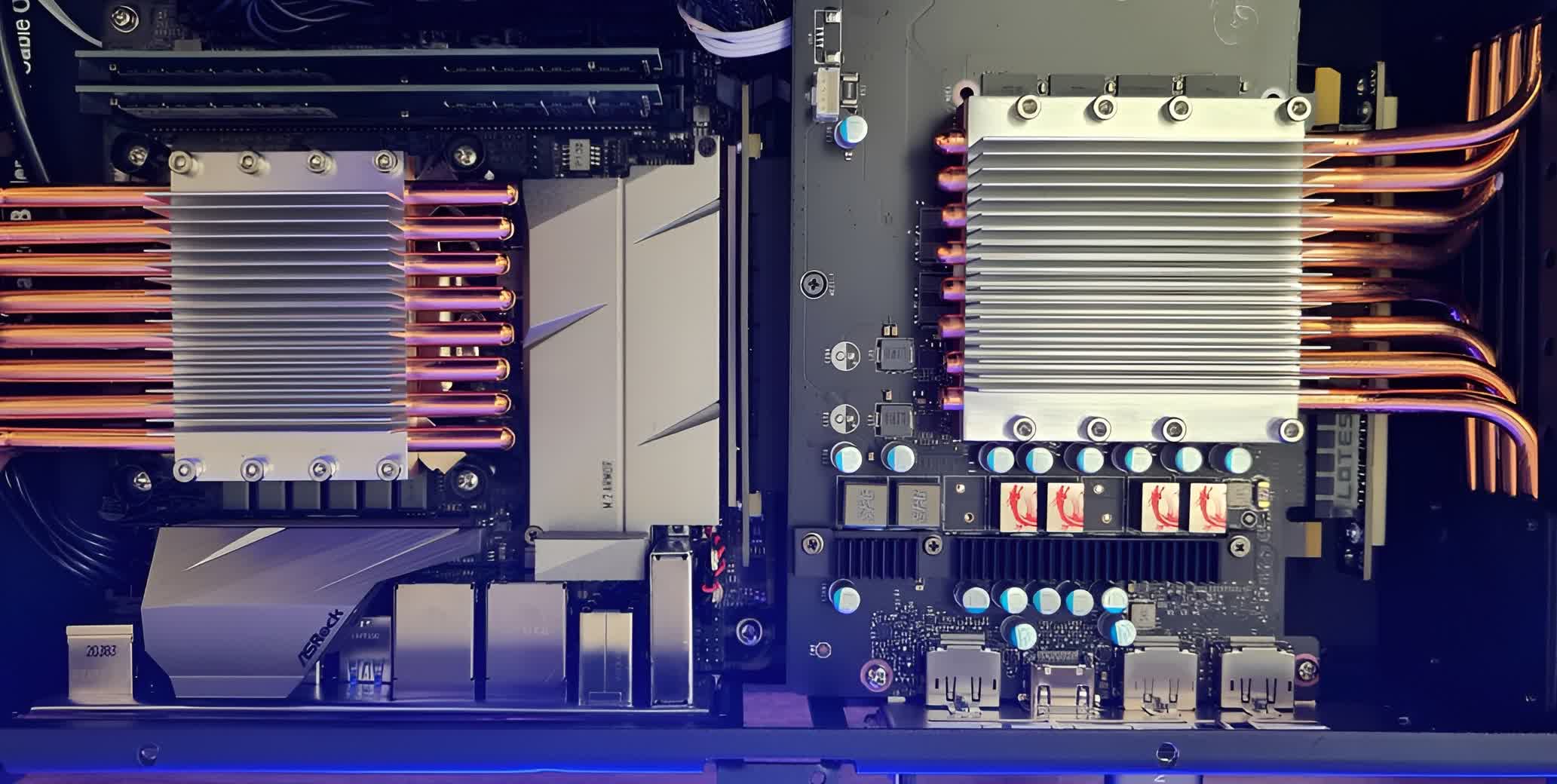 TechSpot is celebrating its 25th anniversary. TechSpot means tech analysis and advice
you can trust
.
In brief: We've seen many passively cooled systems over the years, and there are several companies dedicated to serving a growing niche for PCs that stay silent during normal use. Someone even managed to adapt a passive cooling system for AMD's fast and furiously hot Ryzen 9 7950X CPU, proving that taming it without a fan is indeed possible.
Everyone loves silent PCs, and several communities out there are dedicated to building systems with as few moving parts as possible or none at all. We often see enthusiasts building compact fanless PCs, and companies like MonsterLabo have made it their mission to develop full tower systems where you can cram in high-end components and get close to their full performance without the whirring noise of several fans hammering your ears.
As spotted by Tom's Hardware, one Redditor recently successfully built a fanless system integrating AMD's notoriously hot Ryzen 9 7950X processor. Our own Steven Walton described it as the new performance king and the jack of all trades, but he also noted it ran cooler than Intel's Core i9-13900K – a crucial requirement for building a silent system.
Interestingly, the build revolves around the Streamcom DB4, a unique compact case designed for mini-ITX systems. The Redditor used an MSI MPG B650i Edge Wi-Fi motherboard and paired the Ryzen 9 7950X with 64 gigabytes of DDR5 memory. All of this is powered by an HDPlex GaN power supply rated for 250 watts that is the size of the typical power bank from companies like Anker.
The Streamcom DB4 normally only supports processors with a TDP of up to 65 watts, with the possibility to extend that to 105 watts using an optional cooling module. However, the Ryzen 9 7950X has a TDP of 170 watts, so the Redditor decided to use two ESG Feinkupfer 1-kilogram copper bars and a custom-cut 233mm copper bar to conduct the heat from the CPU and motherboard chipset to the aluminum heatsink walls of the Streamcom case.
Furthermore, the Redditor didn't solder the parts and instead used Thermal Grizzly Conductonaut and Arctic MX-6 thermal compounds as interface materials. After pushing the Ryzen CPU to its limits for about two hours, he observed 95 degrees Celsius on CCD1 and 90 degrees Celsius on CCD2, while the motherboard temperature hovered around 77 degrees Celsius, and the case side plates stayed comfortably between 50 and 60 degrees Celsius.
While the system would have benefited more from a vapor chamber or heat pipes with custom baseplates for the CPU and the motherboard chipset, this DIY project achieved relatively good results with much less effort. And since the Redditor only uses their system for programming, it probably won't overheat during normal usage. The only downside is that the resulting build weighs around 13 kilograms (over 28 pounds), and the user is considering testing heat pipes soon to achieve a more efficient cooling solution.