Running Windows apps on ChromeOS just got easier thanks to Cameyo's virtualization platform
Turning desktop applications into browser-based apps?
By Alfonso Maruccia
TechSpot is celebrating its 25th anniversary. TechSpot means tech analysis and advice
you can trust
.
In context: Cameyo offers an "application virtualization" platform aimed at virtualizing Windows programs, allowing them to operate on low-power machines or within an HTML5-compatible browser. This virtualization technology is currently being incorporated into low-power ChromeOS devices that support HTML5.
Cameyo recently introduced ChromeOS Virtual App Delivery (VAD), a novel virtualization service that empowers ChromeOS users to operate "all" of their applications directly within a Chrome browser window. By integrating Cameyo's virtualization technology into Google's internet-connected operating system, the service supports Windows, Linux, and other "legacy apps" initially intended for traditional desktop computers.
Cameyo said its ChromeOS Virtual App Delivery solution eliminates the need to load an entire virtual desktop OS to run a single program, which has been the favored approach for enterprise and power users until now. Through VAD integration, ChromeOS users can now load the specific computer program itself, and the system treats it like a Progressive Web App operating within a browser tab.
Naveen Viswanatha, Head of Product for ChromeOS Solutions, stated that many organizations used to utilize virtual desktop solutions like VDI and DaaS to distribute their legacy software to end users. However, these virtual desktop and VM platforms require a robust data center or cloud infrastructure, leading to a notable overhead in the overall experience.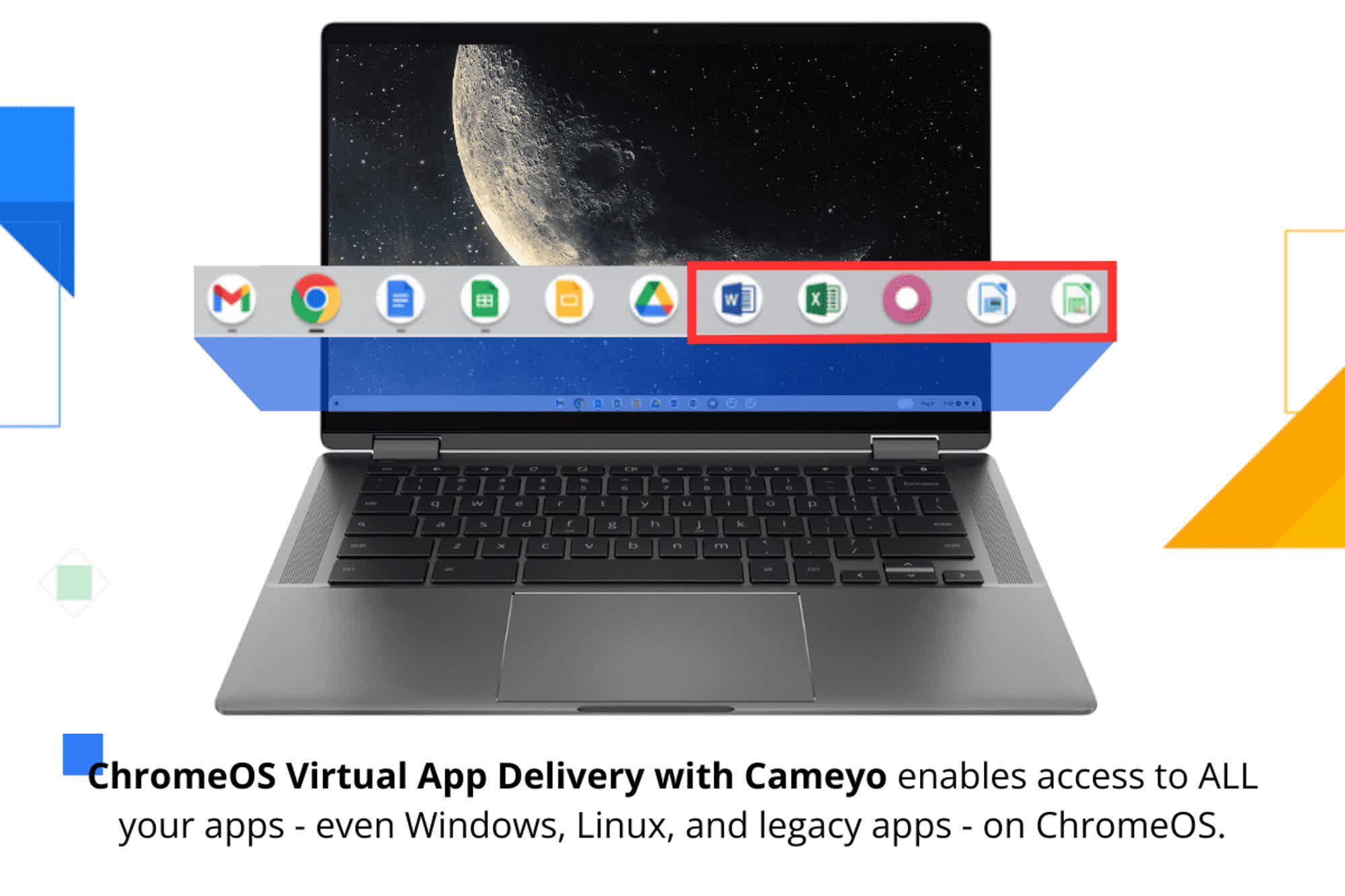 In the modern cloud-first landscape, Viswanatha said, users now require "simple and secure access to their apps" in a seamless manner that optimizes productivity. ChromeOS VAD streamlines application delivery and can potentially reduce TCO (total cost of ownership) by 54 percent when compared to full virtual desktops.
Virtual App Delivery offers an exceptionally straightforward method for deploying desktop programs on ChromeOS clients. Session management, load balancing, and other "behind-the-scenes" features are all handled by Cameyo's virtualization technology. VAD applications provide enhanced security levels, as Cameyo follows a zero-trust security model from the start. Furthermore, Virtual App Delivery ensures the "best user experience" for end-users, as there is virtually no distinction between local programs and apps running through VAD.
Cameyo recommends ChromeOS Virtual App Delivery specifically for Chrome Enterprise products, at least for the time being. The company still has time to fully introduce its new solution to consumer users, considering that competing solutions are pursuing various approaches to application virtualization in the cloud. Microsoft, for example, continues to focus on making users run an entire remote Windows OS instance with its Windows 365 subscription.