AMD slams Nvidia over 16-pin connector issues, but admits considering the same design
"You shouldn't blame end users for issues you have"
By Rob Thubron 7 comments
TechSpot is celebrating its 25th anniversary. TechSpot means tech analysis and advice
you can trust
.
What just happened? Never one to miss an opportunity to have a dig at Nvidia, AMD has blasted its rival over the 16-pin (12VHPWR) power connector issues that were found (mostly) in the RTX 4090. However, Team Red did admit that it had considered using the same connector in the new Radeon RX 7800 XT and Radeon RX 7700 XT before deciding against it.
Speaking in an interview with Club386, Scott Herkelman, senior vice president and general manager of the Graphics Business Unit at AMD, talked about the company's Radeon RX 7000 desktop series using the standard 8-pin power connectors.
While the use of the traditional connector was always the plan for the Radeon RX 7900 series and RX 7600, the new Navi 32-based Radeon RX 7800 XT and Radeon RX 7700 XT almost went down the Nvidia route by using the 16-pin 12VHPWR.
"We specifically, for 7900 Series, and even 7600, we didn't plan on the new power cable, but 7800 and 7700 did have a plan for it," Herkelman said. "We removed it, and that was a purposeful removal."
The AMD exec then took a shot at Nvidia over how it handled the 16-pin 12VHPWR melting connector issues. "You shouldn't blame end users for issues you have. You should catch and own any problems, just like we did with the vapor-chamber issue. I was all over social media because I felt like it was AMD's problem and I was going to own it."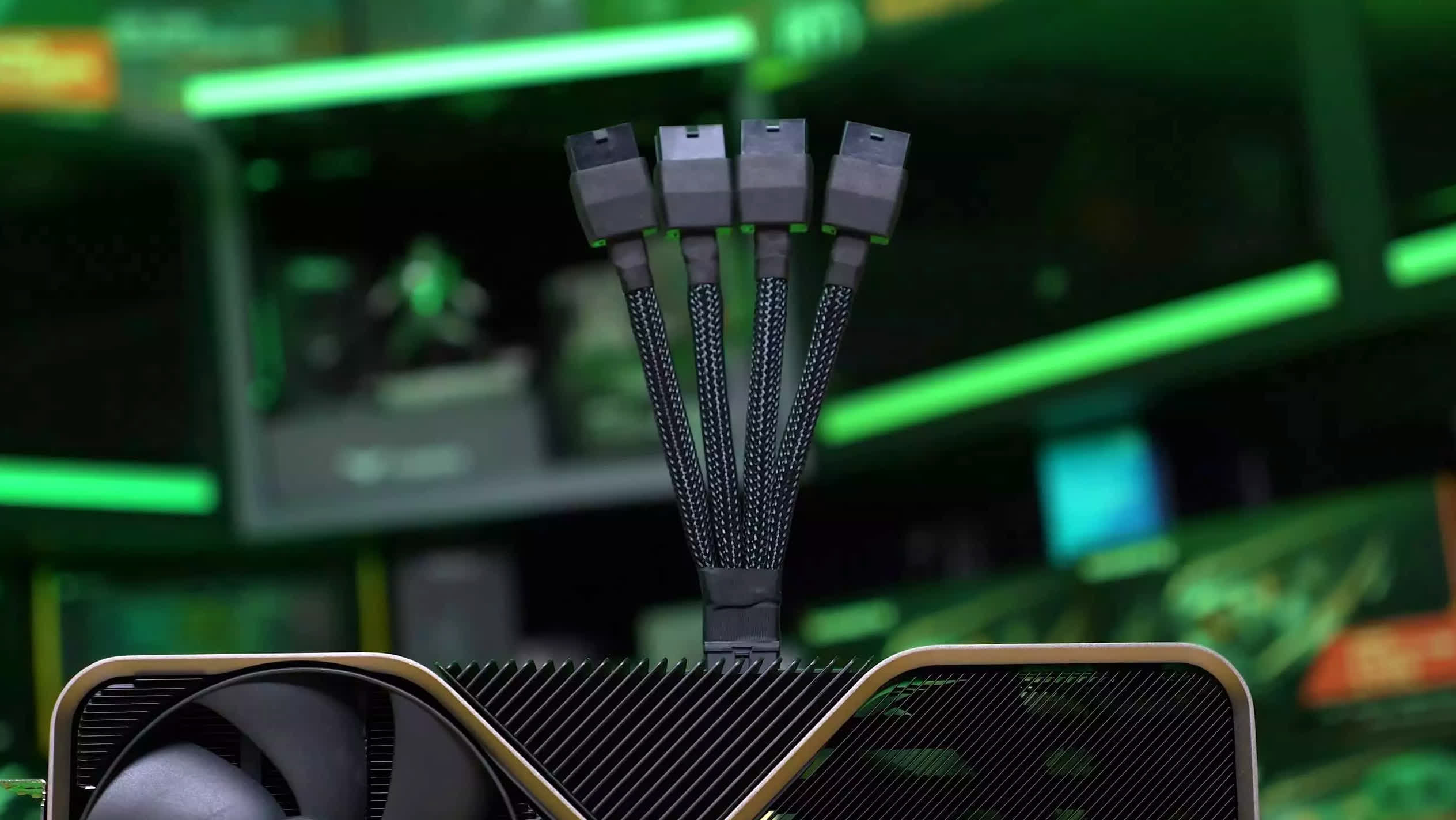 That vapor chamber issue refers to an overheating problem found in a small number of Radeon RX 7900 XTX cards. Herkelman admitted earlier this year that some AMD-manufactured Radeon RX 7900 XTX cards were getting too hot due to insufficient fluid in their vapor chamber.
Following the initial wave of reports about melting power adapters for the GeForce RTX 4090, Nvidia issued a statement blaming users for improperly plugging in the cables. It was around this time that AMD confirmed its RDNA 3 cards wouldn't use 12VHPWR. It sounds like the company isn't ruling out switching at some point, though, probably when RDNA 4 arrives.
"Until this power issue is cleaned up and there's good confidence it's working correctly for end users, that's where you'll start to see us incorporate it into our planning," Herkelman continued. "The ability for someone to say it's an end-user's fault is a little strange to AMD and definitely strange to me."
In July, we heard that the Peripheral Component Interconnect Special Interest Group (PCI-SIG) was working on the revised 12V-2x6 power connector specification. The update aims to address the design issues contributing to melting and connection failures associated with the RTX 4090. Nvidia upgraded the RTX 4090 Founders Edition with the new standard soon after.
Stay safe this holiday season. @amdradeon pic.twitter.com/DOpg0f2qaP

– Sasa Marinkovic (@SasaMarinkovic) November 17, 2022
This isn't the first time an AMD exec has mocked Nvidia over the melting connector. Sasa Marinkovic, senior director of gaming marketing at Team Red, made a joke last year with a post on X (then still Twitter) about staying safe during the holiday season, accompanied by a photo of AMD's 8-pin connectors.