Motorola Moto G4 Plus Review
Page 2 :

Display: 5.5-inch 1080p LCD By
TechSpot is celebrating its 25th anniversary. TechSpot means tech analysis and advice
you can trust
.
When you buy through our links, we may earn a commission.
Learn more
.
Display: 5.5-inch 1080p LCD
The Moto G4 Plus uses a 5.5-inch IPS LCD with a resolution of 1920 x 1080, which is an upgrade in both size and resolution over the 5.0-inch 720p display in the 2015 Moto G. Coming in at 401 PPI, the G4 Plus' display is sharper than it was before, most notably when rendering text. Considering 1080p displays seem to now be the standard for budget handsets, it's good to see Motorola keeping up with the latest hardware trends.
There's a lot to like about this display. With peak brightness of over 600 nits, Motorola has added nearly 100 nits to the brightness of their Moto G panel, which makes it even more visible outdoors. The contrast ratio has also improved thanks to deeper blacks, and this goes a long way to making colors and highlights 'pop' more than before.
By default, the Moto G4 Plus is set to use its 'vibrant' display mode, which experiences some oddities in color processing. The display itself is capped to an sRGB color gamut, so it can't simply oversaturate the most vibrant colors. Instead, it pushes up the saturation level on mid-tones, which can cause a loss of color detail and noticeable color banding in some circumstances. In this mode, the display isn't hugely inaccurate, however saturation levels have clearly been adjusted.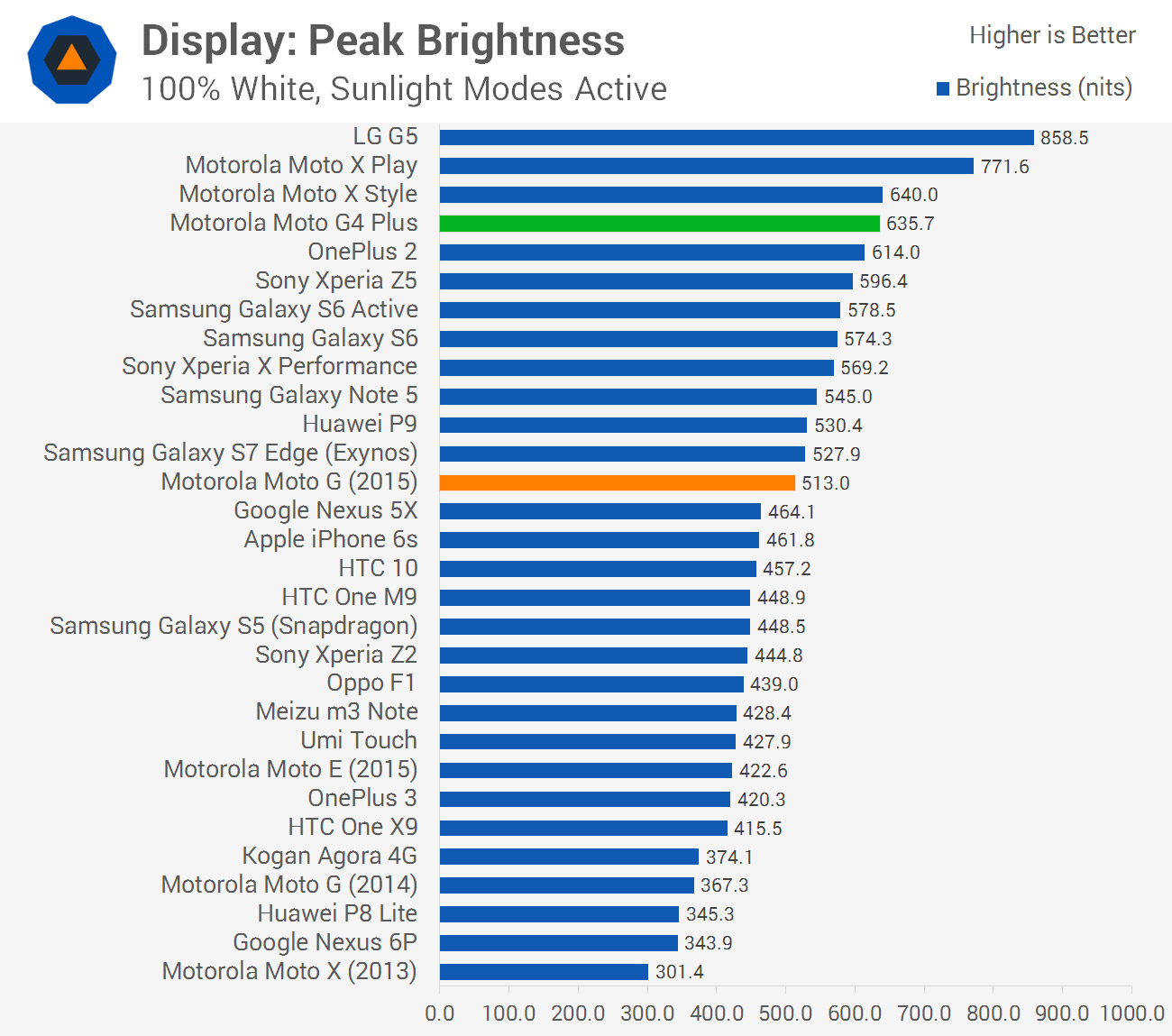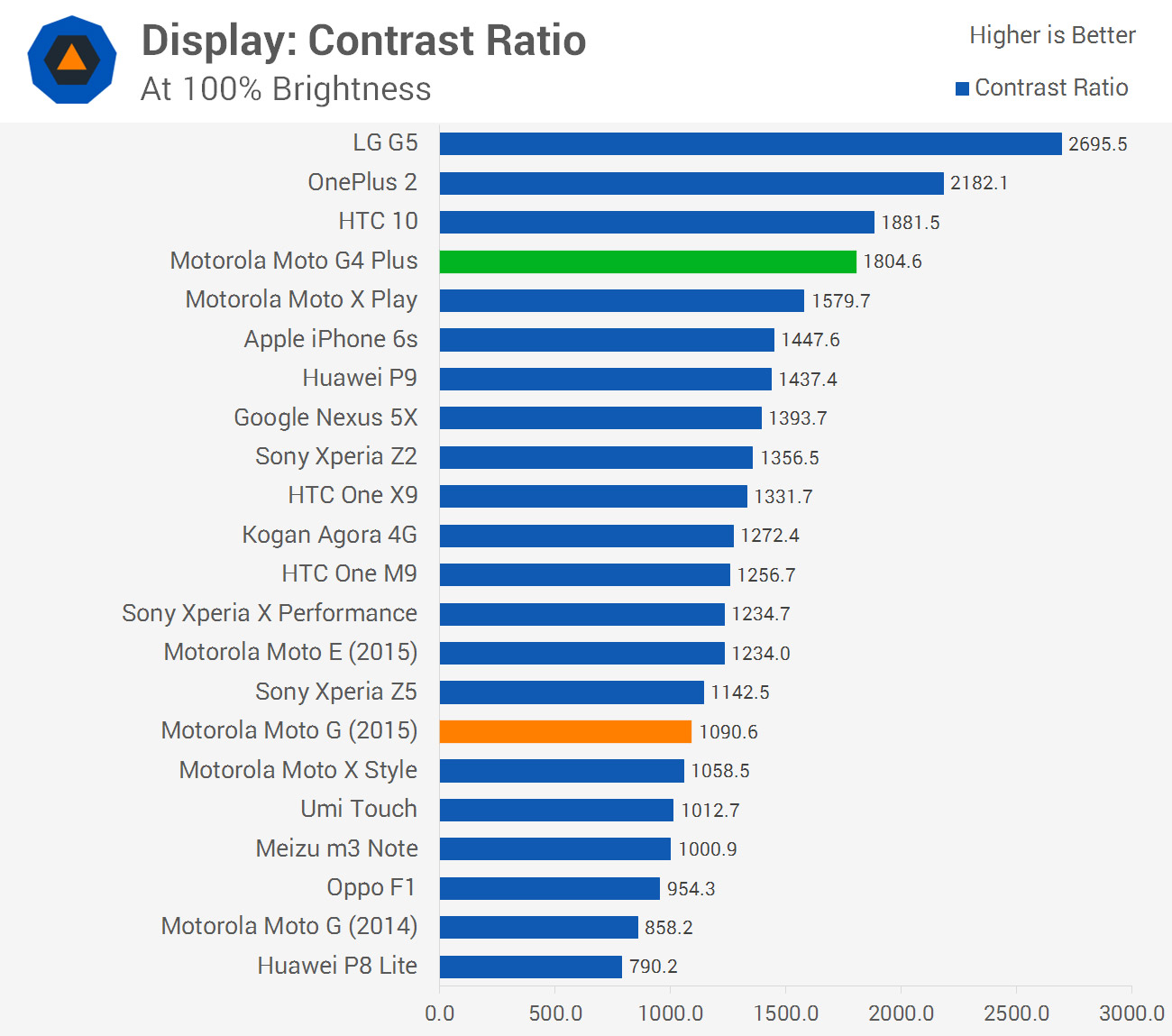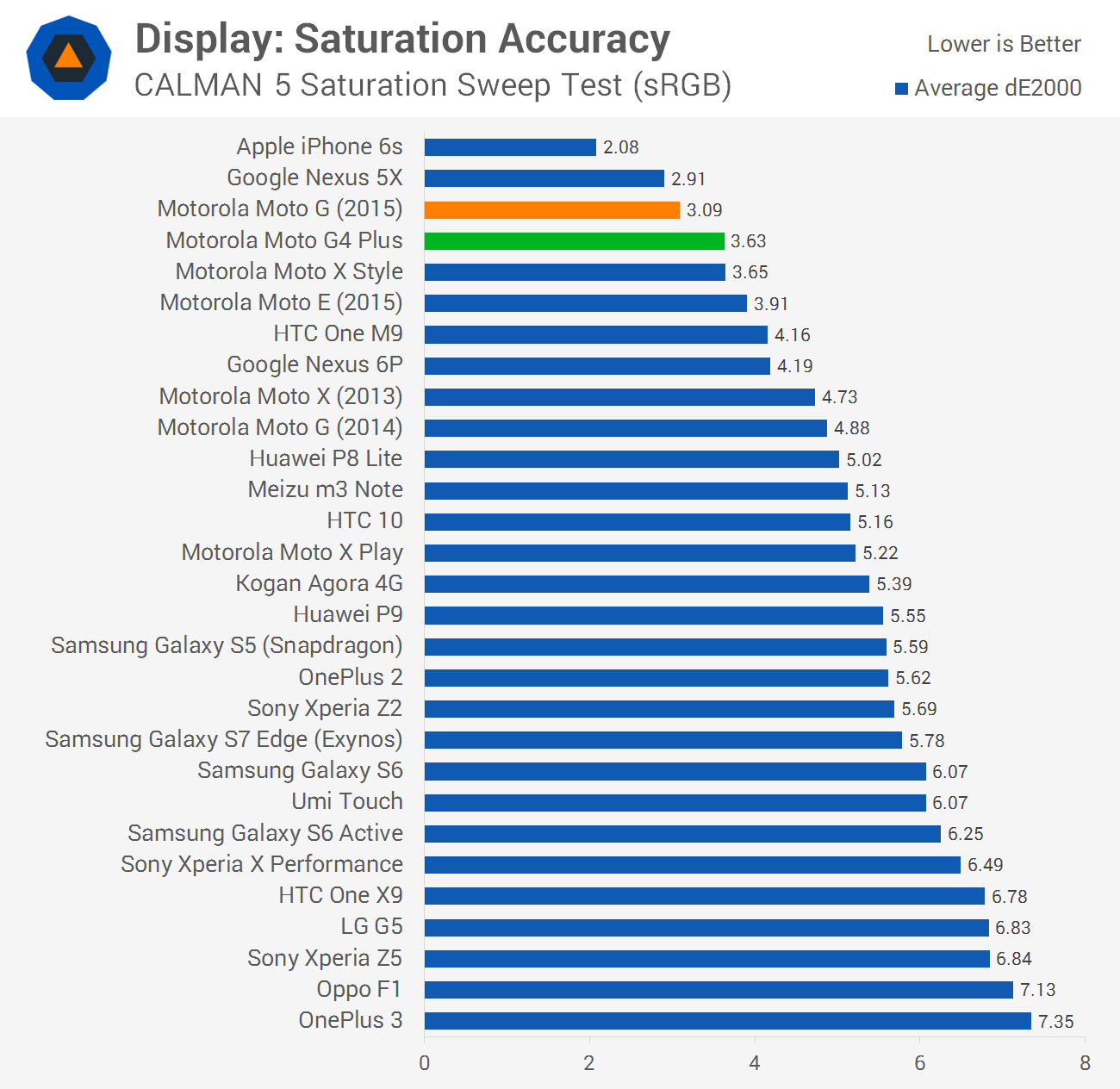 Switching the display into the 'standard' mode improves color accuracy by reducing mid-tone saturation. In this mode the display is more accurate than the 2015 Moto G (it's slightly more accurate by default as well), and one of the better panels on the market. That said, accuracy still falls behind the best in the business, as you might expect from a budget smartphone.
I'd personally keep the display on the standard mode, as the vibrant mode doesn't produce the same impressive oversaturated look as the OnePlus 3 or the Samsung Galaxy S7. Despite the increased accuracy in the standard mode, which on some phones delivers a dull look, the Moto G4's display still looks great in this mode.
If there was a downside to the Moto G4 Plus' display, it would perhaps be the viewing angles, which are not as good as from a high-end IPS display. Brightness shift is noticeable at off-normal angles, although color performance is preserved. The reflectivity of the protective glass is also worse than some competing handsets, though the high brightness levels of the LCD make this a virtual non-issue.