TechSpot is celebrating its 25th anniversary. TechSpot means tech analysis and advice
you can trust
.
When you buy through our links, we may earn a commission.
Learn more
.
Performance Summary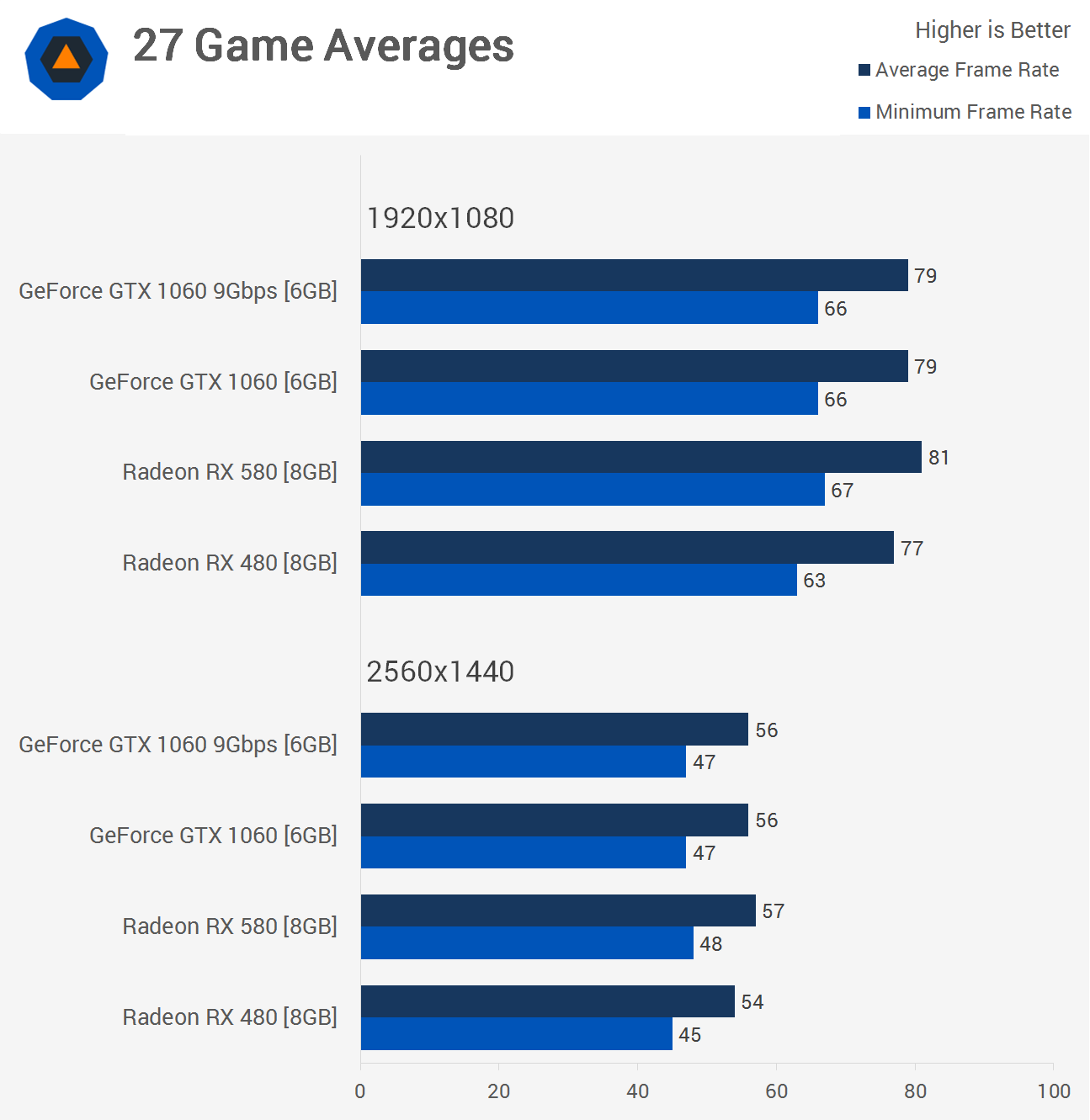 When comparing the average results across all 27 games tested, the 9Gbps Gaming X+ model was no faster than the EVGA FTW+, the model we've been using for all our GTX 1060 testing.
This also means the RX 480 was just 2.5% slower than the GTX 1060 at 1080p or 2fps, a negligible difference. The RX 580 boosted performance by just 5% which made it 2fps (2.5%) faster than the GTX 1060.
Overall, the RX 580 was faster than the GTX 1060, albeit by an insignificant margin.
If we remove the DirectX 11 titles and focus solely on those that support low-level APIs we see that the GTX 1060 and RX 480 are roughly on par with one another.
That said, the RX 580 is now 6% faster than the GTX 1060, not a huge margin by any means but still a clear win for the red team in these more modern titles.
Taking a closer look at the big wins and loses for each team, it's interesting to note that AMD took the lead in the majority of the games tested (15 to Nvidia's 11) while they tied in only one title. That said, margins were extremely slim in Overwatch, For Honor and F1 2016.
The RX 580 was faster by a 10% margin or greater in Total War: Warhammer, Titanfall 2, Mafia III, Resident Evil 7, Call of Duty Infinite Warfare and Doom. Meanwhile it was 10% slower in just three titles, Dishonored 2, Gears of War 4 and Grand Theft Auto V.
The cards are quite similar in terms of performance, though you'll see a little bit more performance (and quite a bit more power consumption) with an RX 580 out of the box than a GTX 1060.
Final Thoughts
If you were to base this comparison on the suggested retail prices of each card, the RX 580 seems like the obvious choice at $230 for the 8GB model compared to $250 for the 6GB GTX 1060 (there is no MSRP for the new 9Gbps models).
However, most RX 580s are priced at $250, so we really need to see a price correction here. For what it's worth, there is a a PowerColor Red Dragon model selling for $230, but the Gigabyte Aorus model we checked out is currently going for $280, which is a bit rich in my opinion.
Likewise, GTX 1060 models also start at around $230 though most are set at $250. The EVGA FTW+ model that we used for testing costs $280, while the new 9Gbps model from MSI is even pricier at an eye watering $290.
So again, you could really go either way. It ultimately comes down to the games you play and the features you want. AMD's Freesync for instance is a huge selling point in this affordable mid-range market now that it's widely supported.
AMD has also been drawing attention to its Radeon Chill feature, which does seem to work well, but I have to admit that I wouldn't enable any form of throttling on my personal gaming rig.
All told, AMD probably offers better features at this price point, namely Freesync, though that doesn't exactly seal the deal.
It's interesting to look back at the RX 480 vs. GTX 1060 battle and see how things have evolved. Our day one GTX 1060 coverage back in July 2016 found the green team dominating, beating the RX 480 by a convincing 12% margin.
About five months later, AMD's Crimson ReLive drivers drastically reduced those margins, leaving the GTX 1060 just 1% faster than the RX 480. Another five months have since passed, bringing more new games, drivers and even new graphics cards – well, refreshed graphics cards.
Now that the dust has largely settled, the GTX 1060 is still a fraction faster than the RX 480, but the new overclocked RX 580 has enough juice to overtake the GeForce card.
Efficiency is important to me and it's why I have been a huge fan of Nvidia's Pascal architecture, but after this latest comparison, if I were in the market for a mid-range graphics card, I'd be picking up an RX 580.
It was faster in a majority of the games tested and the widespread availability of great Freesync monitors has made me partial to the red team for the moment.
Shopping shortcuts:
Of course, as I said earlier, there isn't really a wrong choice and buying a GTX 1060 could be justified almost as easily. What can be said for certain is that there is some extremely fierce competition in the sub-$300 GPU market right now, which seems like a great time for enthusiasts to consider upgrading.